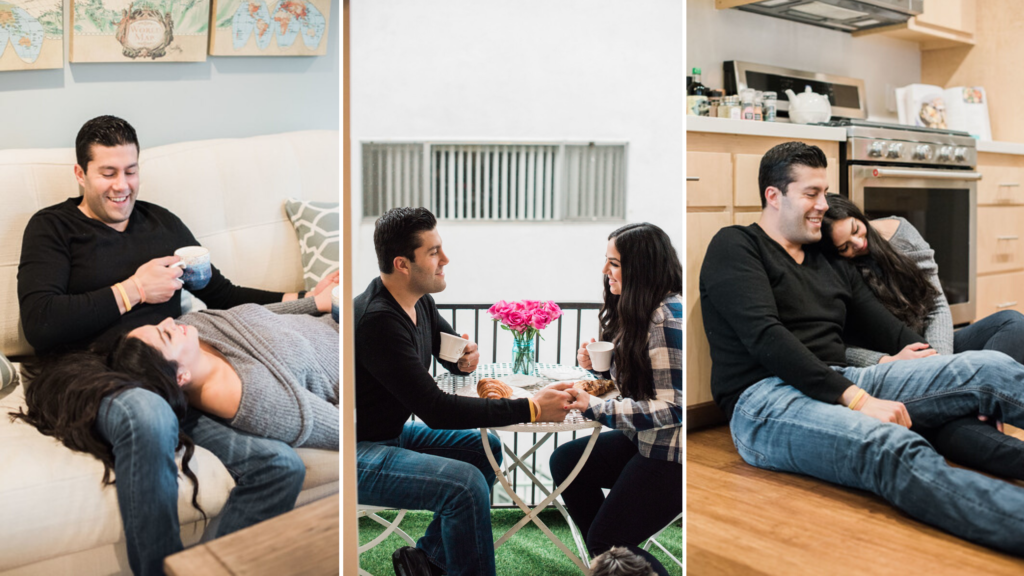 Every year we have a new year strategy meeting to plan out the year ahead. We take each domain of our lives seriously, but especially our list of relationship goals. We start the process by reflecting how the last year was. What went well and we want to continue and in what areas we can improve. When determining what areas we can improve in, we also reflect on what the barriers were. We figure out how we can overcome the barriers in the coming year. We usually find that our list of relationship goals can be met with better planning.
After reflection, we spend some time dreaming about what our relationship will ideally look like. Once we've each brainstormed on our own, we share our visions with each other. We usually find that we are on the same page with what we want!
Once we've discussed our ideal vision, we work on creating a list of relationship goals that will help us to achieve this vision. We try to keep the list of relationship goals simple and brief. This helps us actually attain the goals, rather than overwhelm ourselves.
While we create our list of relationship goals at the start of the year, you can do this any time! There's no need to wait until the new year to make changes in your relationship. Here's our list of relationship goals for this year, along with why we chose each one and our strategy to achieve it. We hope you find some ideas that are helpful for you as well!
Our List of Relationship Goals for 2020
This post may contain affiliate links
List of Relationship Goals #1: Weekly Date Nights
Goal:
Weekly date night.
Strategy to achieve:
Pick a consistent date and time. We chose Friday at 7pm since we usually don't have a lot going on Friday nights that will interfere with date nights.
Alternate who plans the date night each week, this way the workload doesn't overwhelm either of us. 1 date night a month should be something we plan because we like it. 1 date night a month should be something we plan because we think the other person will enjoy it.
Doesn't need to be fancy, can even be at home, but no phones and no TV. This will help if we are exhausted or on a tighter budget.
Ps. If you need date ideas we have a ton of posts for you!
Why we chose this relationship goal:
We recognize that when we are having consistent date nights, we feel more connected as a couple.
This is huge progress for us, because when we were first married, Bassam didn't feel date nights were necessary. He used to say, "we live together, why do we need to plan dates?" We went on very few dates during our first two years of marriage. After that, we identified that our bond wasn't as strong and one of the reasons could be the lack of dating each other.
From then on, we decided we wanted to have dates with each other, but we struggled in being consistent with it. We have very busy lives and a lot of obligations. Often we would find ourselves prioritizing work and family obligations over our date nights.
We would really like to grow our family soon and we know it's only going to get harder to have regular date nights once we have kids. If we can't establish a regular habit of date nights now, how will we do it when we have kids?
John and Julie Gottman, the well known marriage therapists, often say, "if you're too busy for date night, you're too busy". They don't believe any excuse is valid to skip date night. We agree and we are working on prioritizing it better!
A final reason for this goal is that I typically plan all of our date nights. Proactively planning to alternate will take some of that pressure off of me and allow me to experience Bassam planning date nights.
List of Relationship Goals #2: Talk the Walk
Goal:
Go for a weekly walk and discuss how things have been this week. How we are each feeling and if there is any feedback we'd like to provide each other – both positive and negative.
If we have any life events or things coming up, discuss each of our points of view on them.
If we don't have anything coming up, pick one of the topics from this book to discuss.
The title of this goal is just something we came up with so we'd have something cute to call it. "Time for our walk the talk!"
Strategy to achieve:
Pick a consistent date and time.
We chose Saturday mornings because we typically want to go for a walk during this time. We also thought it would be nice to start the weekend off having had a good conversation. It'll also be easier to have these kinds of conversations at the beginning of the weekend as we are usually tired towards the end.
Why we chose this relationship goal:
We are constantly working towards improving our communication. Every relationship can benefit from really great communication, but we've found it's especially important for us because we are just so different.
Since adopting a policy of "radical transparency" with each other, as inspired by my favorite podcast, we've seen major improvements in our communication. This took about 2 years to really shift to, but it was so worth it! Another game changer for our communication is an exercise we use during arguments. We'll share more about this in a future post.
Over the holidays this year, we went on a lot of long walks and had really great conversations. We discussed lots of different topics that helped us learn a lot more about each other, which is always a nice surprise after being together for over 17 years.
In discussing random events that had come up lately, we also learned that we were totally on different pages with why we thought the other person did things they had done. It wasn't a point of contention because the topics were really neutral, but it helped us see why when the topic isn't neutral, it's so hard for us to understand each other.
We've recently learned that we should sweat the small stuff. It's easier to talk about small topics because they aren't as heated. You can stay more objective and understand the other person's point of view easier. In talking through small situations that we normally would've let go, we've been able to learn a lot more about each other. This has helped us with things are more emotional and important. We are able to understand the other person's viewpoint much more easily, because we've had practice with smaller things.
We think having a weekly time to talk about things that are coming up will really help us get on the same page. If we have nothing coming up, then this is a good time for other relationship strengthening conversations.
Having the weekly check in will allow us a safe space to speak openly and honestly about what's going well and what could be better. Having it on a weekly basis will hopefully ensure that things don't pile up and then become harder to deal with.
The set time and set intention will hopefully help us to be less defensive when we are given feedback because we will be ready for it and in a place where we are open to receiving feedback. I have a habit of just giving feedback whenever and Bassam really appreciates a heads up so he can be ready for it. There is research that indicates providing feedback in the moment in a marriage can be harmful because it is difficult to stay objective.
In Brene Brown's book Dare to Lead, she shares what makes someone ready to give and receive feedback. It's geared toward the work environment, but I really think these points are beneficial for couples as well.
As found on page 198, here's Brown's checklist of when you're ready to give feedback:
1. I know I'm ready to give feedback when I'm ready to sit next to you rather than across from you.
This is not just about logistics. Sitting across from someone symbolizes a power hierarchy. Sitting next to someone is less confrontational.
2. I know I'm ready to give feedback when I'm willing to put the problem in front of us rather than between us.
This is a shift in language from "you are wrong" to "let's change this together"
3. I know I'm ready to give feedback when I'm ready to listen, ask questions, and accept that I may not fully understand the issue.
Here's the type of language Brown suggests, "here's what I'm seeing; here's what I'm making up about what I'm seeing. I have a lot of questions. Can you help me understand?"
4. I know I'm ready to give feedback when I'm ready to acknowledge what you do well instead of just picking apart your mistakes.
Brown writes, "catching people doing things right is so much more powerful than just angrily listing mistakes."
5. I know I'm ready to give feedback when I recognize your strengths and how you can use them to address your challenges.
Brown makes a great point here, if you aren't in the head space to be able to identify positives, then you aren't in the head space to have the conversation.
6. I know I'm ready to give feedback when I can hold you accountable without shaming or blaming.
Brown states that it can be difficult for us to have conversations without shame or blame, because that's the way most of us grew up receiving feedback. She suggests to identify where you may fall into shame or blame before having the conversation, this way you can catch yourself during the conversation.
7. I know I'm ready to give feedback when I'm open to owning my part.
There's never a situation in which both people don't own some part of the situation.
8. I know I'm ready to give feedback when I can genuinely thank someone for their efforts rather than just criticizing them for their failings.
Always look for opportunities to point out good.
9. I know I'm ready to give feedback when I can talk about how resolving these challenges will lead to growth and opportunity.
Figure out how what you're asking relates to your partner's values. This will help you gear the conversation towards growth.
10. I know I'm ready to give feedback when I can model the vulnerability and openness that I can expect to see from you.
Brown writes, "if you're expecting someone to operate from a place of receptivity, then you had better show up open, curious, vulnerable, and full of questions. You have to model the behavior. You can't hold yourself to a different set of expectations and standard."
List of Relationship Goals #3: State of the Family
Goal:
Monthly meeting to evaluate our family and home life.
This may include scheduling out the next month or quarter, making bigger shifts in our life such as implementing Fair Play strategies, etc.
Eventually when we have children, we'd like to include them in this meeting too so we can discuss how everyone is feeling and discuss potential changes everyone wants to make. This is why we are calling the meeting "State of the Family".
Strategy to achieve:
Similar to the goals above, these meetings will be scheduled out in advance.
As we mentioned at the beginning of the post, we often find our biggest barriers to achieving our goals is lack of planning. We are only planning these meetings out a month in advance, so that we are more aware of what we have going on. We are hoping this will prevent us from needing to reschedule. At the end of each meeting, we'll schedule the one for the following month.
Why we chose this relationship goal:
Yet another goal we chose to strengthen our communication! We want to be as proactive as possible in our relationship. A monthly meeting like this will allow us to tackle bigger life, home, and relationship barriers that have come up. It'll also help us make time to plan anything that needs some planning.
In the future, we hope this will help us to be intentional with our family, make sure everyone in the family is feeling heard, and reevaluate anything that needs evaluation.
We always say we'll have quarterly meetings to follow up on our new year planning, yet it never happens! This year "State of the Family" meetings will help us be intentional, proactive, and consistent.
Past relationship goals we've had:
If none of our current relationship goals resonate with you, here are a few of our past relationship goals to give you more ideas.
Use objective language during arguments
Avoid using words like "you always"
Focus on how the behavior makes you feel
Don't use labeling words or adjectives to describe the other person
Focus on the behavior
No insulting words or mean language
Spend quality time together once a week
This was one of our goals last year and it's very different than our date night goal this year. Spending weekly quality time together was our stepping stone to getting consistent date nights. We were pretty lax in what we considered quality time. It could be running errands together, making dinner together, watching TV together, or even taking blog photos together.
This year, our goal is to truly have dates and not count things like errands or working together.
Come to an agreement on life decisions
As I've mentioned many times, Bassam and I are VERY different. While we have similar overall values, our ways of accomplishing those values are very different. Talking about different life choices and coming to a compromise on them was a big part of our 2018 and 2019 goals.
When we want to have kids
Where to live
What our family boundaries are
What are work boundaries are
What are friendship boundaries are
When we want to do certain things (meal planning, running errands, etc)
Who is in charge of what in the household (still working on this one, I highly recommend this book)
Learn something new together
We both love to learn and doing new things together can be help strengthen your relationship.
6 Week Relationship Challenge
We created this free 6 week relationship challenge based on elements of a strong relationship. We participated in the challenge too and it was an amazing relationship booster! Not easy, but worth it, and gave us more areas to continue working on.
---
Did you make a relationship goal this year? We've love to know what it is!
Did you like this list of relationship goals? Please pin it!