Looking for spring date ideas? We've got 50 fun springtime date ideas for you to add to your spring bucket list! Winter can be a really romantic time for dating, but spring is our favorite! After a long winter, it feels so nice when the weather starts to warm up. We've usually been cozy all winter, so we're craving being outdoors and getting active by the time spring rolls around.
Spring is just the perfect time to take your date outdoors and bask in the sunshine. It's like a breath of fresh air for your relationship! Take advantage of this beautiful time of year and try a few of these 50 fun springtime date ideas to add to your spring bucket list!
50 Fun Spring Date Ideas to Add to Your Spring Bucket List
This post on spring date ideas may contain affiliate links
Why not use these 50 spring date ideas to create your very own spring bucket list? Read through the list together, pick out your favorites to create a spring bucket list, and check off each spring date idea this season! It'll be such a great way to take advantage of the season and have tons of fun together!
50 Spring Date Ideas for your Spring Bucket List:
1. Visit a farmers Market
We love going to the farmers market year around, but spring is the best time! Produce during the spring is so vibrant and full of color, making the farmers market the perfect spring date idea for foodie couples!
Visit your local farmers market and focus on buying spring specific produce like apricots, artichoke, wild arugula, asparagus, carrots, cherries, dandelion greens, mint, parsley, rhubarb, and so much more! Pick out a few items that you've never had before and ask the vendor how to best prepare them.
Take your fresh farmers market finds home and create your own farm-to-table dinner! It's like a two in one date!
For tips on shopping the farmers market, check out this post.
2. Go for a long walk after work
We are always promising each other that we'll go for a long walk together after work, but we can almost never make it happen during the winter. As soon as Daylight Savings Time rolls around, we start taking advantage of the longer days by meeting up for a walk after work. We pick a different neighborhood each time to mix it up and it's such a great way to unwind together after a long day.
One of our favorite things to do while we walk is look up all our favorite homes on Redfin to see how much they are and see photos of the inside. We pretend we are "house shopping". This is especially fun to do in fancy neighborhoods!
This springtime date idea is the perfect way to squeeze in a little exercise and bond together in a casual and budget friendly way. We love spring date ideas like this that feel effortless and are easy to fit into a busy schedule!
3. Weekend getaway
Getting out of town is always our favorite type of date! It's a great way to break out of a rut that we might be in, do new things, and have new adventures together. Take advantage of the beautiful spring weather and go visit a nearby town for a weekend getaway.
4. Go hiking
We love hiking year around, but especially in the springtime! The trails are always so beautiful after a season of rain, with lush greenery and tons of flowers and butterflies. Make a list of trails in your area and go on a different hike every weekend. It'll be a great way to be active together and a great way to enjoy the season!
5. Go strawberry picking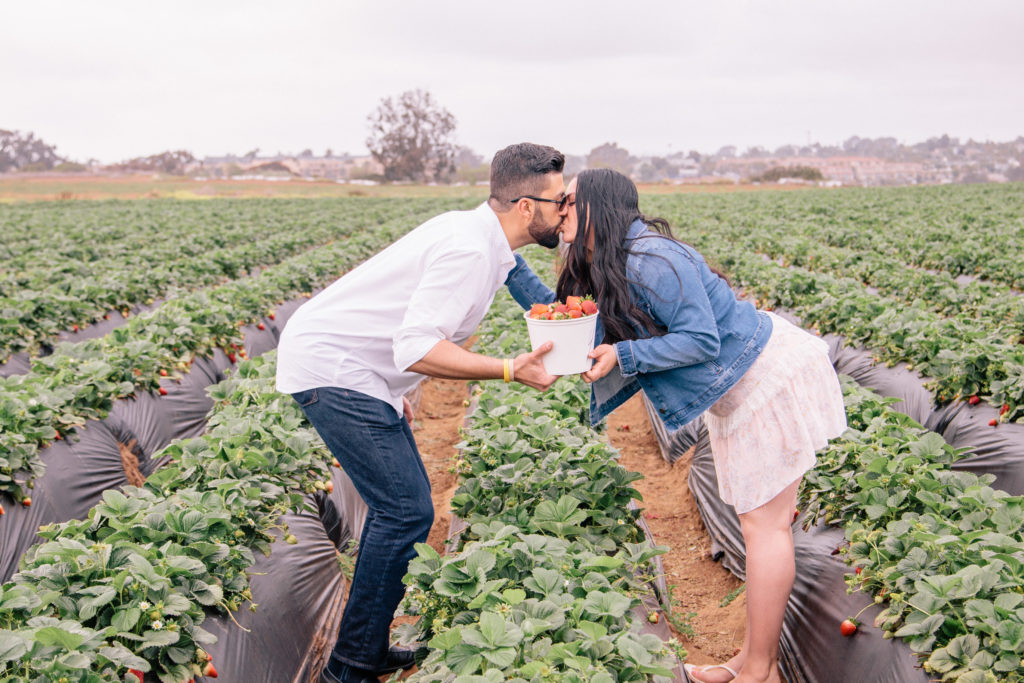 We went strawberry picking together last spring and it was one of our favorite spring date ideas! It's so much fun to be outside working together and strawberry fields are so pretty.
We took home a giant bucket of plump sweet strawberries and had so much fun for the rest of the week figuring out different things to make with them. One of our favorites were fresh strawberry Bellinis that we served with alfresco brunch on our patio. Such a romantic springtime date!
Ideas of things to make with your strawberries:
Strawberry shortcake
Strawberry cocktails (muddle them up, make them into a simple syrup, or blend them into a juice to use in your cocktail)
Strawberry ice cream (easy with this ice cream maker)
Strawberry smoothies
Put sliced strawberries in your salad
Chocolate covered strawberries
Strawberry pie
You could even challenge each other to a cook off and see who can come up with the best strawberry recipe!
6. Take advantage of a rainy day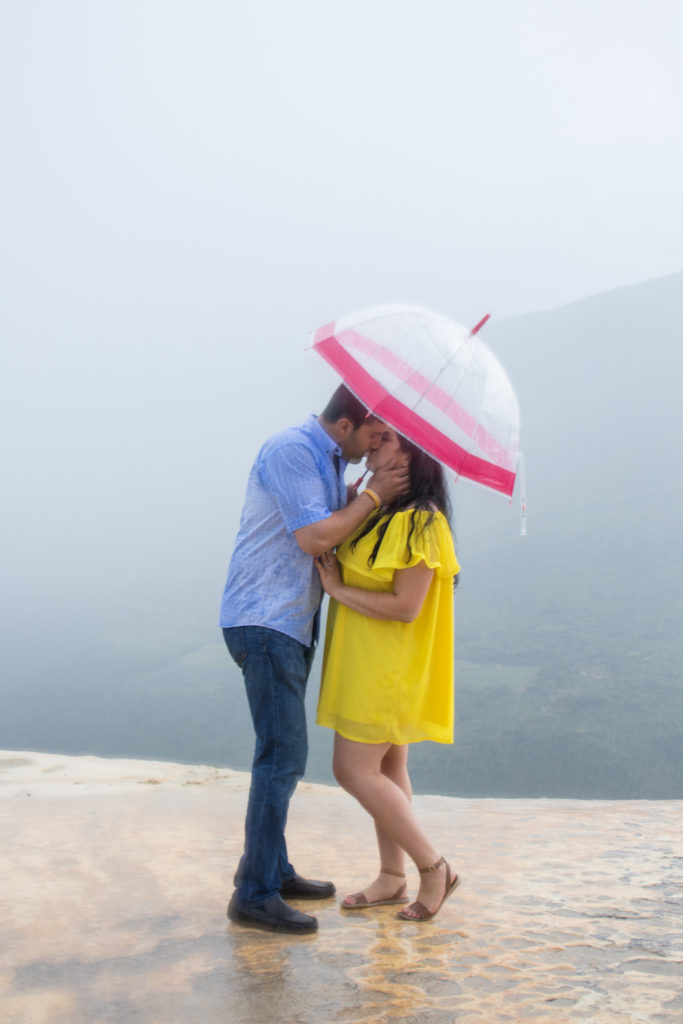 April showers bring May flowers is a saying for a reason. Just because the weather is starting warm up doesn't mean the rainy days are gone yet. Rather than hibernating, take advantage of the last few rainy days of the year with rainy day date ideas.
Here are some ideas:
Go mud sliding
Try your hand at rain photography
Have a coffee at a cafe and pretend you're in Paris
Create an indoor picnic in your living room
7. See a movie at a drive in
Take your springtime date idea old school and find a drive in movie theater near you! It's such a fun experience! If you don't have any in your area, you can even try creating your own in your backyard by renting a projector and playing a movie on your laptop. You can also buy a projector for under $90. This might be a good idea if you're going to host backyard parties or have lots of backyard dates!
8. Plant something
We love springtime date ideas where we are working together to create something. That's why planting something together is one of our favorite spring date ideas. It's actually multiple dates in one as you can spread out the following: visit a nursery to select something to grow together, the actual planting, caring for the plant, and getting to use whatever you grew. Plus, it'll feel so exciting to know that you did that together!
Some ideas of things to plant:
An herb garden
Your favorite flower
A fruit tree
9. Pretend to be kids again
Being goofy and silly together is always a great idea for a date. Why not take advantage of the beautiful weather and pretend to be kids again?
Ideas of things to do:
Shop the idea

10. Rent paddle boats
Renting paddle boats is one of the cutest spring date ideas! Find a park near you that has paddle boats and rent one for a romantic ride together. Doesn't this spring date idea remind you of that cute boat scene in The Notebook?
11. Nature walk
Going for a nature walk is a great springtime date idea. Go for a walk together and be observant of what you see around you. Flowers, leaves, rocks, birds, butterflies… There's always so much beauty around us, we just need to take the time to slow down and notice it. You might even want to take home a memento from your walk to save in a scrapbook or to sketch together when you get home. This is a really fun sketchbook to do together.
Shop the idea

12. Spring clean your relationship
Spring cleaning is very popular this time of year, why not use the enthusiasm for a fresh new start to inspire you to freshen up your relationship? Over the years we've found that any hard work or time we invest in our relationship pays us back in a big way in the future.
A few relationship spring cleaning ideas:
Participate in our free 6 week relationship challenge
Try something new together
Replace one criticism a day with a compliment
Do one mini surprise a week, like put your partner's towel in the dryer so it's nice and toasty when they get out of the shower or hide a cute little note in their pocket
If you're upset with your partner, figure out the real reason why and tell them in an objective way
13. Go for a picnic
Going for a picnic is one of our favorite springtime date ideas! The springtime weather is absolutely perfect for outdoor picnics, as picnics in the summer can sometimes be too hot. Pack up some sandwiches and maybe a bottle of rose, take along a picnic basket and a picnic blanket, and spend the day enjoying the sunshine and each other!
Shop the idea

14. Play at a playground
Why not visit a local playground and play like kids? It's such a fun active spring date idea and can be a great way to mix up your everyday routine. Swing on the swings together, go down the slide, swing from the monkey bars, and build a sand castle!
15.Participate in a marathon
There are always so many marathons in the spring, why not participate in one together? Training for a marathon together will be a great way to bond together! If you don't want to do a full marathon, try a half marathon or a 5k. You can also choose to do a fun type of run, like a color run!
16. Dine alfresco as much as possible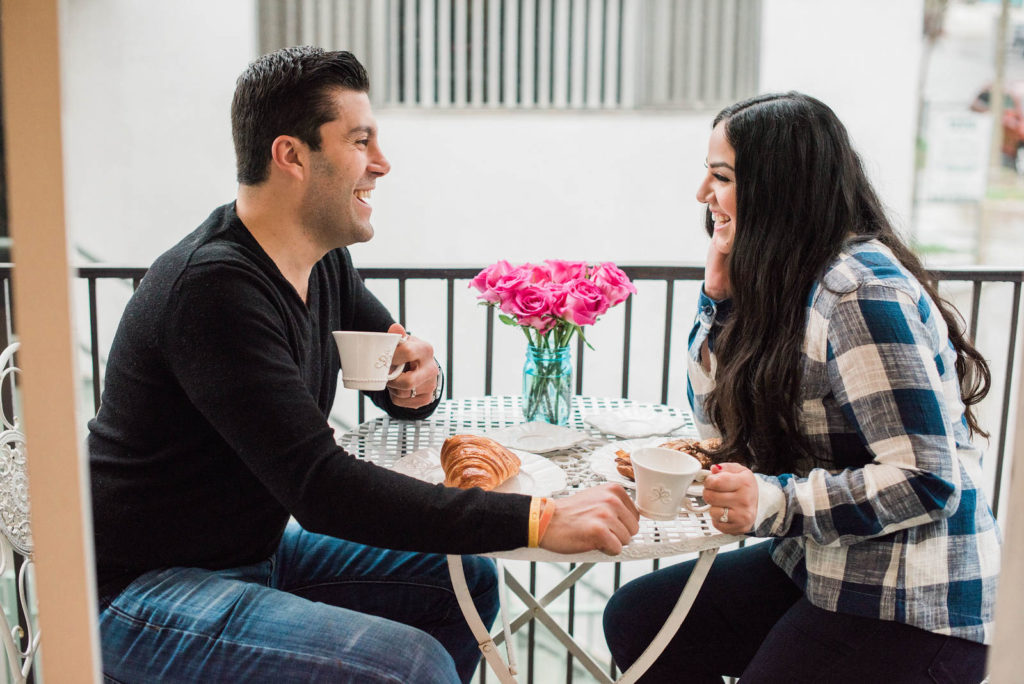 Springtime is a great time to eat outside as much as possible! Take your breakfast, lunch, dinner, or even a drink outdoors and eat together. It's a great way to turn an ordinary activity into something special and exciting. We love spring date ideas like this because it's such an easy way to connect with each other and it feels so special to turn a basic activity into a time to bond. It doesn't really matter what you are eating. It can even just be a cup of coffee, but take it outside and enjoy it together!
17. Host a Pi Day party
Celebrate Pi Day (March 14) with a Pi Party! Bake your favorite pies together and invite your friends over to taste them all. It'll be two fun dates in one!
18. Go fly kites
Why not pick up kites and go fly them together? It'll be such a fun springtime date idea! Check out these kite options.
19. Play April Fools' jokes
Work together as a team and play April Fools' jokes on your friends together! Or you can play jokes on each other and compete to see who can come up with the funniest joke to play.
20. Do spring cleaning together
This is the perfect time of year for spring cleaning and doing it together can transform a tedious chore into a fun springtime date idea for couples! Plan a time to organize your closets together and you'll get a clean and organized house out of your fun spring date idea. Make the date fun by putting on music and dancing around and having fun drinks to go along with your cleaning. You might fun some fun old nostalgic things to take a trip down memory lane together!
21. Scout out yard sales
Since so many people are spring cleaning, this is the perfect time to scout yard sales or go antiquing. You might find the perfect thing for your house or something that you can restore together for a fun project.
22. Visit a flower field
Blooms are so beautiful this time of year! Find a nearby flower field for a romantic spring date idea. You can frolic through the flowers, take gorgeous spring photos, and make beautiful spring memories. We went to the flower fields in Carlsbad last year and the tulip farm in Oregon the year before that. We are still deciding where to go this year, but we are thinking an almond blossom field or a poppy field.
This spring date idea is also a great way to get to know different towns near you since the flower field might be in a town you've never been to before. For our tulip farm trip, we drove from LA to Portland in one weekend and it was such a fun adventure!
23. Go on a food tour
Spring is a great time to go on a food tour! Find an already organized tour to get tickets to or create your own. To create your own: choose a street that has a ton of different foodie spots and get one thing to share at each spot OR choose one type of food and find a bunch of places to try it.
24. Go for a bike ride
Going for a bike ride is one of the best spring date ideas! It's such a classic date idea and perfect for a couple who wants to get outdoors and be active. You can keep it romantic with a tandem bike ride, fun with a bike ride down a board walk, or adventurous by going mountain biking. This springtime date idea can be adjusted to any personality type.
25. Plan for summer travel
If you're planning on traveling this summer, have a date night to plan your trip. Even if you can't travel, you can still plan a fantasy trip to dream about. We love looking up places we want to go one day and saving them to a Pinterest board or a Wunderlust list.
26. Make your own bouquet
With all the blooms all around, spring is a great time to make your own bouquets. You can take a class at your local florist or go buy or pick some blooms and practice on your own.
Things to do with your bouquets:
27. Do good for Earth Day
Volunteering together is always a great date idea. To make it spring inspired, celebrate Earth Day!
Some ideas:
Plant a tree and dedicate it to the two of you
Skip using your car for the day and walk or bike together
Go vegetarian for the day and make yummy plant based meals together
Volunteer at your favorite organization together
Raise money to donate to your favorite organization
Do a beach clean up together
28. Go for a long drive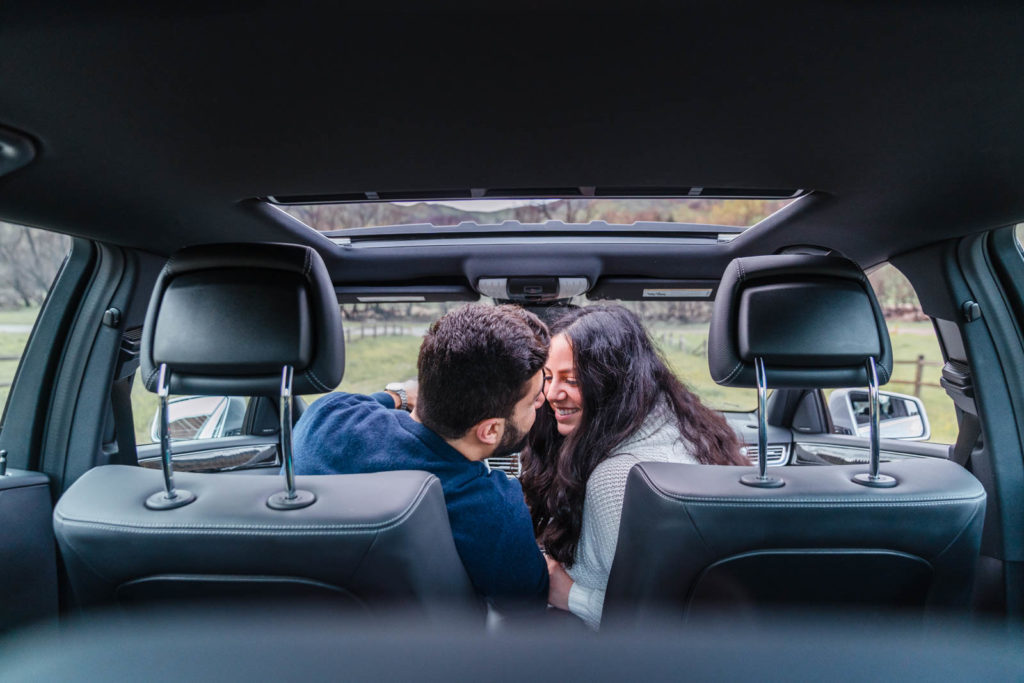 For a fun springtime date idea, rent a convertible together and go for a long drive! It'll feel so nice to feel the breeze as you're driving. You can choose a certain destination to drive to or just drive without a predetermined destination and see what you find along the way! Check out this post on road trip tips for couples.
29. Have a spring photo shoot
Spring is an amazing time for photo shoots! The lighting is beautiful, the days are longer, and there are so many beautiful blooms all over. Take advantage of all the beauty around you and get photos of taken of you two! It'll be a wonderful memory and memento to cherish. If you don't have the cash to hire a professional photographer, you can find a student photographer who offers sessions at discounted rates or maybe even free for this portfolio. Most professional photographers also offer mini sessions which are more cost effective.
You can also grab a camera, or just your phone, and go out and take photos together. Sometimes it's nice to see the world from a different perspective, like through a camera lens.
30. Build a tree fort
A kid inspired spring date idea and it's a fun one! Building a tree fort together might take you the whole spring season, but then you can enjoy it all summer long and for years to come!
31. Organize a scavenger hunt
Spring is a great time for a scavenger hunt! Most cities offer organized city wide scavenger hunts that you can participate in. If your city doesn't offer one, try creating your own for each other! You can also create a list of things to find together or compete against another couple.
Examples of what to put on your scavenger hunt list:
Take a selfie with purple flowers
Ask a couple who has been married for over 30 years for relationship advice
Find something that symbolizes where you had your first date
Make a wish on a dandelion
Buy each person's favorite Easter candy
32. Meet for rooftop drinks
Meeting for drinks is a standard date idea, so to freshen it up for spring meet on a rooftop bar. Bonus points if you go in time for sunset!
33. Go to an amusement park
Amusement parks are such a great spring and summer date idea! Going in the spring is better than summer because it's less hot and less crowded. Roller coasters are great for dates because they give you an adrenaline rush which mimics the feeling of falling in love. Check out this post for more adventurous date ideas.
34. Take a trip to a national park
Spring is a great time to visit national parks! The parks are always beautiful, but they are especially beautiful in the spring! Take a road trip to the closest national park near you for a weekend getaway or be adventurous and fly to a national park you've always wanted to go to! If you're willing to fly, we highly recommend Denali National Park in Alaska.
National Park recommendations:
Bryce Canyon National Park in Utah
Arches National Park in Utah
Zion National Park in Utah
Grand Teton National Park in Wyoming
Glacier National Park in Montana
35. Visit a winery
Wine tasting is amazing any time of year, but wineries are especially fun and beautiful in the spring. Find a winery near you with beautiful grounds and take a picnic with you to enjoy with your wine tasting. This is a great all day spring date idea.
36. Play mini golf
Mini golf is such a cliche date idea but it can be really fun for a springtime date idea! Head to your local putt before dinner for a fun springtime date idea!
37. Go rollerskating
Rollerskating is such a fun spring date idea! Rent some skates and try your skills together! Even if you fall, it'll be fun!
38. Watch the sunset
Watching the sunset is always a romantic date idea, but it can be hard in the winter with how early the sun sets. Take advantage of later sunset times and warmer days and go watch the sunset. We love doing beach picnics at sunset.
39. Find a local festival
Springtime brings with it all kinds of festivals! Do a Google search to see what kinds of festivals are in your area. We've done a Strawberry Festival, French Festival, Greek Festival, and more! This is a great way to try new things and have a fun spring date idea!
40. Paint outdoors
Take advantage of the beautiful scenery and paint it! You can find a painting class in your area or set up your own. Get cheapie canvases, paints, and easels and set them up somewhere beautiful outside. Paint what you see or look up "easy painting tutorials" on YouTube.
41. Take advantage of off season travel
We love traveling during the Spring because it's typically off season travel for most places, on the cusp on on season. This means that you'll get off season prices and crowds, with the weather and climate of on season. We did a 3 week France road trip during this time period and it was the most amazing experience! If you can, going on trip during this time is a great idea!
42. Play outdoor games
For your springtime date idea, play outdoor games! We love finding places that have outdoor games like bocce ball or outdoor jenga or creating our own like playing 1:1 basketball together. It's a great way to get some exercises together and also have tons of fun outdoors!
43. Go to an orchard
We love visiting orchards of You-Picks in the springtime! There are so many delicious and fun things to pick, which makes for a great experience!
44. Go camping
Full disclosure, I'm not a camping person! If I ever were to go camping, it would be during spring for sure! If you're not a camping person like me, set up a tent in your backyard for a cozy and intimate camping date.
45. Have a book club for 2
The majority of our spring date ideas have been outdoors, but sometimes spring isn't super warm and sunny. If that's the case where you live, it would be fun to have a book club for 2. Choose a book for the two of you to read. You can read it together or on your own, then meet together to discuss the book. We have lots of book recommendations here.
For more at home date night ideas, check out this post.
46. Binge watch a TV show
Keeping in mind with the indoor springtime date ideas theme, pick a show to binge watch together if you know you're going to be spending a lot of time indoors together this season. We love picking a show that's just wrapping it up its fall season so that we can binge watch the whole thing without waiting.
Some of our favorite shows to watch together:
Suits
The Good Wife
Madame Secretary
Parenthood
Lie to Me
Flashpoint
The Blacklist
47. Blow your tax return on something fun
If you've already filed your taxes (and gotten money back!) spend that money together on something fun! Life is so often responsible, but tax return time feels like the one time of year that you can be a little irresponsible together!
Some ideas on ways to spend a tax return as a couple:
A fancy dinner
A weekend getaway
An experience date
Learn something together (e.g. dance classes, language lessons, etc)
Donate to a favorite charity
A home restoration project
48. Create a budget
Now that you're down with tax return time, this is a great time of year to start your finances off right. I know budgeting meetings are not usually considered a fun date idea, but you can make it fun if you go into it with the right mindset. Check out our post on making budgeting meetings fun for couples.
49. Play a sport together
Playing a sport together is a great way to get a little competitive together and get some adrenaline juices flowing. You can play a sport 1:1 together, get together with a group of friends, or sign up for a team sport together!
50. Create a spring bucket list together
Get together at a cute coffee shop or somewhere and make your own spring bucket list together! We've gotten you started with this list of spring date ideas or come up with your own. Now you have a whole seasons worth of date night ideas!
Let us know your favorite spring date ideas! We'd love to hear from you!
Did you like this post on spring date ideas? Please pin it!