Let's talk about new year planning. There's something so exciting to me about the start of a new year. It feels like it contains so much possibility and you know how I feel about possibilities. There's always so much I want to do every year and in order to be able to get it all done, I need to be very intentional about my new year planning in terms of choosing goals that are attainable and having a plan for how to tackle them.
When I was in undergrad, I started a tradition of holding a "new year planning meeting", kind of like how businesses do, but for my life. These new year planning meetings used to be really basic; they were just a way for me to figure out what fun things I wanted to do that year and how I would stay on track with my resolutions. As time went on, and my goals got bigger, these new year planning meetings also became more complex.
In the more recent years I've started dedicating a full day to what I call my "yearly strategic planning". I use the time to dream a BIG dream in terms of both my professional and personal life, scale it down to what's actually attainable, and then create a plan of action so that it becomes a reality instead of staying a dream.
After I married Bassam, I roped him into these meetings too. While he wasn't so sure about it the first year, it has now become a tradition that he sees the value in and looks forward to. We've both found it to be an incredibly helpful way to get on the same page with our goals and dreams. Starting the new year off in alignment with each other has made a huge difference for us in terms of our happiness in our relationship and also feeling supported by each other.
Whether you're planning alone or with a partner, whether you want to invest just a couple hours into this or a full day, I hope you'll start a new year planning meeting as one of your own new year traditions. Here's the exact new year planning road map we use. We've even included a free printable that you can use during your meeting. Here's to making this next year our most epic year yet!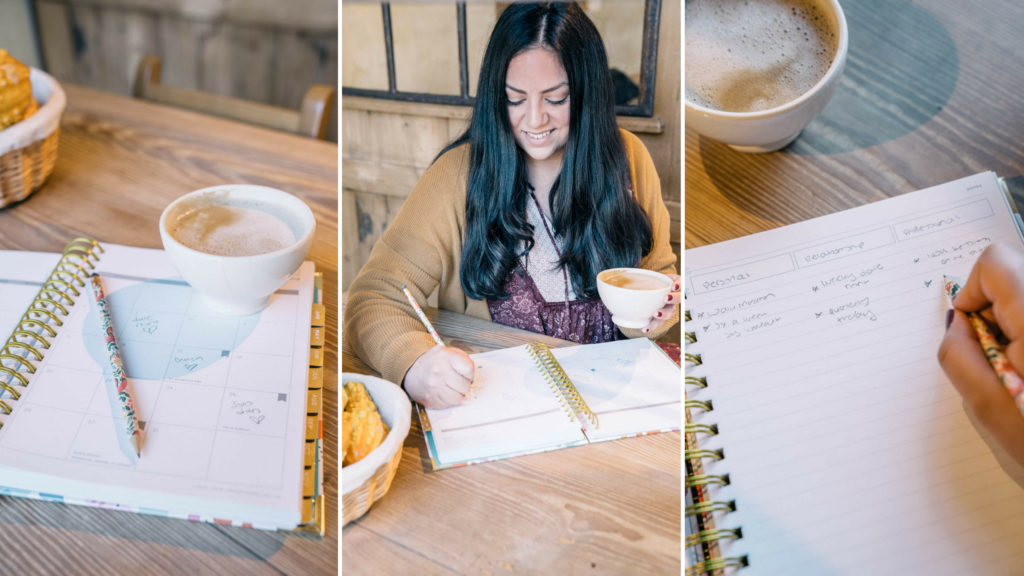 New Year Planning: The Secret to an Epic Year
This post may contain affiliate links
1. New Year Planning – Prep
Whether you're having your new year planning meeting by yourself or with a partner, I've found it's extremely important to prep for the meeting. You need as much "white space" as possible to be able to effectively dream and plan for your dream, which can be created by having everything prepared and organized ahead of time. Waiting to magically "have time" to do this or scrambling around during the time you have to get everything you need will only prevent you from having the most productive new year planning meeting possible.
Here are a few things to consider planning:
Attendees: If you have a life partner/significant other, coordinate with them to see if they'd like to join. If you don't you may still want to invite people to specific parts of the meeting or have someone who knows you well be there to plan with you. Consider everyone who is invited to the meeting to be the "board of advisers" who are making executive decisions for the year ahead (so fancy and official!)
Time: Set aside a decent amount of time for this, better too much than too little. That being said, don't let not having enough time be a road block to doing this at all! Use what you got! If you have to break this up into multiple chunks of time that's okay too! It can be as easy as taking 15 minutes each night to work on it. Scheduling a time(s) is incredibly important so that you can have your schedule cleared to focus
Location: Find an inspiring space with minimal distractions. Where do you do your best work? Last year we had our new year planning meeting in our dining room. This year, we'll be booking a hotel for a night and having it there! There no right or wrong, just whatever works for you
Materials: Gather all the items you'll need for a productive meeting ahead of time. Here's what we use:

A charged laptop set to airplane mode (to eliminate distractions!)
Records or data from the previous year
Pads of paper, notebooks, planners
Lots of pens, pencils, and markers
Self-stick easel pads (put these up on the walls to write on, especially helpful for mapping out goals or brainstorming)

More cost effective options: tape a couple of poster boards or cut up long sheets of paper from a long paper roll (it's a long roll but you can also use this paper for wrapping gifts or covering a table when entertaining so it's worth the cost
2. New Year Planning – Reflect
Before jumping into the year ahead, take some time to reflect back on the past year. While we aren't typically big fans of dwelling on the past, we feel it's important to acknowledge both of the positive and negative aspects of the year.
Write down the answer to the following questions (this is all included on our free printable)
What went well this year? What did you accomplish?
This part is especially important as you may not realize just how much you accomplished in the year. It's always important to recognize what you did well and celebrate those wins. if you wrote down goals last year, take a look through that list and write down next to each one what you accomplished.
Be flexible here. Maybe you accomplished the goal in a different way or the goal transitioned somehow. That all still counts as a win! Make sure to take this time to celebrate your wins and not beat yourself up over the things you didn't do.
What wasn't so good about this year?
Here's your chance to identify what didn't go so well this year and what didn't work for you. This is the only time today we'll be focused on a negative, so be ready to move on after this.
From the positives: what do you want to do again? From the negatives: what can you do differently next year?
The whole point of reflecting is to learn from it and use it for an even better year. Life is a journey and a process. Each year you may try things that work or don't work.
What part of what worked do you want to continue to incorporate?
For the things that didn't go so well, can you identify why? What were the barriers? What actionable steps can you take to ensure that it doesn't happen again next year?
This is also a great time to determine non negotiables for next year. Were there things you did that didn't contribute to your overall well being and happiness? For example, consistently working late nights. Decide what you're not willing to do next year.
For example, something that I struggled with this past year was consistency with the blog. My barriers were finding time that both Bassam and I were available to shoot photos and scheduling enough time to write. Actionable steps I can take to overcome these barriers next year are to create a content calendar at least a quarter in advance, create a to do list for each piece of content, and schedule each action item in my calendar at least 1-2 weeks out.
3. New Year Planning – Dream
This part is fun – time to dream! Divide your life into categories that are important for you and spend some time brainstorming what an ideal year would like for you in these areas. Feel free to do whatever works for you here: draw pictures, create a list, get specific, or be broad and abstract. This is a brainstorming section, so there's no right way to do it.
Here are the categories we use:
Health – (examples: feel healthy physically and mentally, increase stamina, increase flexibility, increase strength, grow a vegetable garden, do Whole30, Bassam figure out food sensitivities, walking marathon for Lena and running marathon for Bassam)
Relationships – (examples: weekly date nights, feel more love every day, have lots of fun together, see our friends monthly, get a marriage counseling session quarterly, potentially grow our family, strengthen our marriage)
Career – (examples: grow blog traffic, Bassam grow side business, take re certification courses, create and stick to a content calendar)
Self improvement – (examples: increase confidence and self love, read more and retain what I read, Bassam increase productivity and develop a schedule to stick to)
Fun – (examples: travel to Japan, France, Italy and Greece, DIY home projects, take tennis lessons)
Finances – (examples: create and stick to a budget, pay off our debt, increase our savings)
This section is different than goal setting because in goal setting you'll be determining exactly how to achieve your dreams. They will be specific and measurable. When thinking about dreams, you can get more vague and abstract.
Think: how do I want to feel this time next year? What do I want my life to look like next year? Don't worry about how you'll get there. That's the next section.
If you're planning with your partner:
Work on your lists separately. Take this time to dream up your own year that it's unique to you and list everything that you want and need to feel happy and successful this year. Once you're each done, share what you've both written down. This tends to lead to great conversation, you may have new ideas to add to your list, and you'll potentially learn more about your partner!
4. New Year Planning – Goal Setting
A dream without a plan is just that – a dream. Goal setting is the crucial part of making your dreams come true. Look through your brainstorming and what you've said your dream year consists of. What needs to happen to make those dreams come true? Those are your goals!
A few tips:
Choose a number of goals that is attainable. If your goals are large and will take longer to accomplish, you may want to have fewer goals
Make sure your goals are specific, actionable, measurable, and concise. Your brainstorming may have been abstract and vague, but goals need to be as specific as possible to be actionable. You've probably heard of SMART goals (specific, measurable, achievable, relevant, and time bound). A good goal meets each of these criteria. The most important criteria in my opinion are specific and measurable. I often find that if it's not specific and measurable, you won't have a way to evaluate your progress and it's probably not actionable either
For each goal also determine the following:
What action steps will you take to meet your goal?
What barriers may arise? What you can do to prevent those barriers? What can you do once the barriers occur?
How will you measure your progress and how often will you check in on your progress?
Examples and non examples of a goal:
Example: We will eat at least 5 servings of vegetables a day at least 5 days a week. 80% of our weekly meals will be homemade. (specific and there's a way to track it)
Non example: We will eat healthier this year (okay, but HOW? What does that mean? This is perfect to write in the dream section, but it's not a goal)
If you're planning with your partner:
Decide which goals are joint goals and which ones are solo goals. If they are joint goals, make sure they are attainable for both of you and valuable to both of you. You may also want to discuss what type of barriers might come up because you two are working together to accomplish the goal. For example, will it be difficult to coordinate your schedules? How can you overcome that?
5. New Year Planning – Schedule
Now that you have goals and actionable steps, when will you make it all happen? Crack open your calendar and schedule a time for when things will occur. Certain goals like, travel to Greece, may only be on the calendar once, while other goals like, "go to the farmer's market weekly" may need to be on there repeatedly.
This is also time to break your goal into mini steps. Most goals are accomplished by multiple actionable steps. Work backwards in the year to schedule when you will do each actionable step to have the overall goal accomplished by the end of the year.
This is also a great opportunity to see if you were over ambitious with your goals. Time can often be a very abstract concept, but once you make it visual and actually plug in times to do things, you'll be able to see if you were reasonable with your expectations. If you found that you weren't, scale down to what is actually attainable.
Keep a note of anything you aren't able to accomplish this year so that you can add it to your plans for the following year.
If you find it too overwhelming to plan out the whole year, you can also try planning the first half of the year. Personally I like to have an overall idea of what the whole year will look like, but I only plan the first half in great detail.
If you're planning with your partner:
If you don't already have some sort of shared calendar system, this is a great time to create one. We use a shared Google family calendar that we access on our phones. Make sure you're scheduling time on the shared calendar for any joint goals.
6. New Year Planning – Celebrate
Yay, you're done! Great work taking time to plan out your year! Now for the fun part – time to celebrate! This step is very important and should not be missed. It's really important to acknowledge your achievements and provide yourself with rewards for your hard work. Whether you decide to do that with something large like a weekend getaway or something small like a glass of wine, choose a reward that is meaningful and exciting for you.
Take the time to commemorate this accomplishment, enjoy it fully, and then get back to work! Each time you meet a goal throughout the year or complete your actionable steps, don't forget to celebrate!
7. Schedule a mid year review
You've created this beautiful plan (yay, you!), but the important thing is actually sticking to it! One of my favorite things to do is to pre schedule a time for a mid year review. At this time, we have an evaluation meeting to see how our progress is going and if anything needs to be adjusted. We'll share a guide for that later in the year, but for now, just get it on calendar!
If you absolutely cannot commit to a date, at least schedule a calendar reminder when it's getting close to the half year mark to schedule the mid year review.
If you feel you need extra support in sticking to your plans, here are a few resources you might find helpful:
Did you like this post on New Year planning? Please pin it!