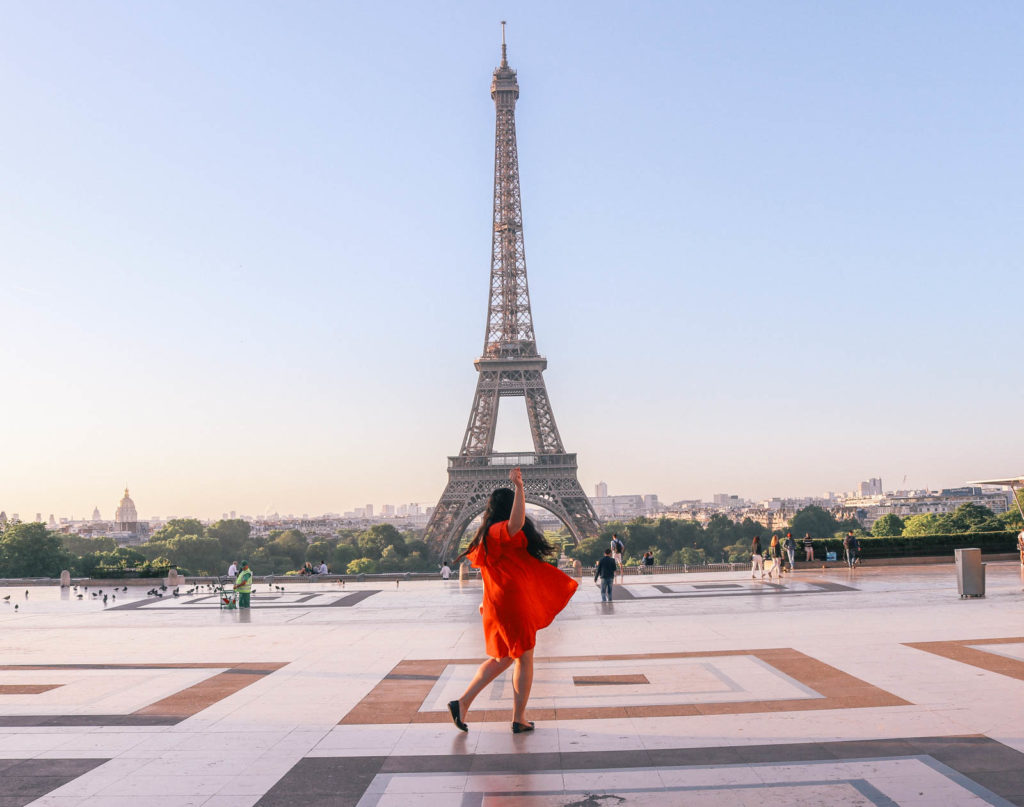 I'm writing this post from Paris. In a beautiful apartment we are renting, with a wraparound balcony that overlooks the Eiffel Tower. (More to come on that soon!) It's 5:30am and I cannot sleep. It's dark outside and the normally noisy city is quiet, except for the sound of the pouring rain on my Parisian rooftop. I've snuck out of bed, even though I so desperately need the sleep, to write this post and empty my buzzing mind.
Dear reader, this is a slightly different post than I normally write. I normally try to provide you some sort of tip or inspiration. I have no tip or inspiration in this post, instead, I ask that you help me with something, even if that something is just to allow me to talk/write my feelings out so I can make sense of them.
As utterly ridiculous as this is going to sound, I'm having major anxiety here in Paris. Me, who is the queen of saying, "let's savor the moment" and "let's choose JOMO over FOMO", is battling major major major FOMO. It's getting in the way of us enjoying our otherwise perfect trip. I feel like a huge jerk for even admitting to this, so please don't judge me too harshly.
I shared my anxieties with a good friend and she said she doesn't know what to tell me since I usually am the one who talks about shifting mindset. She made me realize I have the answers within me.
I'm going to try doing what I would advise someone in my place to do. (Do you also find that you give others the best advice, yet don't seem to give yourself that advice?) I'm taking my own medicine now.
First, Speak the anxiety out loud. Name it, rather than pushing it away.
So here goes, welcome to the crazy that can sometimes be my mind.
I'm afraid that we won't enjoy this trip as much as we should. I've waited so long for us to visit Paris together and now that we are finally here, I'm worried that I'm not fully enjoying it.
I'm mad at myself for being sick and for letting it drag me down, rather than being able to skip along like I normally would. I'm dragging along, feeling pretty miserable actually.
I'm worried that the time we have is not enough. That we won't be able to do all the things that I want to do. That I won't have time to truly show Bassam the magic of Paris and let him discover it in all its glory. It feels pressure filled to try to give someone else that magical relationship that I have with Paris. To smoosh into three days all the glorious days I've spent in this beautiful city over the years.
I'm scared, nervous, and a little sad that this may be the last time I visit Paris again for many years to come and the next time may be with a baby or a toddler. Maybe even a teenager? Who knows! I'm so excited for the next chapter of our lives, but it also means that this one is coming to an end. Goodbye is bittersweet. (No, I'm not pregnant yet. I just majorly think ahead. I warned you, I'm letting you into the crazy of my mind.)
I feel like a jerk writing all of this. None of this is a real problem. Not even in the slightest. I've battled real problems and didn't let them cause me this much anxiety. That also is making me anxious. I'm not only being hard on myself for not fully savoring the moment, I'm also being hard on myself for being upset. Ridiculous, I know.
Second, journal for 15 minutes without stopping. Ask, "why".
As you may have noticed, these are surface level problems and anxieties at first glance. But there's more there. There's a deeper why. There usually is when something is truly bugging us. Rather than focus on the details, I need to focus on the deeper why.
It turns out, my deeper "why" has to do 1. with the enormity of the life change we are planning, 2. something I always struggle with, which is feeling responsible for other's feelings and experiences rather than just focusing on my own, 3. a bout of imposter syndrome, and 4. feeling like I don't deserve this amazing experience. I'll address 3 & 4 in a later post.
Knowing that these are the root of my anxiety and not just that I want to do all the things, helps me to better address my worries.
Time to move forward in joy.
Okay. I've named the worries out loud. I understand they sound illogical, but they are real to me in this moment. Rather than push them away, I'm going to let them be there. They are coming along for this trip. What I'm also going to do, is focus on my joy.
What brings me joy in Paris?
Wandering. Lingering in cafes. Exploring. Finding new spots. Popping into anywhere that catches my eye. Savoring a croissant and the rare cup of coffee that I drink. Skipping down a charming street while taking twirling photos and exclaiming "it's so cute" a million times. Yes, sometimes my joy is basic. No shame there.
What represents Paris to me?
Wandering. Curiosity. Discovery.
We've been in Paris for just over 24 hours. Did I do any of the things that bring me joy? No.
Did I do the things that represent Paris to me? No.
Did I ruminate over the thoughts that are making me anxious? Yes non stop.
The sun is starting to rise, ever so slowly. The city is still quiet. The lights on the Eiffel Tower are still off. The rain is still pitter pattering on the rooftop. My mind has been (somewhat) emptied. I'm going back to bed. Shutting off my phone. Tearing myself away from the guidebooks and cutting off my Googling rights. I don't need yet another list on "must sees, dos, eats…".
The anxious thoughts can stay with me if they'd like. I've acknowledged their presence and I now understand what brought them here. I'm not trying to fix them, just to understand them. They also need to stop being the navigator in this trip though. When I wake up in the morning, whatever time I wake up, I will do the things that bring me joy. That's what I will focus on, without pushing anything else away.
While I'm focusing on the things that bring me joy, I'll be practicing the "savor" exercise from our recent Joy Challenge. What do I smell? What do I hear? What do I taste? I don't need to freak out about not being in moment, it's all just a practice. Sometimes it's harder than other times.
If at the end of the day the anxious thoughts are still there (albeit in the backseat) and the things that brought me joy were in the driver's seat navigating the trip, it just might be a case of JOMO winning the battle over FOMO.
I'll report back tomorrow and let you know.
Thank you for letting me write without purpose, dear reader. I appreciate you listening. If you have any suggestions on overcoming FOMO while traveling, I'd love to hear it.