Looking for the best adventurous date ideas to spice up your relationship or keep your loved one on their toes? You're bound to find an adventurous date idea that intrigues you on this list of 101 adventurous date ideas!
We think adventurous date ideas are so important to throw into the mix of your regular ol dinner-and-a-movie date routine. While routine date nights can be fun as well, think of them like your staple cozy sweater you can count on any time. Adventurous date ideas are like the sexy black dress in your closet. They might not be right for every day, but when thrown into the mix they can bring a lot of excitement, spiciness, and SPARK to a relationship.
Adventurous date ideas aren't just to spice up your date night routine, they can also help you fall deeper in love. Seriously. It's scientifically proven.
When I was in grad school I took a class on how to fall in love. (Needless to say, it was the class I paid the most attention in.) One of the things I learned that stuck with me is that novelty can not only help you fall in love, but it can also help you stay in love.
The reason why is that novel activities, taking risks, activities that promote fear (like roller coasters), and trying and learning new things, all release dopamine in the brain. Dopamine is one of the same chemicals that's released in the brain during the beginning stages of a relationship. A lot of the butterflies you feel during that time period can actually be attributed to dopamine!
Have you ever noticed you feel "more in love" with your partner when traveling or trying new things? This is why! Dopamine is being released!
Dopamine isn't the only chemical to help give you "lovey feelings". The exact "love cocktail" that scientists often refer to consists of dopamine, oxytocin (stimulated by touch and feelings of trust), serotonin, and endorphins. Your body naturally releases these chemicals when you fall in love and knowing that, there are ways to enhance each one.
We can talk about each chemical more deeply in a future post, but for today we'll be focused on dopamine and endorphins, with some serotonin and oxytocin sprinkled in there. These chemicals can be triggered during the adventurous date ideas we have listed here, which is why we highly recommend trying out an adventurous date idea once in awhile!
Whether you're just getting into a new relationship or you've been in one for what seems like forever, take advantage of the love boosting aspects of these 101 adventurous date ideas!
101 Adventurous Date Ideas To Fall Deeper in Love
Adventurous date ideas:
Keep in mind with all of these adventurous date ideas, it's all about the journey. Don't be too focused on "completing" the list, instead, keep an open mind to all the different opportunities that might be present or different things you can learn and explore.
I truly believe that anything can be an adventure, it all just boils down to mindset. Go into these adventurous date ideas with an adventurous mindset and you may be surprised to find adventures where you never expected them.
The best adventures will happen as part of the journey. Go into these adventurous date ideas with an open mind, a light heart, and be ready to explore and get a bit silly!
1. Go to an amusement park
Visiting an amusement park or theme park near you is a great adventurous date idea! Riding roller coasters together will boost your endorphins and adrenaline, leaving you with lots of lovey feelings!
Even if you aren't into roller coasters (we get it, Bassam won't ride one with me), theme parks still make for a great adventurous date ideas as they have tons of options of different things to do and explore.
2. Create your own romantic challenge as an adventurous date idea
Why not create and complete your own romantic challenge? You'll get creative together in coming up with the challenge and then have lots of fun completing it together! Here are some ideas to get you started:
Kiss in front of every blue building within a 30 mile radius of your house
Hide a love note at every date spot you went on your first year of dating
Try every Italian restaurant in your city with 5 stars on Yelp
Walk every street in your city starting with the letter "A"
3. Explore a random point on a map
Close your eyes, point to a random spot on a map, and go there! You can keep this as local or as far out as you like!
If you're a couple that likes to travel together, choose a spot anywhere in the world!
If you can't just up and fly away like that, neither can we as much as I wish we can, use a map of your own town.
If you can getaway for the weekend, maybe do a map of your state! Either way, it'll lead to a fun adventure no matter where you end up!
4. Go sand duning
We recently went sand duning on a weekend getaway and it such a fun adventurous date idea! Google the closest spot near you to go sand duning and check it out for yourself!
We took a tour but next time I'd really like to rent a single person ATV. The tour didn't feel adventurous enough for me, although Bassam would disagree with that!
5. Play a sport together
Playing a sport together is an amazing way to get your endorphins pumping!
Physical activity releases endorphins in general and doing it together helps you get lovey feelings! You can get even squeeze out even more endorphins if you turn it into a competition! Play 1:1 and get a bet going!
6. Learn something new together
Learning something new together is an amazing way to release dopamine through a new activity AND it also helps strengthen your relationship in terms of expansion.
Dr. Arthur Aron theorizes that "self-expansion," the desire to grow and change, is critical to boosting a couple's level of commitment. By "self-expansion" in a relationship, he means that you see your partner as a source of exciting experiences, a support for becoming a better person, or a way to expand your own capabilities.
Learning new things together is a great way to do that!
Some ideas:
Take a class together (cooking, photography, wine tasting, painting, etc)
Teach each other something (this is a great way to get your partner into your interests and work on your communication skills!)
Pick up a new hobby together (you'll be learning something new together for a longer duration of time and it'll feel so satisfying as you start mastering it!)
7. Find a rooftop with the best view of your city
Hanging out on a rooftop with your loved one is our idea of a romantic date night. What can turn it into an adventurous date night, is going on a hunt to find the best view!
You might already know of some great spots in your city, like maybe a local bar or a skyscraper, but we challenge you to get more creative! Explore all types of rooftops in your town, even parking lots, until you find one with a beautiful view- perfect for your romantic and adventurous date night!
8. Take a trapeze class
This is one of my favorite adventurous date ideas Bassam and I have ever done together! A trapeze class is an amazing adrenaline pumping actitivy and can make you feel so free! We found a groupon for a class that combined trapeze, trampoline, and silks. So so so much fun!
9. Travel to a new destination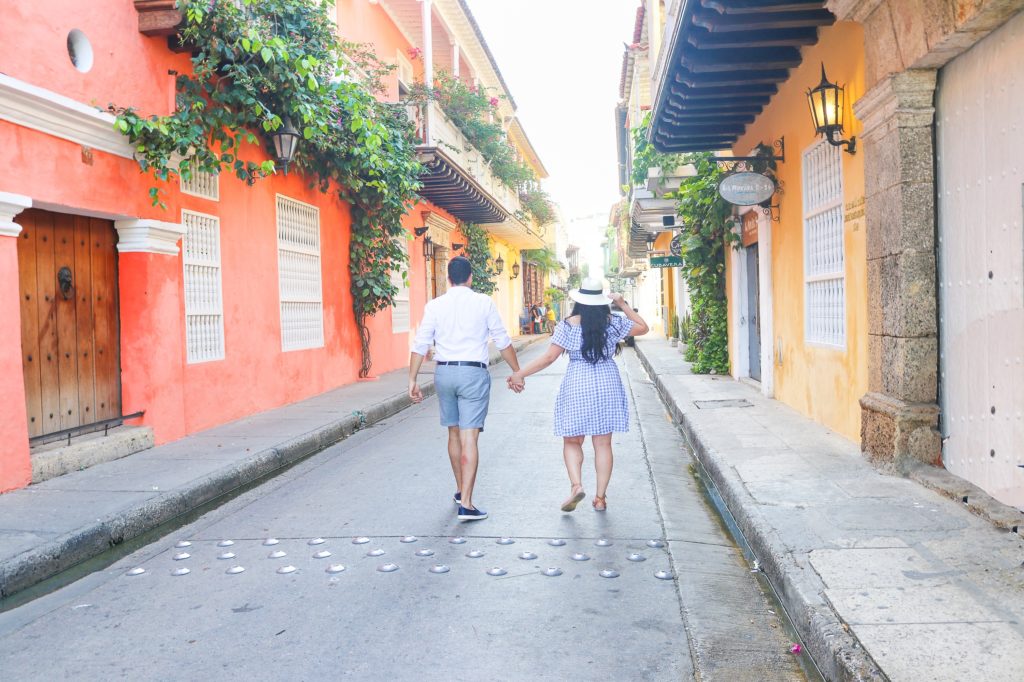 Another one of our favorite adventurous date ideas. We absolutely love exploring new destinations together and always find that it resparks our relationship.
Even if you can't travel very far, find a close by town that you've never been to and go explore there. Literally anywhere can be exciting when you go into it with the mindset of adventure, so even if you think you don't have any exciting places to travel to nearby, try it with any open mind anyway!
10. Have breakfast at home. Have lunch 20 miles+ away. Have dinner 50 miles+ away
We love this idea! It can lead to a lot of adventure and possibilities! The title is pretty self explanatory, but find a place to have breakfast close to home, lunch somewhere at least 20 miles way, and dinner somewhere at least 50 miles away.
You can also reverse it if you prefer to end closer to home. It could be even more fun to choose places you've never been to before, but even favorites spots will still be a fun adventure!
11. Make a list of things that you scare you and do one thing off each of your lists
This is a fun two part date.
Part 1: grab some drinks at home or go to a cute new spot and spend some time coming up with a "things that scare me" list. Each of you should come up with your own separate lists
Part 2: pick one item off each of your lists and go do them!
Voila, three adventurous dates in one (if you do each of your scary things on separate dates)! You can even decide to do one thing off the list a month to keep it going!
12. Look up a lists of events in your area and randomly go to one
Almost all towns have a bunch of fun events going on every weekend. Look up an event calendar for your town and pick an event to go and attend at random. Even if you think the event is silly or quirky, try it anyway! You never know!
13. Take advantage of a rainy day and go mud sliding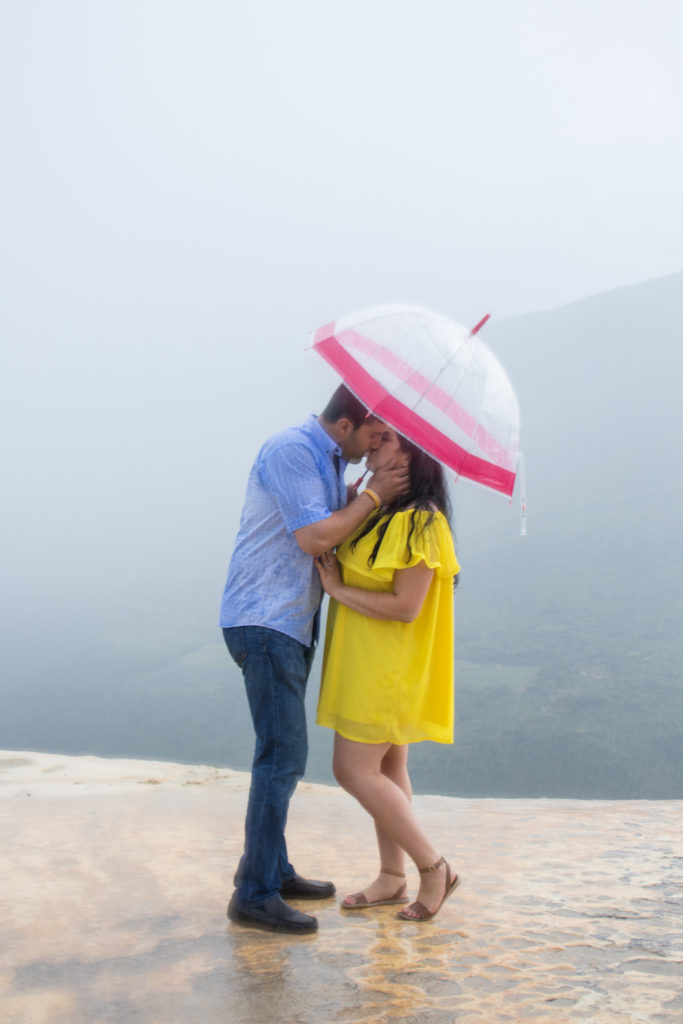 I did this once in college and it was SO FUN! Find a grassy hill somewhere, grab trash can lids or sleds, and go sliding down the muddy hill! If you don't want to get super dirty, you can wear disposable rain coats, but getting muddy might be part of the fun!
14. Play hide and seek somewhere unexpected
Turn this beloved children's game into a fun and adventurous date idea! Choose an unexpected place, like a home furniture store or even a city center, and play hide-and-seek! If it gets too challenging, you can text each other clues of where you are.
15. Turn your date into a real life choose-your-own-adventure book
This is an adventurous date idea that can get really adventurous depending which way you decide to go with it! There are two ways you can do this date idea:
Option #1: work together
One of you start the date by choosing something, literally anything. You can choose a street to start on, something to eat, a theme for the day, whatever. Then the next person continues it with with choosing one thing and then leaving something else open ended. Continue this way for the whole date and see what kind of adventurous date story you end up telling together!
Option #2: Surprise date
A choose your own adventure date is a really sweet adventurous date idea to surprise your loved one with. Set this up by writing a little story about the two of you and then have "choose your own" sections. For example: Lena and Bassam went to Santa Monica for a romantic date by the beach! They walked by a taco truck and an ice cream shop. Bassam decided to eat _________."
16. Try a water sport
Water sports are so fun for adventurous date ideas! There are so many fun options depending on what you're into! Water activities are not only a lot of fun, but most of them also promote communication and teamwork. Here are some ideas:
Water skiing
Kayaking
Surfing
White water rafting
Jet skiing
Stand up paddle boarding
17. Go on a bike ride
Find a new neighborhood to explore and go for a bike ride! Exploring in a new way will inject some freshness into your relationship. Want to make it even more exciting? Ride a tandem bike together.
18. Get messy together
Why not turn your adventurous date into a challenge to see how messy you can get together? Getting messy is out of the norm for most of us and something that we typically try to avoid, that it can be really exciting and help you get a little wild and free!
Some ideas:
Paint each other
Take a pottery class
Play in the mud
Dance in the rain
Have a food fight
Play twister, but with a twist. Put a little bit of ice cream on each spot!
Have a paint fight
Throw paint at a canvas
Fill a kiddie pool with shaving cream
Go on a mud run
Have a water fun fight
19. Race go karts
Channel your inner race car drivers and go race go karts! If you want to take it up a notch, you can even find a race car track. If you want to take it down a notch, go do bumper cars! So many fun possibilities!
20. Take a boat out for the day
You don't have to be fancy to rent out a boat for a day and experience this adventurous date idea. Check out local boat rentals in your town and find something affordable.
Smaller boats are often more cost effective and you can bring a little picnic as you spend the day out on the water. If that's too far out of your budget, try paddle boats!
21. Embrace the season
Each season brings with it so many fun possibilities for new activities! Let the season guide your adventurous date idea. Things like a snowball fight in the winter, jumping in a pile of leaves in the fall, plant a garden in the spring, and skinny dipping in a lake in the summer.
22. Complete a DIY
Working together to complete a DIY can be a really great adventurous teamwork date! Look up different craft projects online, complete a home DIY or restoration, or maybe even set up a herb garden! We recently distressed our fireplace and it was such a fun project together! Our next big project is to build a greenhouse and create an herb garden in it.
23. Go rock climbing
I love adrenaline pumping activities and don't often get scared, but rock climbing was the scariest and most exhilarating thing I've ever done! It taught me a lot about mindset and life in general.
While Bassam and I have never done it together, I know it would be an amazing date idea! If you can't find any local outdoor rock climbing classes, try an indoor gym!
24. Get in a friendly competition together
Friendly competition can be a great bonding adventurous date idea! Pretty much anything could be turned into a fun bet! Here are some ideas to get you thinking:
Who can make the best cocktail
Cook off competition
Batting cages
Bowling
Who can run the fastest down the street
25. Go zip lining
We LOVE zip lining! We've done it several times while traveling and it's always such a great adventurous date idea! We've recently found that there are actually a bunch of zip lining places near us. Google it and see if there are any near you. SO MUCH FUN!
26. Play laser tag
Bring back this childhood favorite for your adventurous date night. You'll get your competitive juices flowing and also have some laughs because who can take themselves all that seriously holding a laser gun? Loser buys ice cream…
27. Go hiking
Hiking is one of our favorite adventurous date ideas. We love checking out all the different hiking spots near us. Not only is it a great way to get your endorphins going, it's also so fun to explore new hiking trails and mountains together.
28. Stay up all night
When was the last time you stayed up all night? Make a pact on your adventurous date night to stay up all night and see where the night takes you! In order to stay awake and be entertained all night, we're sure you'll come up with all kinds of creative ideas! Finish off your adventurous date night by going somewhere like a rooftop or the beach to watch the sunrise!
29. Go somewhere neither of you have ever been
Some of the best adventures happen in new places! Find a place neither of you have ever been to and go explore! If you are limited on options near you, that's okay! Just go anywhere and see what you can make of it! Again, remember, it's all about the mindset! You can find something new and exciting anywhere if you're willing to look for it!
30. Purposefully get lost
Getting lost can be an amazing way to discover new things and have new experiences. If you can get to a new city or different part of town, this date idea will work best, but if that's not possible, you can still aimlessly wander anywhere. This is one of my favorite ways to exploring a new place while traveling and it works great as an adventurous date idea as well!
31. Play truth or dare
You can turn this into as tame or risque of an adventurous date idea as you'd like! Choose silly dares or crazy ones, but this can get really fun! And you can learn a lot more about each other with the truth component!
32. Try tandem bungee jumping
Tandem bungee jumping is the perfect activity for daredevil couples! If you're into extreme adrenaline pumping activities, this would be an amazing adventurous date idea for you! Bungee jumping is really high on my bucket list but not something I've been able to convince Bassam to do yet…
33. Sign up for a scavenger hunt
Scavenger hunts are popping up all over! We've done several of them and they are so much fun! You usually compete in your partnership or small group against a large group of people and tackle a series of clues all over a city. They usually take a few hours to complete and are a lot of fun! It's also a great way to work together as a team with your date, which will help you get to know each other more and boost your communication and bonding.
If you can't find any scavenger hunts in your area, try creating your own!
34. Go sky diving
Okay, this might be a little extreme, but skydiving can be a really great adventurous date idea if you're into exhilarating activities! You won't be able to jump at the same time, but you'll both be buzzing on adrenaline after which will help boost your feelings of love! Tip: choose somewhere with a beautiful view to go sky diving! I did it somewhere without a very nice view and I actually got a little bored.
35. Relive your childhoods
Reliving your childhood can be a really fun date idea! Introduce each other to your favorite activities from you were kids. If you were into different things as kids, it can also be a great way to try new things together! You can also just do fun kid things. Some ideas:
Hula hoops
Swings at the park
Hopscotch
Blow bubbles
Sidewalk chalk
36. Sneak into a hotel pool
Sneaking into things can be so thrilling! Go on an adventure by trying to sneak into a hotel pool. Half the fun will be getting in and then once you're in, it'll be so much fun to date a date by the pool. Keep the adventure going by pretending to have a whole back story of why you are staying at that hotel.
37. Cheer on a mutually favorite team together – or be on opposite sides!
I'm not a big sport lover, but every four years I love watching the World Cup games with Bassam. It's always such a fun date and we get really into painting our faces with our team colors and cheering on our teams. We are often rooting for opposing teams, which makes it even more heated and exciting. If you're on opposite teams, why not challenge each other to a fun bet?
38. Go pick something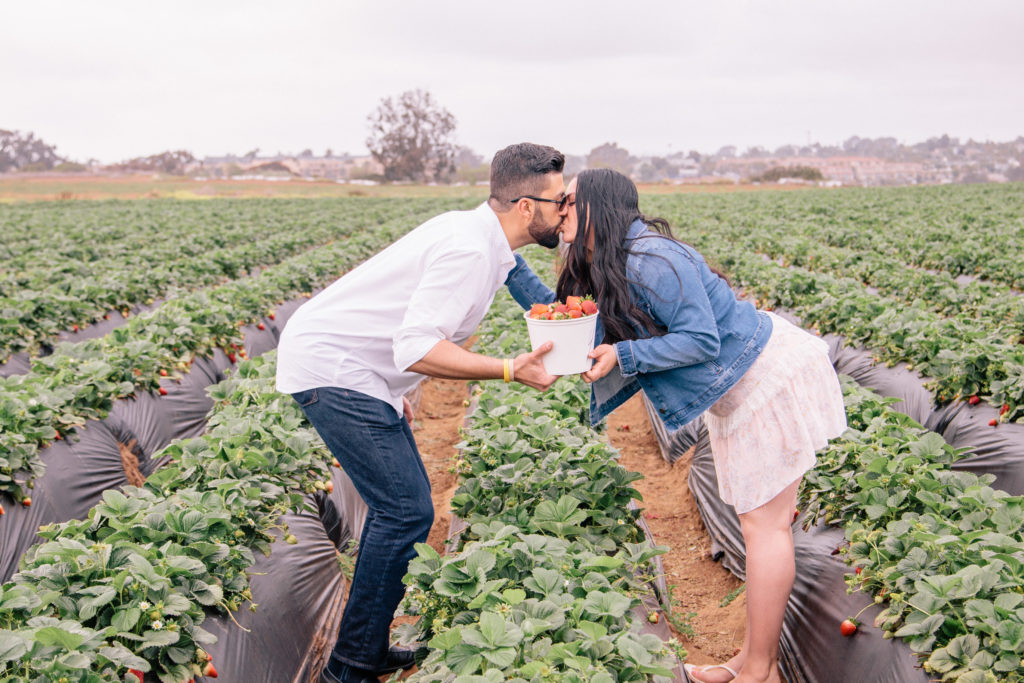 Apple picking, pumpkin picking, strawberry picking… every season I love going on "picking" dates. Bassam always pretends to complain about it, but he always has so much fun too! Plus. then you can have an adventure in figuring out lots of different things to make with whatever you picked.
39. Tackle a challenge together
Devise your own challenge and tackle it together! Maybe that's going to be something like beating a current world record or completing a silly marathon that you make up. The options are endless and it'll be fun to get creative together to come up with the challenge.
40. Buy a cheap plane ticket and getaway
If you have a few days off, why not getaway somewhere? Look up the cheapest ticket available that day and go WHEREVER the destination is. Can you imagine a more adventurous date idea?!
41. Take a helicopter ride
Bassam was initially very reluctant to trying a helicopter ride and then he fell in love! Look up rides around your city for a really exciting and adventurous date night idea! If you want to take it up a notch, try to think of a unique helicopter ride. For example, in Alaska we took a ride up to a glacier and in New York we flew in an open door helicopter. Both really added extra adventure to the experience. They were pricier dates than we usually do, but both are experiences we haven't forgotten.
42. Cook something different together
Cooking together is always a fun date idea, but for a more adventurous date idea, try cooking something different than anything you've made before. You can do a different type of cuisine like Indian or a challenging type of recipe like macrons. No matter how it comes up, consider it an adventure! Bassam and I once spent hours making gnocchi and then at the last step, Bassam overcooked it and it exploded! We ended up eating frozen pizza we had stocked in the freezer, but it was still such a fun adventure and a story we still tell.
43. Go on a "quarter" drive
This is one of my favorite date ideas and makes for a very adventurous date night. It's basically the same concept as going on a drive without a predetermined destination, but you let a quarter decide your fate. Establish a set amount of time you'll drive for and then at every possible turn flip a quarter. Heads you go left and tails you go right. Continue until times up and then do something wherever you end up!
What's awesome about this date idea, is that it's also perfect if you're on a budget! Check out this post for more budget date ideas.
44. Explore a haunted house
Haunted houses are usually popular fall date ideas, but why not explore a haunted house anytime of year? Most towns have a local haunted house that's surrounded by a ghost story. Look up the closest one near you and go and see if you can find any ghosts yourselves!
45. Crash a party
Crashing a party always leads to an adventure! Find a low key wedding or a raging party and try to crash it. Give yourselves back stories and fake identities and see if you can pass as invited guests. We've accidentally (for real it is an accident!) crashed a wedding in the past and it was so fun! We were walked around one night and stumbled upon a party at an outdoor bar. We thought it was just a regular bar, but after we were dancing for awhile, we realized it was rented out for a private party, a wedding! It was too late to leave at that point, we already had drinks and everything, so we stayed and partied with the weddings guests. A date to remember!
46. Go camping
Okay, I'll confess, camping is not exactly my thing, but even I have to admit, it is an adventure. If you're not a camper like me, try something like glamping. The one time I went real camping was in Jordan in a Bedouin tent and that was well worth it! Such an adventure! If you can find a unique experience like that, it'll add so much more adventure to your experience!
47. Check out a shooting range
This is one of Bassam's favorite activities and so sometimes I'll go with him. It's actually a really great stress reliever and can be quite an adrenaline rush!
48. Go cliff jumping
I love cliff jumping! No matter how many times you do it, there's still a great adrelenine rush that comes with it. Jumping together can be really romantic as well! Just make sure it's a safe place to jump. You don't want to jump somewhere with shallow water or a lot of rocks, so do some research first. Other than that, it'll be fun to check out different places!
49. Visit a karaoke bar
Karaoke makes for a way more adventurous date night idea than your standard dinner and a movie! Check out a karaoke bar together and each sing a song to each other or do a duet together! Even if you're not good singers, that'll still be part of the fun! If your hesitent to sing in front of an audience, look to see if your town has private karaoke rooms. Those can be so much fun!
50. Try an unusual food
We love foodie adventures! Why not try a new type of food on your adventurous date night? It could simply be a food you've never tried before or maybe it could even be something that kind of scares you or grosses you out! One time Bassam and I tried grasshoppers on our adventurous date night. We weren't big fans, but it was cool to try! Another time when Bassam was feeling up to being adventurous, we tried oysters. That's not a gross food, but it is something that Bassam avoided for a long time. He ended up loving them and now always gets them!
51. Take a food tour of all one specific food item
Why not create your own food tour? Pick a specific food time or type of cuisine and go food hopping as you try all the different places around you. You can even create a scoring sheet and rank the different places you try, as you attempt to find your new favorite!
52. Build a fort at home
Dates like this are always so silly and fun! Pretend to be kids again and make forts in your living room. It's a perfect spot to cuddle up and get cozy together!
53. Play childhood favorites at an arcade
Bassam and I love having Pacman competitions anytime we come across an arcade. It has been our thing since we started dating. Pick a game that's "your game" and play it every time you come across it or just head to a local bar and play all your childhood favorites!
54. Have a drink at an unusual bar
We love going to an unusual bar for a drink when we feel like being adventurous. We've tried tiki bars, ice bars, 80s themed bars, etc. Look for unique bars in your area and take your pre dinner drink there. That'll be a great way to start your date night on an adventurous tone.
55. Try to beat a world record
Look through the Guinness Book of World Records and pick a record that you can set out to beat! Even if you don't succeed, it'll still be fun to try!
56. Go skinny dipping
This doesn't really need an explanation, but find any body of water: a pool, an ocean, a lake- and go skinny dipping together!
57. Try a different mode of transportation
Switching up your daily routine is always an adventure and finding a different mode of transportation can be a great way to do that! Think of a mode of transportation you don't typically use and do that! For example, Bassam and I almost always drive. Living in Los Angeles it's just the norm. On the rare occasions that we decide to bike or walk, it's always an adventure! It would be even more of an adventure to take a train or the bus, even though we have a car. Try switching up your routine and see what happens!
58. Volunteer somewhere meaningful to you
Volunteering is a great bonding activity. Doing feel good things like this boosts serotonin, endorphins, and oxytocin chemicals in your body. If you remember, we discussed earlier how those are also the same chemicals your body releases when you fall in love. Use that to your advantage by volunteering together and get a release of feel good lovey chemicals!
Whatever cause is meaningful to you is perfect, but here are some ideas:
Soup kitchen
Animal shelter
Children's hospital
Elderly living home
Make toiletry bags to hand out in an area with a large homeless population
59. Go on a road trip without a predetermined destination
We LOVE going on road trips and we especially love going on road trips without a pre determined destination! It's always such an adventure! Even if you don't have a whole weekend and you have just a day, you can still do this! If you are like, noooo way we can't go somewhere without knowing where we are going, at least make your route flexible. We often will have an end destination, but will allow ourselves plenty of time along the way to stop in random little towns and explore. It's always the unexpected moments that you can't plan that lead to the best adventures!
60. Visit a local bookstore or library and choose books at random
I think books are such a great way to have an adventure without leaving home. Go to a bookstore or library together and select books at random to read together. Be open minded about the subject and the genre. You never know what might interest you or what you might learn.
61. Take a random tour
Go on any random tour in your city. You'd be surprised how many different establishments offer tours and even if it's not something you think you're interested in, you'll be surprised at how fun it might be or what you might learn. Are you noticing yet that a big theme in adventurous date ideas is the unexpected and the random?
Ideas of places to check for tours:
Factories
Tourist hot spots
Museums
Farms
Universities
62. Be a tourist in your own city
Have you ever noticed that a tourist often does all the awesome things there are to do in a city but the locals usually have never done them? We lived in Los Angeles our whole lives and STILL haven't been to the Hollywood Sign! I don't think Bassam has ever seen the Walk of Fame! As cheesy as your local tourist attractions sound, go on a tour of all the biggest ones your city. You might be surprised by the adventures you'll have!
63. Go to an indoor trampoline park
Indoor trampoline parks are so much fun and also an amazing workout. This is a great way to be silly together and get your endorphins pumping. Go visit one near you and see what kinds of tricks you guys can do together!
64. Go geocaching
If you've never been geocaching, it's a really cool adventurous date idea. It's basically like a real life scavenger hunt. You use a GPS device, like your phone, to find geocaching hotspots in your area. Then you find that location, almost like a treasure hunt, and see what has been hidden there. If can also hide your own treasures for others to find. More info here.
65. Go paintballing
Paintballing is one of Bassam's favorite adventurous date ideas. I don't love it because you can get pretty hurt, but I'll admit it is really fun! It's a great way to boost endorphins and it's also a great teamwork activity, which helps improve your communication and boost your bond.
66. Visit a fortune teller
Whether you believe fortune tellers are legit or not, this can be a really adventurous date idea. Go check out a fortune teller and see what they have to tell you about your fortune together. If it ends up being bad, just laugh it off, it's probably not real anyway.
67. Go on a ghost tour
Most cities offer official ghost tours and if not, you can make up your own by looking up ghost legends in your town. Even if you don't believe in it, it'll still be fun to explore your town at night and probably check out new spots you haven't been to before.
68. Go on a dinner adventure
Going on a dinner adventure is a great way to spice up a dinner date night. In our town we have things like a pirate theme dinner, a medieval nights theme dinner, dinner in the dark where you eat blindfolded, etc. Look around your area to see what types of dinner adventures you can find. If you can't find any, you can also host your own mystery dinner party!
69. Do some spring cleaning – any time of year
Wait wait for spring to do some cleaning? Spend time bonding with your loved one while also organizing and cleaning out your space. It'll be an adventure because you never know what you'll find! Plus, you can go to a local thrift shop to donate the items and then buy each other silly presents.
70. Visit your local farmers market
We love going to the farmers market so much that now it's part of our weekly routine! We head there every week to pick up our staples and also at least one thing that we've never tried before. There are bound to be many things you've never tried or seen before. Sample them while you're there or just pick up something without trying it. You can even challenge yourselves to make a meal out of only things you bought at the farmers market.
Check out this post for tips on shopping the farmers market like a pro
71. Hit up an improv show
Improv shows are always an adventure because you never know what will happen and what way the show will go. Attending a show or participating in one would make for a great adventurous date!
72. Do something you've never wanted to do
No, that's not a typo. Doing things you've never wanted to do or never thought you were interested in are a really great way to get out of your comfort zone and therefore, have an adventure! We aren't suggesting you do something that goes against your values, but more like something you just don't think you're interested in or maybe scares you a bit. Go into this with an open mind and see what happens.
73. Grow something together
Growing an herb garden or even just a single plant together can be an adventurous date idea, especially if you've never done something like that before! Before you dismiss yourselves as not being green thumbs, give it a try. Getting the proper care advice from a professional and starting with an easy plant can be really helpful. Bassam and I are not green thumbs in the slightest, so when we grew grape vines in our backyard we asked the nursery for care instructions. A year later, our grape vine was growing and thriving and it felt so exciting! This is a great long term commitment to take on together and also a great way to work together as a team.
74. Look for treasure at an antique shop
We love antique hunting as an adventure! Even if you aren't shopping for anything in particular, go see what you can find. You might find some really interesting things! You can also turn it into a game, like see who can find the most extra chandelier or who can buy the best gag gift for under $5.
75. Stargaze and try to figure out the constellations
This is a romantic date idea that can also be really adventurous! Head somewhere where there are not a lot of lights, bring something to lie on, and lie down and stargaze!
It could be really fun to look up different constellations, try to find them, and learn what they mean.
You can also make up your own constellations and makeup stories about them that have things to do with your own relationship story.
76. Pretend to be strangers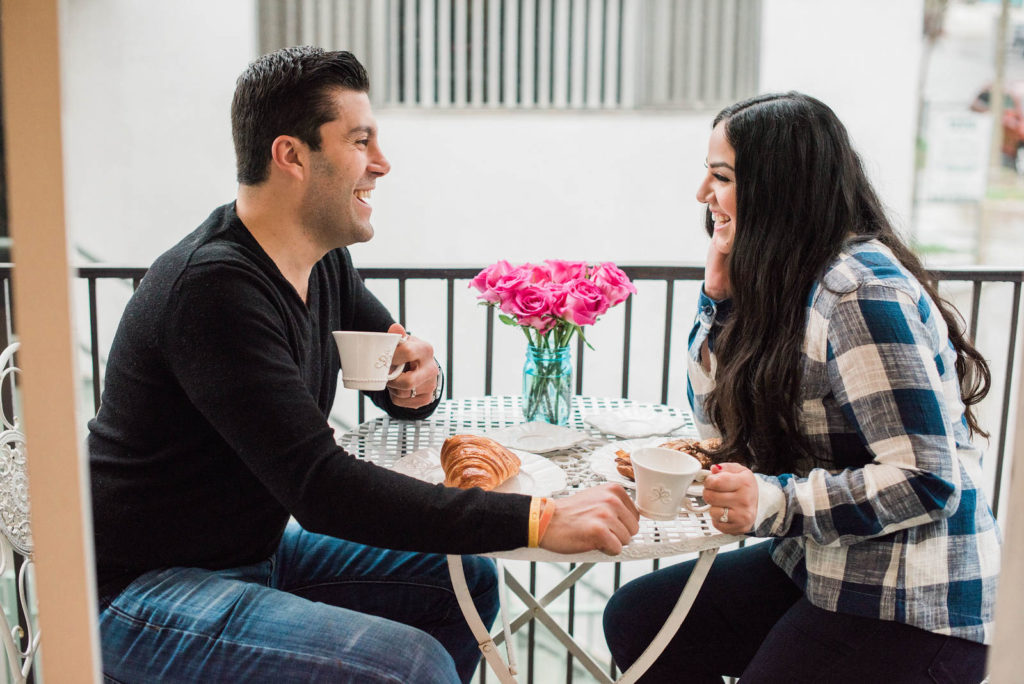 The beginning of a relationship is so exciting, why not recreate that? Pick a place and both of you go there and pretend to "meet" for the first time. Flirt with each other and try to get each other's number by the end of the night ;-).
If you want to take this up a notch, you can also recreate You've Got Mail. For a week, strictly communicate with each other via email, pretending you met online and have never met in real life. Send each other really cute, flirty, and witty emails all week. Then at the end of the week, pick a spot to "meet" for the first time. Don't forget to tell each other what you'll be wearing so that you can recognize each other!
77. Go skating
Whether you choose roller skating or ice skating, going skating is always such a fun date idea! Neither of us are very good at all and I'm much worse than Bassam, but that just gives us an excuse to hold on to each other a little tighter and it's always a fun time!
78. Hit up a bingo night
Okay, okay, I know bingo sounds like an senior citizen date idea, but it can be goofy and so much fun! Remember, adventurous date ideas are all about going into things with an open mind! You never know how fun this can be! Plus, in our area we have drag queen bingo and that's EXTRA fun!
79. Watch a movie at a drive in
Taking it back old school with this adventurous date idea. Discover the joy of sitting on the hood of your car and making out for the duration of an entire movie. 😉
80. Go on a tasting adventure
Wine tasting is one of our favorite things to do, but tastings don't have to stop at wine tasting! Choose literally anything and go turn it into a tasting adventure! Whether your tastes lean more towards ice cream, whiskey, chocolate truffles, french fries, whatever, go have a tasting or make a tasting at home. (Read here how we throw wine tasting parties at home! We also did a smoothie tasting party!)
81. Go on a hot air balloon ride
This is something that has been on my bucket list for a long long long time, but I haven't gotten Bassam to agree to it quite yet. Please go on this adventurous date night idea and let me know so I can live vicariously through you!
82. Find your way out of an escape room
Escape rooms have been trending for awhile and we are all about that trend. It's such a fun adventurous date idea! If you've never been to one, the concept is that you're in themed locked room and you have to solve the puzzle or mystery to find the key to get out. It's usually also usually timed. We like this activity more as a double date than just a duo because it's a lot for just two people to do, but either way it's really fun!
83. Host a murder mystery dinner
You can probably find a murder mystery dinner to attend in your town, but why not host your own? You can order sets on Amazon that have everything you need to throw the party. All the guests get to participate and it's really really fun!
84. Visit an observatory
Observatorys make for such a romantic and adventurous date idea. They usually have a great view of the city and telescopes for you to check out the stars. Plus you might learn something new, which always makes for an adventure!
85. Make out at an aquarium
I know this is random, but aquariums have always seemed like the perfect makeout spot to me! Go try it out and let me know what you think!
86. Place a bet together
Bassam is a big poker player, so I've taken to playing 3 card poker with him sometimes. It's always a really fun date idea, especially if our table is fun. You can also try sports betting, craps, or blackjack- whatever sounds interesting to you! I personally like craps the best!
87. Play photographer
Grab a camera, your iPhone will work, and set out to explore your town through a "photographers" eye. It's amazing what details you'll discover that you've never noticed before when you're looking at through the lens of a camera! You can also take photos of each other, which will be a romantic way to notice each other in a new way.
88. Try wacky foods and play games at a county fair
We love going to county fairs, riding the various rides, and trying all the wacky foods. Head over to the next county fair in your area and see what kind of adventure it can be!
89. Search for a celebrity
This is a silly one, but why not search for a celebrity who lives in your city or has come there on tour? In Los Angeles we have star maps that people can purchase and go look for movie star homes, which is where I came up with this idea from, but it could be an adventure to recreate it!
90. Go foraging for food
This is something I've always wanted to do! Most cities have foragers who offer classes in foraging! Even if you live in a super urban area, there's such thing as urban foraging. You basically go with the guide to search for food in the wild! This is such a fun adventurous date idea and perfect for foodies who want to learn more about where their food comes from.
91. Take a wine blending class
If you're a wine love you've probably been wine tasting, but have you ever tried wine blending? Many locations offer special classes where you can make your own blend of wine! This is the perfect adventurous date idea for wine lovers!
92. Try your hand at stand up comedy
Going to comedy shows is always fun, but why not try your hand at it? You can do a duo act or a solo act, either way it'll be a fun adventure!
93. Be on the audience of a TV show
We've done this one a few times and it's always so much fun! If there's a TV show that's filmed in your area, you can usually sign up to be in the audience. If not, maybe you can try pretending to be paparazzi and hang out around the filming location, waiting for your chance to take a photo!
94. Camp in your backyard
I'm not a fan of camping, but camping in my backyard or living room is something I can get behind. If you want the adventure, but don't want the lack of bathrooms and such, try setting up camp at home! It'll be just as much fun and you won't have to go anywhere to make it happen.
95. Learn a magic trick
Learning a magic trick together can be a fun adventurous date idea! If you can learn a two person trick that can you perform for others, you'll have a fun party icebreaker for life!
96. Go off roading
This was one of Bassam's adventurous date ideas. Off roading is one of his favorite activities! Just make sure you find a location that's safe before doing this and you have the proper car. Have fun, you wild ones!
97. Be each other's muses
Whether or not you have an artistic bone in your body, spend your date night being each other's muses and do something to creatively express how you feel about the other person. You could write them a story, draw a portrait of each other, create a sculpture of each other, or create an abstract painting that expresses your love. Whatever you choose, it's sure to be an adventure!
98. Get inspired
Do something together that will further your personal development. Some examples:
Go watch a Ted Talk
Get tickets for a motivational talk
Go on a self development retreat
Read an inspirational self development book
99. Try a food that freaks you out
Figure out a food that scares you and try it! You never know what you'll think! You can also find a fun way to cook it! Exploring fears in a safe way with your partner is actually a great way to boost feelings of love.
100. Go test drive your dream car
Pretend you won the lottery and can buy the car of your dreams – go test drive it! Just asking to drive it will be thrilling, never mind the actual drive!
101. Go smash things
Okay, this is so incredibly cool. We recently discovered this thing called "smash rooms". They are rooms that are set up for you to, wait for it, DESTROY! It's such an amazing way to get out aggression in a safe way and get your endorphins pumping. We think this is an awesome adventurous date idea!
Well, there we have it! 101 adventurous date ideas! Congrats to you if you made it all the way through! We hope you found something here to spice up your next date and would love to know your favorite ideas! Until next time! xo, Lena & Bassam
Did you like this post on adventurous date ideas? Please pin it!