It has been quite the year! When I look back and think about the past year, I actually can't believe how much happened over the course of a single year. This is why I love occasions and milestones like New Years so much. Without a way to mark the time that is passing, it just passes. I love taking these opportunities to slow down and reflect about all that has occurred.  Here's a little recap of our past year + what we are looking forward to in 2018.
2017 Recap:
How'd we do with our 2017 resolutions?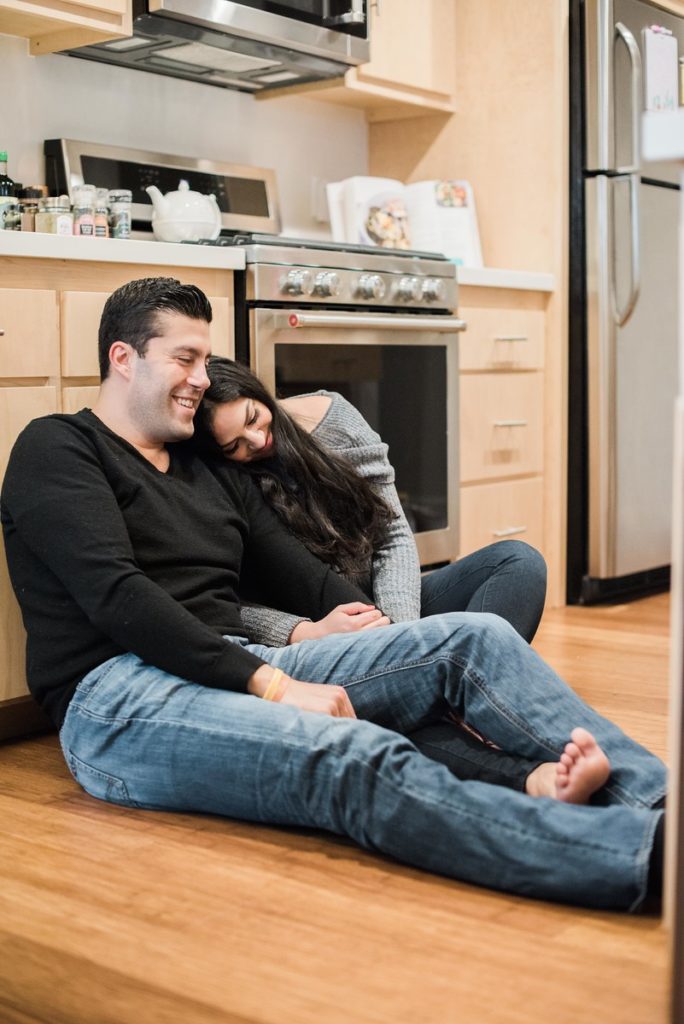 Lena: Say no more often
I did say no more often, but I felt majorly guilty about it and often went back on my "no" and turned it into a "yes" when I couldn't handle the guilt. This coming year, I want to say no WITHOUT feeling guilty about it. The way I'm going to do that is by scheduling my time better so that I can feel confident when I say "no" that I really actually couldn't fit that thing in, rather than try to fit in and stress out when it doesn't work out. I'm also going to do better at scheduling time with the important people in my life. This way if they are upset I am not spending enough time with them, I can feel confident that I have spent a good amount of time with them and not feel guilty about not being able to provide the more that they want.
Bassam: Call my family more often and spend more time with Lena
"I didn't do so well with this. Once I slipped up on it from the beginning of the year, it just became a slippery slope and something I didn't pay enough attention to. This is still something that is really important to me and I'm going to be working on again this year. For calling my family, I'm going to pick a specific day of the week to call and stick to it. For spending time with Lena, we decided at the beginning of each week to plan a date night and block if off in our calendars."
Accomplishments and Areas of Improvement:
Accomplishments:
We bought our first home together and we started two businesses!
Areas of Improvement:
We did not prioritize our health or quality time together
2017 Highlights:
January:
We found our dream home! This month consisted mainly of going through the process of closing the loan for the mortgage. Bassam was able to get a jumbo loan funded in 25 days, which is insane!! The day we closed on the house, Bassam's first nephew was born! What a whirlwind!
Most popular blog post of the month: Flying Over New York with FlyNYON
My favorite post this month: 21 Ideas To Create Possibilities in Your Life
February:
We moved into our new home on February 1st! I hosted my annual Valentine's Day Family Tea Party just a few days after moving in. February is always a crazy month for us with my dad, sister, aunt, uncle, and mom's birthdays all that month + my favorite holiday (Valentine's Day!)
Most popular blog post of the month: Our First Year Anniversary Shoot
My favorite post this month: Our First Year Anniversary Shoot
March:
We did a LOT of entertaining this month. As I look back at the photos in my phone, they all seem to be things we cooked or tablescapes we set up. We really enjoying setting up our new home and "playing house". We did a lot of local exploring like going to Malibu, Venice, Ventura, and Santa Barbara.
Most popular blog post of the month: Rainy Day Date Ideas
My favorite post this month: Lemon Cheesy Shaved Brussels Sprouts Salad (this was the only post that month)
April:
We went on an insane long weekend road trip! We drove from Los Angeles to Portland, just to see the tulip fields I was dying to see! It was an amazing adventure and we stopped at Morro Bay, San Francisco, and Santa Cruz along the way. You can read all about it here! Bassam also went to Cameroon to visit his sister and nephew this month.
Most popular blog post of the month: Rainy Day Date Ideas
My favorite post this month: No posts were published this month
May:
Our anniversary month! We celebrated our second year anniversary with a trip to Colombia! We visited Bogota, Medellin, and Cartagena. We'd love to go back to Colombia, it was one of our favorite places we've traveled to!
Most popular blog post of the month: How To Add Multiple Links on Instagram
My favorite post this month: Our Wedding Surprise for Lena's Mom (a deeply personal post)
June:
I turned 30 this month! We went to Catalina Island for a day trip to celebrate and to Vegas for a night. I went on a trip with my sister to Paris to celebrate her starting pharmacy school later that summer.
Most popular blog post of the month: 5 Days in Alaska
My favorite post this month: A Guide To Colombia's Most Colorful Town: Guatape (1 of 2 posts published this month)
July:
We stayed local and went on a LOT of day trips to Santa Barbara. When I say a lot, I mean almost every weekend this month! We just love that area and one of our favorite wineries is up there, Sunstone.
Most popular blog post of the month: Rainy Day Date Ideas (I know, it's weird that this was so popular in July!)
My favorite post this month: How We Plan Our Travels To Maximize Vacation Days and Save Cash (only blog post this month)
August:
Bassam went to visit his family in Lebanon for three weeks. I had some extra time to myself while he was gone and dedicated that time towards the blog. This is the month that I really committed to posting regularly and treating the blog as a business. I feel like I've kept up that momentum as best as I can, considering I also have a demanding full-time job. The blog is something that I love SO much and I'm so glad I was able to have that time to dedicate to it and really commit to moving it forward.
Most popular blog post of the month: Los Angeles to Portland Road Trip Guide
My favorite post this month: Opening Up About Grief Weight (this was the hardest post for me to publish and I almost didn't. It's my favorite because I had to overcome a lot of fear to share it)
September:
Bassam's birthday is at the end of August and I surprised him with a trip to Oaxaca, Mexico at the beginning of September for his birthday. We were surprised by how much we loved it and all the culture there is to experience there. I still need to publish my blog post on the trip!
Most popular blog post of the month: Must Have Pieces for Fall Travel
My favorite post this month: How I Turned My Grief Into a Source of Inspiration (another deeply personal and difficult one to share. It's my favorite because of all the people that told me it helped them. Publishing this post really made me realize the positive impact I can have for others who have lost a loved one)
October:
My favorite trip of the year! We went on a 3 week road trip around France! We started very briefly in Paris, went to Monet's garden in Giverny, slept at a castle in Normandy, visited the castles in Loire Valley, spent a week in Provence, visited Nice briefly, stopped in Lake Como for a night, visited Annecy and Colmar, and went champagne tasting in Champagne. It was AMAZING and I'm still working on getting it all up on the blog!
Most popular blog post of the month: Rainy Day Date Ideas
My favorite post this month: How to Decorate for Fall on a Budget (home decor is always so much fun for me!)
November:
This was the month of sponsored content! We did quite a bit of paid work this month and while it was stressful at times meeting all our deadlines, it was also so cool to get to work with so many brands we love. I think this was the first time I really realized how much potential there is with this blog and the income it can create one day. I didn't sleep much this month, but working on the blog is one of my absolute favorite things and I loved every second of it, even the stressful ones.
Most popular blog post of the month: How I Turned My Grief Into a Source of Inspiration
My favorite post this month: Romantic Stay at a Castle in France to Live Your Real Life Fairy Tale
December:
We were supposed to go to Denmark, Germany, and Austria over the holidays to tour the Christmas markets, but we decided to cancel our trip due to financial reasons. It was a tough month with Buddy getting majorly sick and having to stay at the hospital + our first experience with property taxes. We knew if we went it would overly stretch our budget and that would make the experience more stressful than fun. Definitely a grown up and not so fun decision, but sometimes that's what being an adult is all about. We decided to be transparent and honest with this as I think this is something most people go through and I know we are not alone.
Most popular blog post of the month: Coastal Christmas Tablescape
My favorite post this month: This one! Thank you for giving me the opportunity to look back over the year with you and in general for being here. I am so grateful to all of you who read our blog, and send us positive feedback or supportive messages. I doubt myself and this blog a lot and I can't tell you how much your support means to me.
2018 Goals:
Overall, we want to improve our health (that's the biggest focus for the year), improve our relationship with each other, travel as much as possible since this is probably the last year before starting a family, and grow our businesses.
For both of us:
Weekly date night
Quality time together each day for at least an hour
Sleep at 10:30pm (we currently sleep around 2 – 4 am)
Meal plan for each week on Sundays
Do Whole 30 in January then figure out what we want our eating habits to look like moving forward after that
Take three big trips (locations TBA)
Yoga 3-4x a week
Take dance classes together
Start a herb garden
Redo our fireplace (got started on this early!)
Organize each room in the house, especially the garage!
Start our new business venture (can't share too many details on this yet)
For Lena:
Do something active daily, even if it's just a walk
Say "no" without feeling guility
Workout 3x a week
Reach 50K monthly pageviews for the blog
Take a Lightroom course and feel confident editing photos on my own
Confidence in my photography skills
Learn Pinterest and SEO strategies for blog traffic
For Bassam:
Call my family on a weekly basis
Hangout with my friends every other week
Workout 5-6 days a week in the morning
Dedicate personal time for my hobbies
Get regular checkups
Travel to a beach location
Grow my startup
THANK YOU so so so much for all your support over this past year. We have connected with so many of you over the past few months and cannot tell you how much we appreciate you. Thank you for showing up to read our blog posts, for following us on our social accounts, and/or for subscribing to our newsletter. It makes our day every time we hear a kind comment from one of you and helps us push past the difficult days. We so look forward to connecting with you even more in 2018!
Now that our year end review is done, we're so excited to welcome in 2018 and all that the year will bring with it!
What do you have planned for the year? We'd love to hear it!