Thank you to Hotel Balmoral for our wonderful stay!
Paris is one of my favorite cities in the whole world. It's one of the few places I've visited multiple times and feel I could never get tired of. I truly believe there is something in Paris for everyone: from the foodie, to the art lover, to the creative, to the fashionista. Of course, it's also the City of Love and very much the perfect city for lovers. I've wanted to visit Paris with Bassam for many years now. I dreamed about picnics under the Eiffel Tower, leisurely lunches in charming cafes, romantic walks along the Seine, and so much more. Bassam has never really had much interest in visiting Paris until very recently. He finally agreed to go for my 30th birthday and although that didn't end up working out, we did go 4 months later on an epic 3 week France road trip. We started the trip off with a two night stay at a luxurious 4**** hotel in Paris, Hotel Balmoral. Only two nights in Paris is not nearly enough, but it was a good way for Bassam to get a taste of the city. He ended up loving Paris and I couldn't be happier as that means that he will be more interested in going with me again in the future!
Since two days in Paris is not enough time to properly explore the city, I narrowed the trip down to the bare essentials: a picnic by the Eiffel Tower, the Champs Elysee, and the Arc de Triomphe. While these aren't my three favorite things to do in Paris, I knew they would be really interesting to Bassam. Hotel Balmoral was the perfect spot for us to call home during our two night stay. The hotel is located just 100 meters away from the Arc de Triomphe and the Champs Elysee and a 20 minute walk from the Eiffel Tower. We were able to really maximize our time since Hotel Balmoral has such a fantastic location. If you're planning to spend the majority of your time in the 8th arrondissement, Hotel Balmoral is a fantastic choice.
In addition to the sights we visited, I also think our stay at Hotel Balmoral contributed to Bassam's positive experience in Paris. Besides the amazing location, here is what we loved about our stay.
1. The friendly staff
From the moment we walked in, the staff who greeted us was so helpful and friendly. After a long day of traveling, that type of reception was much appreciated. They helped us get situated with parking and brought us coffee and tea. Each time we passed the lobby, they greeted us with genuine smiles and seemed to really want to make sure we were enjoying our stay. Needless to stay, the staff at Hotel Balmoral dispels any myths about rude Parisians!
2. The luxurious and spacious rooms
Parisian hotel rooms can often be small, but we were surprised to find Hotel Balmoral's rooms to be very spacious. We stayed in a suite which included a large living room, very spacious bathroom, giant walk in closet, and decently sized bedroom. If you saw our Instagram Stories with all of our luggage, then you know we put that closet to good use! We were able to fit all of our luggage in there! Also, if you've been following us for awhile, then you may know my irrational fear of small bathrooms. The spacious bathroom at Hotel Balmoral was perfect for me! It also included Jack-and-Jill sinks which was perfect for Bassam as he hates sharing a sink with me.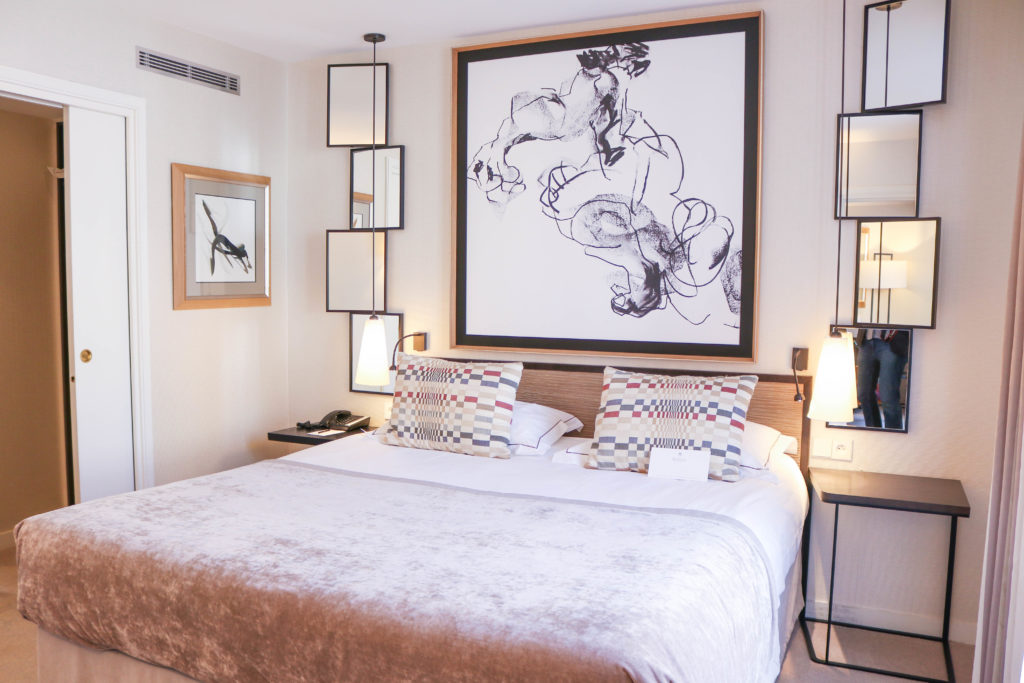 Besides the room being large and comfortable, it also had a very luxurious feel. I absolutely hate low quality hotel towels, but Hotel Balmoral's towels were large and soft. I could've wrapped myself in them to relax, but they offered robes and slippers that I couldn't help but take advantage of. There's also a gourmet espresso machine in the room which is always a nice perk in Europe.
We highly recommend upgrading your room to a suite if possible!
3. The outdoor courtyard
After checking out the room, the next thing we check out anywhere we are staying is the outdoor space. We absolutely love being outdoors and although we didn't have much time to spend at Hotel Balmoral, it was great just to know that outdoor space was an option should we have the time. Hotel Balmoral offers a lovely courtyard just outside the breakfast room. You could take your breakfast out there or sit and relax there anytime of day.
There are also complimentary bikes here that are available for guests to use. I've never biked around Paris before, but I would love to do that next time.
4. The complimentary breakfast & snacks
We both tend to get grumpy when we haven't eaten, so having a little something to eat is always essential before we head off a day full of adventures. Hotel Balmoral offers a complimentary spread of breads, cheeses, fruit, eggs, and much more. It was a great way for us to quickly grab something to eat before heading off for the day. Minimizing hangry fights is always a plus!
In addition to breakfast, beverages and light snacks are available all day. I treated myself to quite a few brownies and cups of tea each time we were in the hotel.
5. The romantic balconies
The balconies deserve their very own section! They are so quintessential Parisian and we spent a lot of time on them when we were in the room. It was so nice to wake up each morning with a beautiful view of the Paris streets. It was so hard to leave Hotel Balmoral because of this! If you're going on a romantic trip to Paris, a room with a balcony is a MUST!
shop the look

Did you like this post? Please pin it!