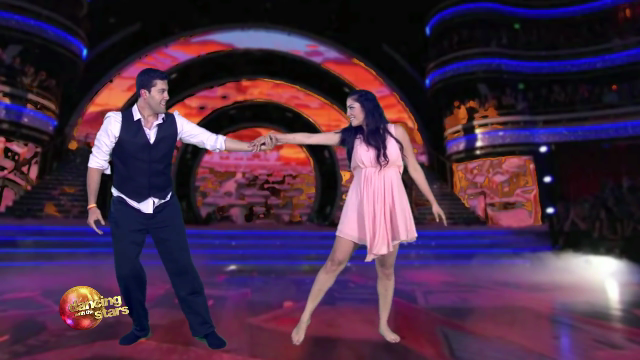 My mom has been obsessed with the show Dancing With the Stars since it first aired. She watched it religiously and would make all of us call and vote for her favorite dancer. After she was diagnosed with ALS, DWTS became a bright spot in an otherwise sometimes dull, sometimes sad, sometimes difficult week. I watched it with her every Monday and Tuesday night and we bonded over the routines, outfits, and themes. Dance has always been a big part of my relationship with my mom. She was a beautiful dancer and I never saw her as happy as when she was dancing. To this day, I am always happiest dancing as well because it reminds me of her.
When Bassam and I were planning our wedding, it was really hard for me to watch my mom be on the sidelines. She was always such an involved mom and more than that, she was my best friend. It made me so sad every time she couldn't be involved in something like going shopping for my wedding dress or meeting with the florist to decide on flower arrangements. Many of our wedding choices were made with her in mind. For example, having the wedding at my parent's house for her comfort, incorporating gardenias, her favorite flower, into the flower arrangements, and allowing ample time in between big moments in the timeline so she would have time for breaks without missing anything. I FaceTimed her into my dress fittings and spent hours by her side showing her photos on Pinterest. Despite my efforts, nothing felt enough. My mom is such an incredible woman and mother. I wanted to do something to honor her.
That's when I came up with my crazy Dancing With the Stars idea. I am always so grateful for Bassam for being such a good sport and going along with my crazy ideas. Initially, I wanted to us to actually go on the show and perform a dance dedicated to my mom. That of course was too difficult to pull off. Instead, we took dance lessons for a few months, shot the dance in front of a green screen, and had a videographer edit it to look like we were on DWTS. The best part of the video ended up being my dad, brother, and sister who played their roles as judges hilariously.
We planned to play it at the wedding as a surprise for my mom. About a week before the wedding, I decided to give the surprise to my mom early. She hadn't been feeling well and was frequently choking. I was worried if she cried too much at the wedding it wouldn't be good for her. The smile on her face when she realized what we had made for her was priceless. It made me so happy to see how happy she was. It also solved a bit of a mystery for her. We had told her we were taking dance lessons for our first dance. She was so confused why we were taking dance lessons for so long when I couldn't do anything very fancy in my wedding dress. Even though the surprise was ruined and she watched it on repeat in the days leading up to the wedding, she was still so happy when we played the "surprise" at the wedding. I'm still so happy that we were able to create this gift for her.
Now that my mom is no longer physically with us, this video has served as a source of comfort for me. The song we chose, "Because You Loved Me" perfectly describes how I feel about my mom. There are often holidays when I don't have the words to express how I'm feeling, but this song and dance say it all. She was my strength when I was weak. She was my voice when I couldn't speak. She saw the best there was in me. She lifted me up when I couldn't reach. And I hope I was all those things to her when she needed it. I am everything I am because she loved me.
I hope you enjoy the video and this little backstory. Although neither Bassam or I are good dancers, this video is a small way to show a piece of our hearts.