One of our favorite date ideas to is to go away for the day and explore a new city. The great thing about living in Southern California is that no matter which part you're in, there are so many options for great day trips. We recently went to Carlsbad as a day trip from Los Angeles and absolutely loved it! It was about 2.5 hours away and we enjoyed our time so much that we wished we had planned to spend the night. Carlsbad is often looked at as a family destination as some of the most popular things to do in Carlsbad include LEGOLAND and the Sealife Aquarium. We found it to be a charming city for couples as well with a lot of romantic things to do. Here's how we spent our beautiful spring day trip to Carlsbad.
Spring Day Trip Guide to Carlsbad for Couples
| Lena's Dress | Lena's jacket | Lena's shoes (similar) | Lena's hat (similar) | Lena's earrings |
Things To Do:
Carlsbad Strawberry Company
We started our day trip to Carlsbad with a stop at the Carlsbad Strawberry Company to go strawberry picking! This was a spring date activity I had been wanting to do for a long time and even though are are fields closer to our home, the ones at the Carlsbad Strawberry Company looked really pretty to me. Bassam was very unsure about this idea initially, but once he got over his grumbling, he had a lot of fun. He loved finding the biggest berries to pick and I loved finding small, cute ones to pick. The berries were so sweet and juicy. We've been eating them for days as those buckets fit A LOT of berries!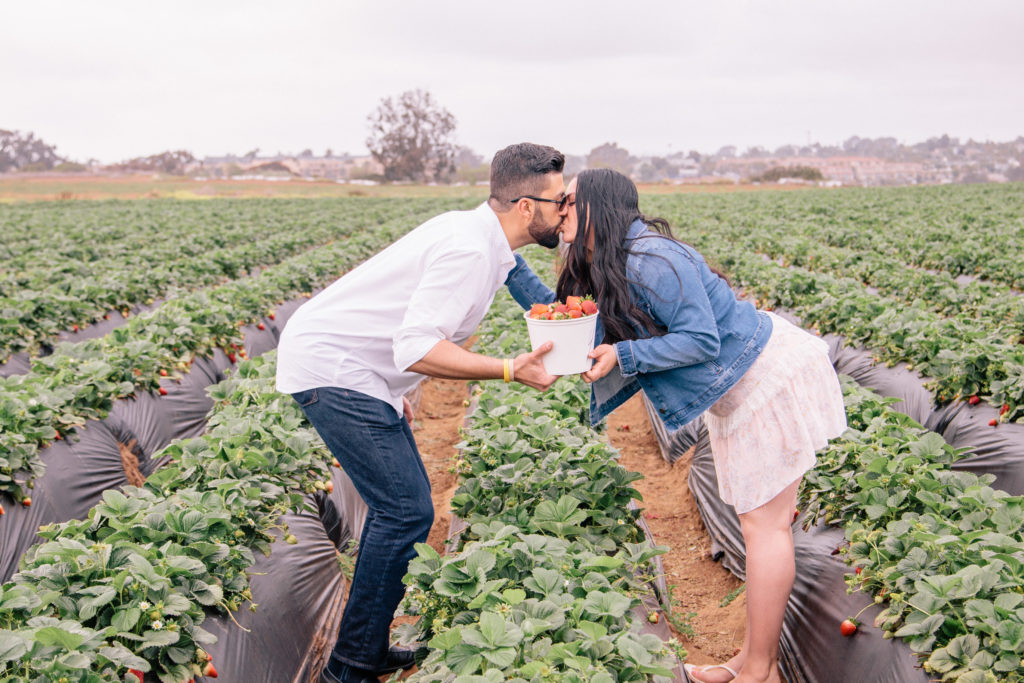 Things To Know:
$10 for a bucket for one person or $20 for a bucket for 2 people. There is a $5 entrance charge for anyone without a bucket
You are not allowed to bring your own bucket (sorry Instagrammers)
Plan to spend about 2 hours here
Dogs are allowed, but they can't go into the rows of berries. We tied Buddy up at the fence and probably wouldn't bring him next time
Bring a pair of old shoes to wear. Your shoes will get incredibly dirty with mud and smashed strawberries. I wore an old pair of cheap flip flops and they were ruined by the end. Bassam was more careful than me and didn't get his shoes AS dirty, but they were still really dirty
Bring wet wipes for easy clean up after
Wearing a dress wasn't the smartest idea because I kept wanting to climb over the rows to get to a beautiful strawberry I had spotted. I still did it, but I would've been more comfortable in pants
The strawberries are delicious, but they are not organic. We typically only buy organic berries, but we made an exception for this fun experience
Flower Fields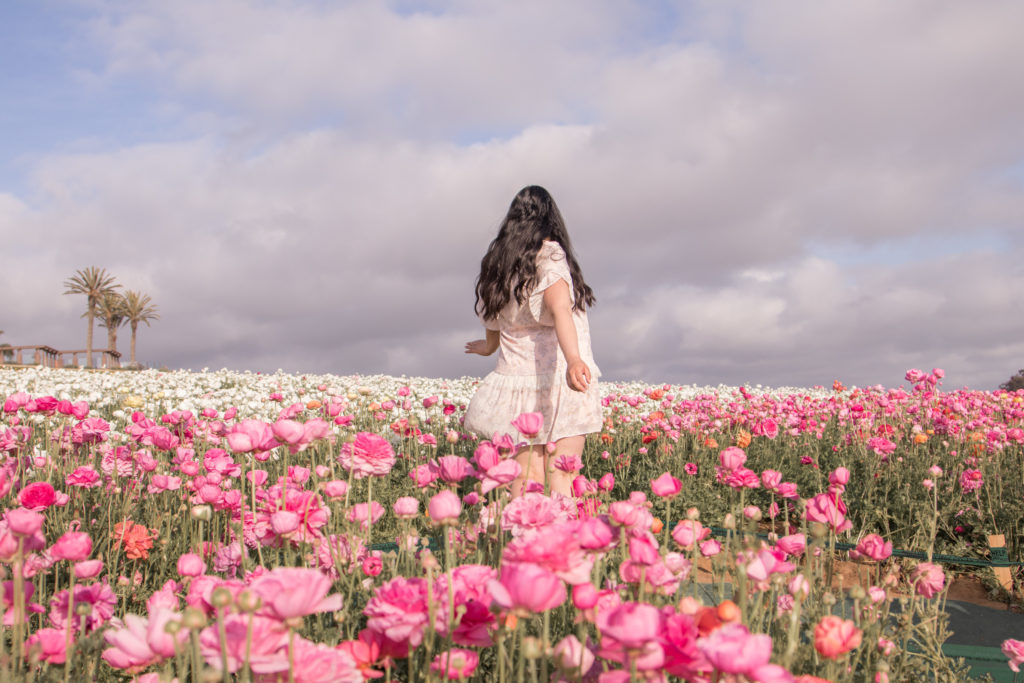 I've heard so much about the Carlsbad Flower Fields and had never been. (We drove to Oregon last year for the tulip festival instead. Why is it that we never prioritize the things close to home?!) I was not expecting it to be fields upon fields of beautiful flowers. It took both Bassam and my breath away at first glance. We had about 3o minutes to spend here and that definitely wasn't enough time at all. It's such a beautiful place to spend the day and soak in all the beauty. There are also vendors selling things like strawberry dole whip and strawberry shortcake. We weren't able to get to them before they closed unfortunately. You are not allowed to walk in the fields which is great as it protects the flowers, but it also limits the experience as you can only view the field from slightly afar. (Don't worry instagrammers, with creative positioning you can look like you are in the fields.) There are smaller fields that you can walk in, so make sure to look for those! The fields can get very crowded and everyone wants a photo, so it's not as relaxing of an experience as we were expecting. It's also a bit expensive, but all that being said, we still really enjoyed it and would come back again.
Things To Know:
Adult admission is $16 ($15 if you're an AAA member)
Open 9am-6pm (which was a bummer for us, as we would've loved better lighting for the photos)
The fields are open yearly from early March to early May
Dogs are not allowed
Plan to spend at least 2-3 hours here
There are a lot of designated photo spots, but those also get very crowded. Walk around first and get an idea of the place. You can find other creative angles for the photos if you don't want to wait in line. There's also a smaller flower field you CAN walk through
Check the calendar as there is often live music and events you might be interested in
Make sure to explore the whole place. Most people only see the main fields (that's all we had time for), but there are other flowers, green houses, a sweet pea maze, tractor rides, and lots of vendors
Carlsbad Village
Make sure to explore Carlsbad Village before ending your trip! It's such a cute part of the town with lots of great food, shopping, art murals, and just fun and eclectic things. This town definitely has a sense of humor and an artistic sense. Everything was so cute and we spotted so many fun little gems. Plus, it's just a block away from the beach, which you obviously must visit as well. Grab an ice cream cone from one of the many ice cream shops and just wander around, keeping your eyes peeled for unique spots and art on the walls.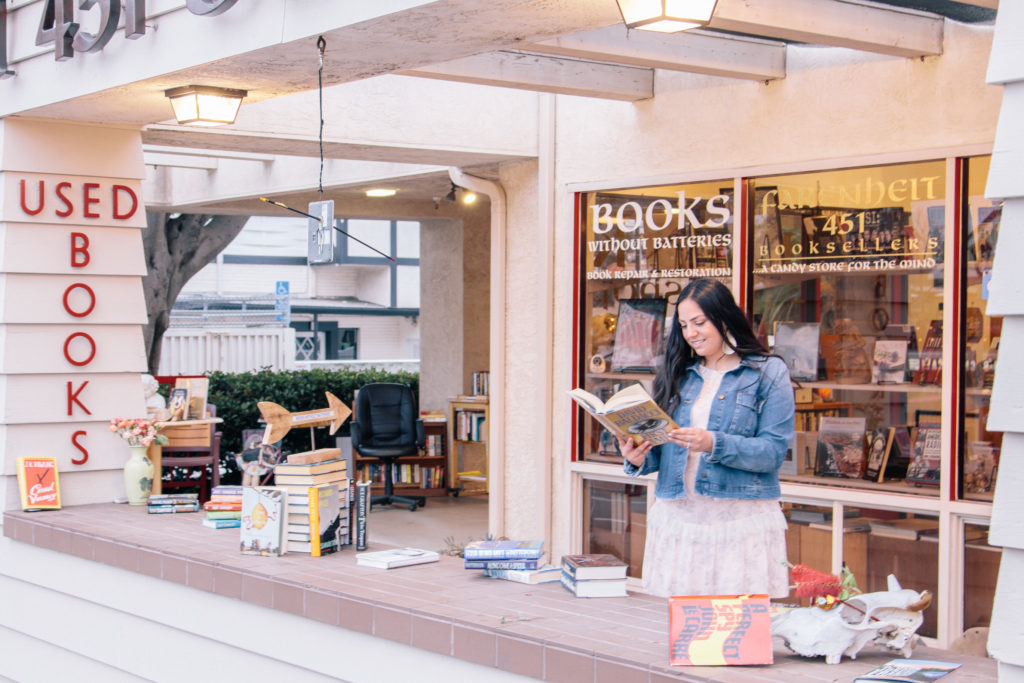 My absolute favorite store was of course the bookstore, Farenheit 451. It's such a quirky and fun place with a tag line of "a candy store for the mind". The store embraces an anti social media mentality and no phones are allowed inside. It's run by the owner, who is super chill and laid back. It's just a wonderful store to wander for any book lover.
Where to Eat in Carlsbad
A big part of a romantic getaway for us is the food and there are so many amazing food options in Carlsbad. Here are all the places we had recommended to us. We'll work our way through this list and report back to you!
264 Fresco – we ate here. Loved the pizza which is made in a wood burning oven and the seabass with corn and lobster. The ambiance is so cute and charming. If you don't eat here, sit by the fire pit for a drink
The Land and Water Co – local seafood in an old Victorian mansion
Paon – an elegant wine bar with California French fusion food. It has a lovely patio
Casa di Bandini – I've had this place bookmarked for years and will be trying it next time. They offer authentic Mexican food, over 50 tequila based drinks, and live mariachi music
Beach Plum Kitchen – perfect for breakfast or lunch. Ocean views
Where to Stay:
While exploring the village, we passed by the Carlsbad Inn Beach Resort and fell in love! We will definitely be staying here next time! The location is incredible, it has its own beach access, and a giant lawn with lots of lounge chairs and fire pits. Best of all, there's an adults only hot tub with an ocean view! The perfect place to end a romantic getaway to Carlsbad.
SHOP THE LOOK

DID YOU LIKE THIS POST? PLEASE PIN IT!