This post has been compensated by Collective Bias, Inc. and its advertiser. All opinions are mine alone. The following content is intended for readers who are 21 or older. #Chardonnation #NotableHoliday #CollectiveBias
We love hosting other couples over at our house for dinner parties. It's such a nice way to spend some quality time with our closest friends in a warm and intimate environment. While we love hosting parties, it can be quite a bit of work and sometimes we put off having people over because we just don't have time for all the prep work involved. On a recent Friday night after a crazy week, we decided to have another couple over for a relaxed night. We still wanted to have a fun spin on the night and since we've been so into wine tasting lately, we decided to host a wine tasting party! It was so much fun and involved minimal effort on our parts. Here is everything you need to host your own wine tasting party.
How To Host a Wine Tasting Party for Couples
1. Choose the wine
The most important decision you will make for a wine tasting party is what type of wine to serve. We decided to do a chardonnay tasting with wines from Notable Wines. We specifically selected Notable Wines as each of their wines has a distinct flavor profile. We thought this would make the wine tasting party a bit easier for us amateurs and give us some good talking points. Here are some suggestions on themes to pick:
A specific grape
A specific region
Blind test of expensive vs. inexpensive wines
A specific style, like big bold wines
A specific year
We suggest serving 2-5 wines. We chose just 2 since we only had one other couple over and didn't want to open too many bottles that we may not drink. In general, we do recommend keeping the guest list small as a wine tasting party is more fun when it's intimate.
If you are serving different varieties, try to go in this order:
Champagne  –>  Light whites  –>  Bold whites  –>  Rose  –>  Light reds  –>  Bold reds  –>  Dessert wines
We found Notable Wines in the Chardonnay section of our local grocery store.
2. Create a classy tablescape
I love a good tablescape. I think it really sets the mood for the party. We just had the party in our kitchen, since that's where I've noticed our guests like to hang out. Since this was meant to be a relaxed party, I thought, "why not go with it!" I set up a very simple tablescape of red roses, grape leaves from our backyard, tall candles, and tea lights. I love the look of bringing the outdoors in with the grape leaves and the candles add a cozy and intimate vibe. I thought the pops of red went well with the classic and romantic vibe of the night.
Here are some other tablescape ideas:
Put old corks to good use and sprinkle them all across your tablescape
Cover the table with white or brown craft paper. Draw "place settings" for the glasses where each person will sit
3. Serve a simple menu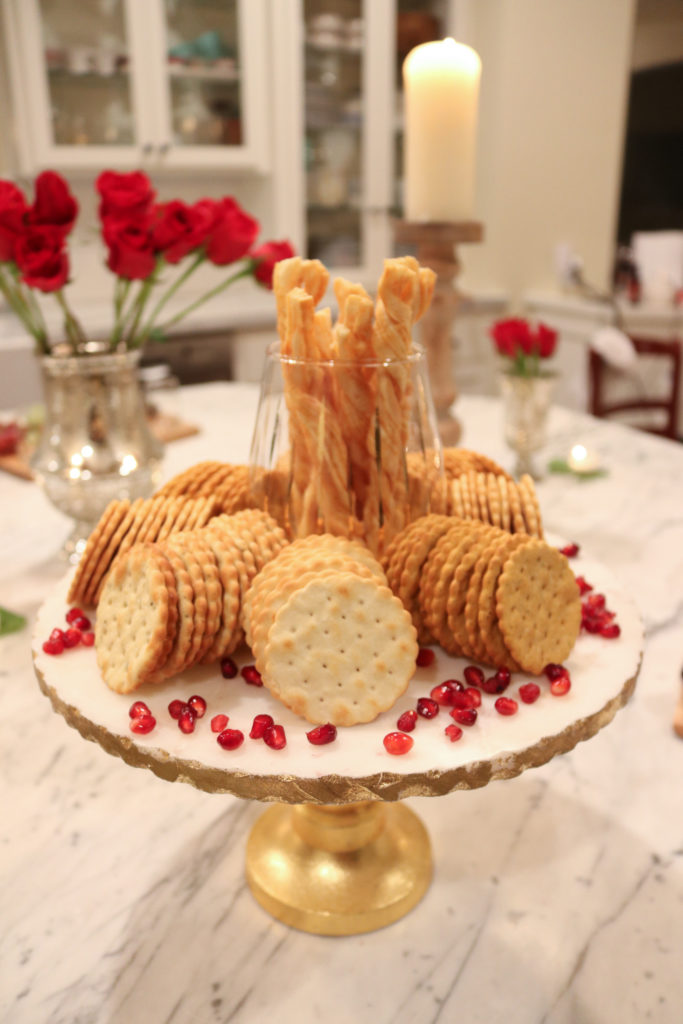 Professional wine tastings don't serve much other than water crackers, so don't feel like you have to serve a full spread. We kept our party limited to a cheese board and simple snacks like a veggie board, crackers, salami, and nuts. This helped to keep the focus on the wine and not distract anyone's palates from what we were tasting. To make it a little more original, instead of doing a main cheese platter, we made mini ones for each couple. You can do this or create one large one for the whole party to share. If you would like to create mini ones, serve it on smaller platters and cut the cheese into smaller portions. We found mini brie to include on our platters.
Since wine tasting tends to get people a bit hungry, we served a little more food later on in the night. We kept these snacks simple as well, but heavy in carbs. We included mini pizzas and ricotta crostini. The crostini was easy to make, just bake slices of baguette until crispy, spread with ricotta cheese, drizzle with olive oil, and top with freshly ground pepper.
Finally, after the wine tasting was over, we served a dessert course. To keep with the "tasting" theme of the night, the dessert course was a chocolate tasting. We served three varieties of chocolates with distinct flavors on a small platter for each person to sample. The "surprise" tasting course was a big hit with our guests!
4. Set up the tasting
Setting up the wine tasting is really easy. Once you've selected your bottles, cover each one with a wine bag, foil, or wrapping paper and number each bottle. If you don't have anything to cover the bottles with, you can also decant them and tie a number around each decanter. While this option looks really pretty, it's not our favorite as it means the host/hostess will not be able to participate since they know which wine is which.
Make sure each person has a glass for each wine you will be serving. We like using mini glass and cheese board combos, but you can also use regular wine glasses. We like using glass safe markers to write each person's name on the glasses so they don't get mixed up.
Finally, pass out tasting notes so each person can take notes as they try the wines. You can create your own, just list:
Apperance
Taste: sweetness (dry, semi-sweet, etc)
Taste: Body (light, medium full)
Oak (none, some, plenty)
Structure/acidity (fruity, medium, acid sharp)
Tannin (low, medium, high)
On the nose (floral, spicy, fruity, mineraly, etc)
5. Lead the tasting
If your guests seem unsure what to do, lead the way. Start by picking up the glass and analyzing the color of the wine. Is it clear, medium, cloudy or hazy? Then swirl your glass to release the aromas and take a big sniff of the wine. Finally, take a sip like you're sucking on a straw and let the wine linger on your tongue for a few seconds.
Discuss each of the points on your note card and have everyone take notes on what they've observed, smelled, and tasted. You can also guess which wine it is if you told your guests ahead of time what the wine choices are.
6. The reveal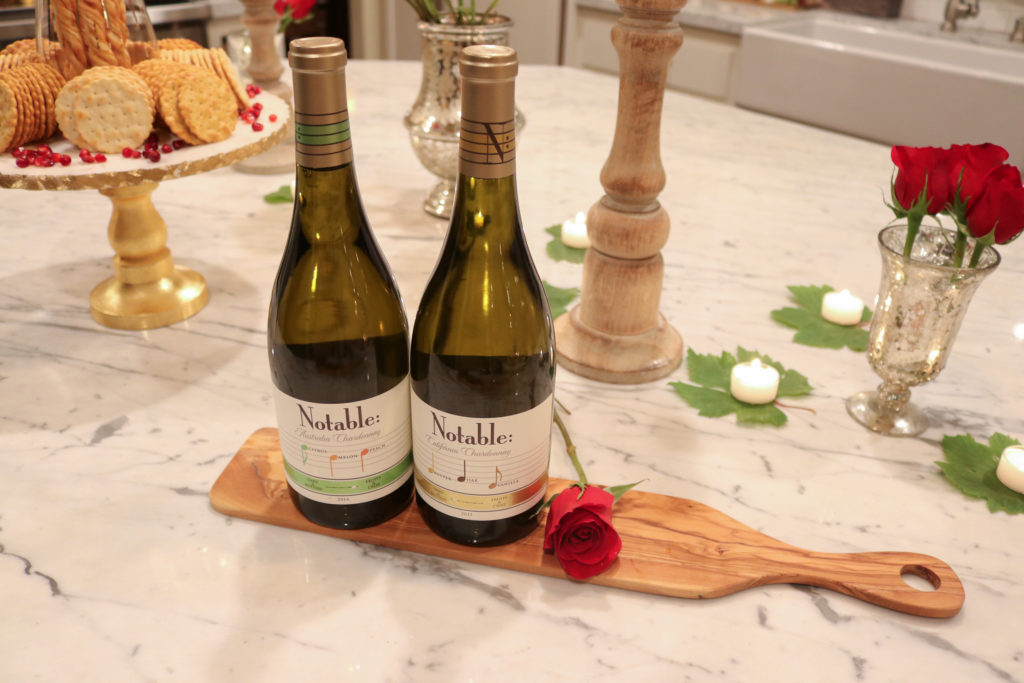 Once everyone has tasted all the wines and jotted down their notes, uncover the wine bottles and reveal which wine was which! You can even give a prize to the couple who guessed most accurately. What we really love about Notable Wines is that each one has the notes listed right on the bottle. Wine tasting is a very personal experience and so there is no "right or wrong" answer, but it's good to know if you're on the right track. One of the Notable Wines chardonnay we tried was oaky and buttery with notes of butter, oak, and vanilla and the other one was fruity and crisp with notes of citrus, melon, and peach. It was really fun to see who was able to determine each of the flavor profiles most accurately. If you are not incorporating Notable Wines in your wine tasting, you should be able to look the notes and flavor profiles up on the manufacturers' website.
Check out Notable Wines HERE for your next wine tasting party!
Did you enjoy this post? Please pin it