Thank you to Aveeno and Rite Aid  for sponsoring today's post.
I often find that how I feel on the inside is reflected on the outside. When I'm feeling stressed, anxious, or sad my skin looks dull, tired, and sallow. When I'm feeling happy and relaxed my skin looks radiant and I feel as though I can light up the room. When I'm feeling stressed is the ideal time my skin can really benefit from beauty self care rituals, but I often feel too tired or too busy to engage in them. To me, a beauty skin care ritual is something that you do that's not only good for your skin, but also good for your overall state of being and mental health. It's taking care of the mental AND physical parts of you and I often find that it has a direct impact on how my skin looks and how I feel about the way that I look. I really experienced this over the past couple of years. After my mom passed away, I had a hard time getting excited about life or feeling passionate about the things I used to feel passionate about. I stopped really taking care of my self. I didn't prioritize my skin care routine and didn't make time to do the things I loved. While this had a significant impact on my mental health, it also made me feel less beautiful and less radiant. I stopped wanting to look in the mirror as much because I felt uncomfortable with the way I looked. Once I started addressing the mental components and feeling better overall, it also became easier to start addressing the physical components. Adding beauty self care rituals to my routine helped me start to feel beautiful and radiant again, but also to feel more clarity overall. I've always felt mental and physical health are very closely related and however superficial beauty may be, it can also be a big part of your overall health and well being. Here are 5 beauty self care ideas that help me feel radiant from the inside out.
5 Beauty Self Care Ideas to Feel Radiant From The Inside Out
1. Find an outdoor location that's your happy place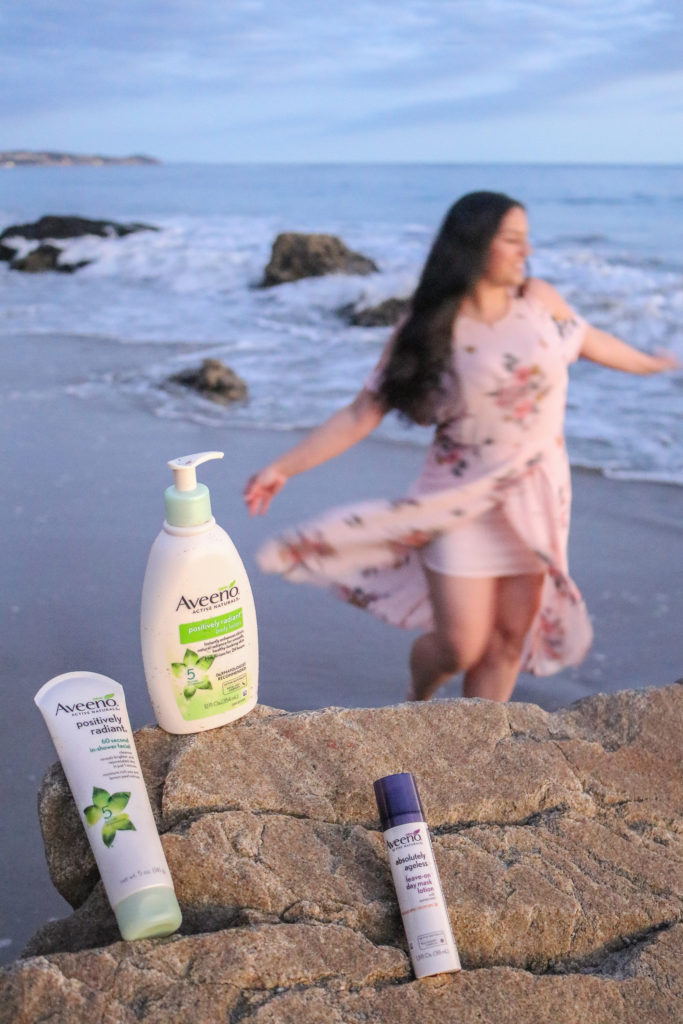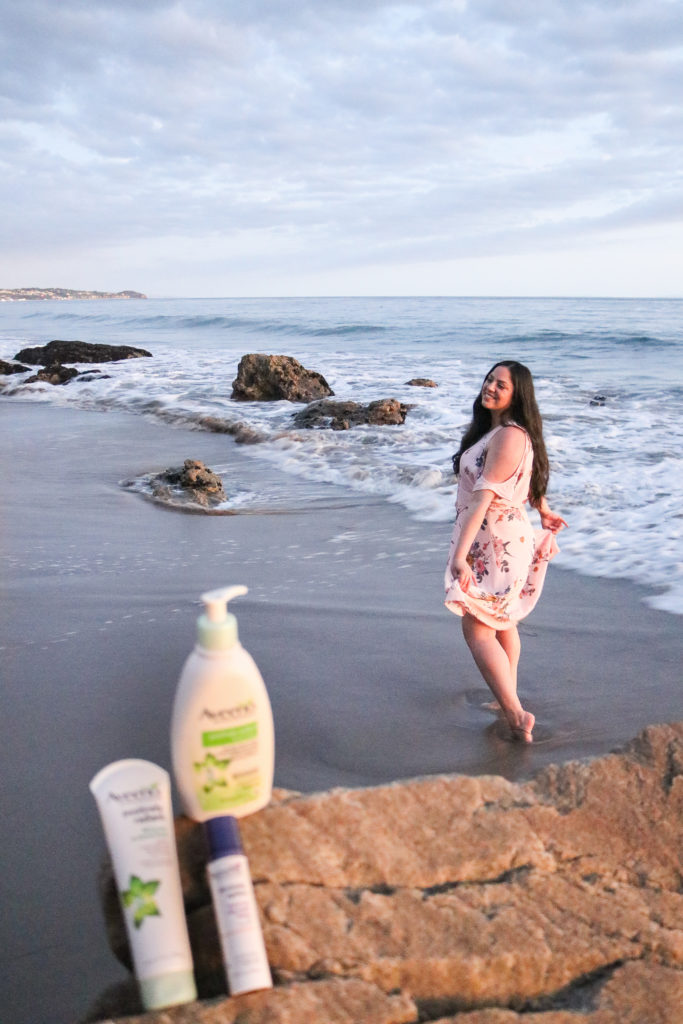 Many studies have shown that spending time outdoors can improve your mental and physical well being. Some benefits include: improved short term memory, restored mental energy, and stress relief. If your happy place isn't already an outdoor location, try to find an outdoor location that speaks to you. My happy place is the beach in general, but specifically a certain stretch of the beach in Malibu. I try to go there at least 1-2 times a month to walk, read, dance, or even have a picnic with Bassam. I always leaving feeling so much lighter, happier, and refreshed. I always feel like I can see the difference right away in my skin too. Spending time at my happy place makes me feel radiant and glowing from the inside out.
While spending time outside, don't forget to care for your skin. Sun damage is one of the biggest factors to prematurely aging skin and can reflect negative impact on your skin right away in terms of uneven texture, sun spots, and loss of radiance. I always wear a facial moisturizer with SPF of at least 30 when I'm outdoors. Lately I've been loving the Aveeno Absolutely Ageless Leave-On Day Mask Lotion with SPF 30. It feels very hydrating without being heavy and features blackberry complex, an anti aging complex that helps reduce the look of fine lines and wrinkles.
2. Develop a moisturizing routine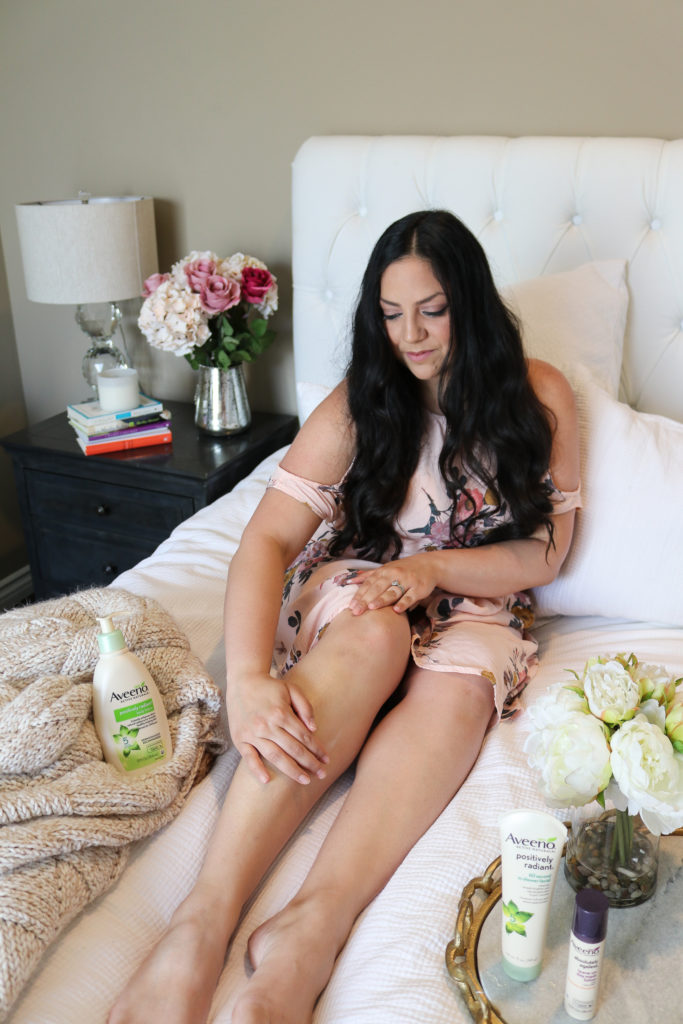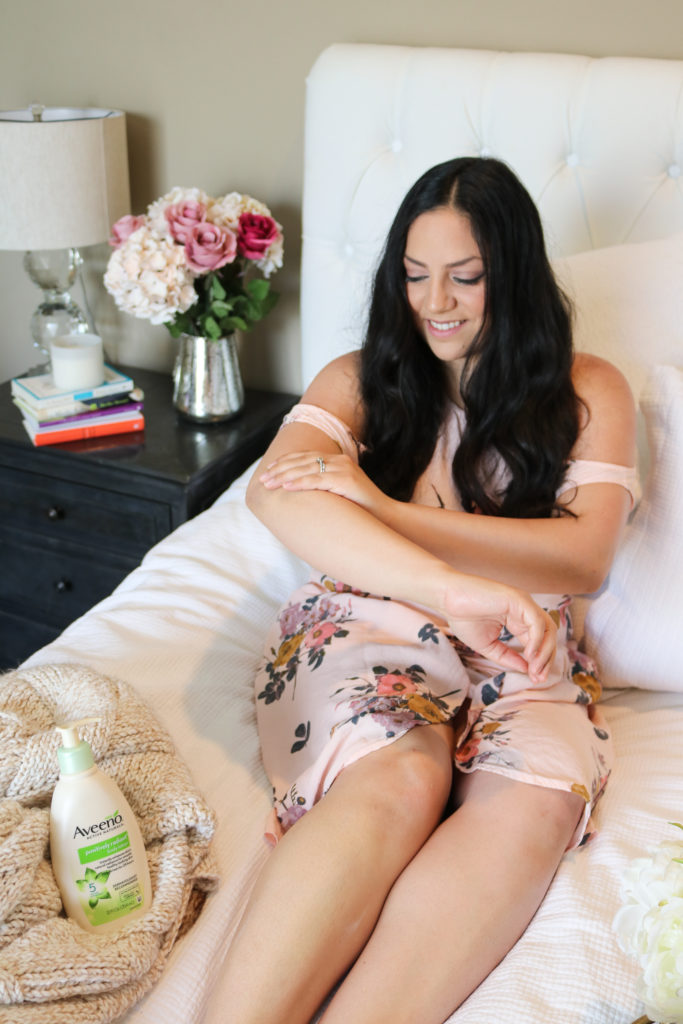 When I'm stressed and busy, the first thing to go from my beauty is usually moisturizing. While it can feel easier to skip this step and save some time, I always quickly notice an impact on my skin. It's hard to feel radiant and beautiful when your skin is dry and ashy. A regular moisturizing routine helps skin look and feel more radiant, but it's about more than just the physical appearance. Moisturizing skin is an important step to skin hydration and improves the skin's ability to act as a barrier against the outside environment. The act of massaging the skin when applying lotion can help stimulate blood circulation and new cell generation. When I can take the time to properly moisturize my body I often find that it feels like a very soothing and almost meditative act. It's the perfect before bed ritual to help you wind down and feel more relaxed.
While I'm always trying new body lotions, I always go back to using Aveeno and have used it since I was a teenager. My favorite of their lotions is the Positively Radiant body lotion. It's formulated with Active Naturals Total Soy Complex which helps replenish dull, dry skin. It also has natural light diffusers which help enhance skin's natural radiance and leaves skin feeling silky after just one use. Seeing instant results is a big boost for me and helps keep me motivated to moisturize regularly. 
3. Meditate
I'll be very honest, mediation is not something I am very good at, but it is something I want to get into this year. I currently engage in more of a moving mediation. For example, I will take the time to slow down and be mindful when making myself a cup of tea, going for a walk, or taking a yoga class. While I do see the benefits from this moving mediation, I also think I would greatly benefit from a more traditional meditation practice as my mind is always so busy and I'm always tackling a million things at once. A regular meditation practice is said to help reduce stress and improve sleep, as well as many other benefits. Lowered stress levels and getting a good night's sleep are both really great for your skin and I also personally believe that any time you can improve your mental well being you will feel it in your outward appearance. It's the whole concept of feeling radiant from the inside out. Meditation is the kind of thing that can be easy to skip on a busy day which is when most of us probably need it most. Once I start I'm going to try my best to commit to 15 minutes a day.
4. Turn your shower into a mini spa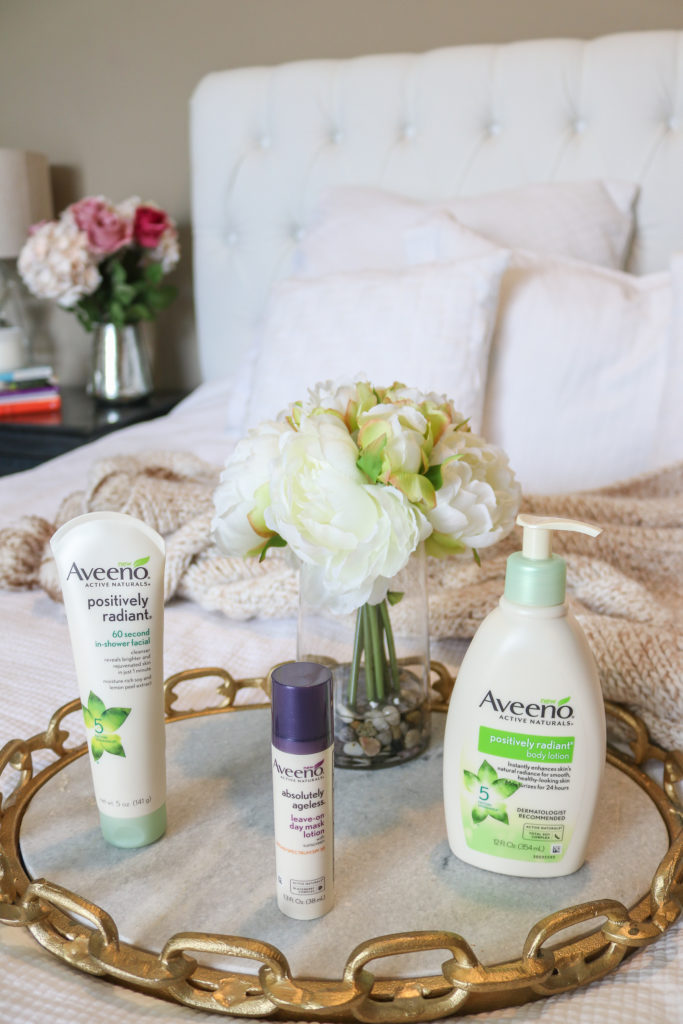 I always feel so refreshed and beautiful after a day at the spa. While that's not something I can do very regularly, I try to create a mini spa in my shower on a weekly basis. It doesn't add too much time to my shower routine but it leaves me feeling so relaxed and well taken care of, two things that in turn help me feel beautiful and radiant. Here's what my shower spa routine consists of:
I place a few drops of a calming essential oil like lavender in the corners of the shower. Once I turn on the water the scent of the oil really fills the space and smells amazing
I turn off all the lights in the bathroom and light a few candles. This really helps provide a relaxing ambiance
I wash my hair and apply a deep conditioner. I'll put my hair up in a bun and let the steam from the shower help the conditioner penetrate into my hair and deeply condition it
While the conditioner is working its magic in my hair, I'll do a face scrub and then apply a face mask. The face mask is probably the most time consuming part of my routine as I like to leave it in for 10-20 minutes. If I'm in a rush, I'll skip the scrub and mask and use Aveeno's 60 Second In-Shower Facial instead. It's formulated with Active Naturals Soy and lemon peel extracts and helps take my skin from dull to radiant in just a minute
After my shower, I make sure to follow up with a good body lotion and really take my time working it in to my skin to maximize the relaxation of my '"spa" routine
5. Get lost in a hobby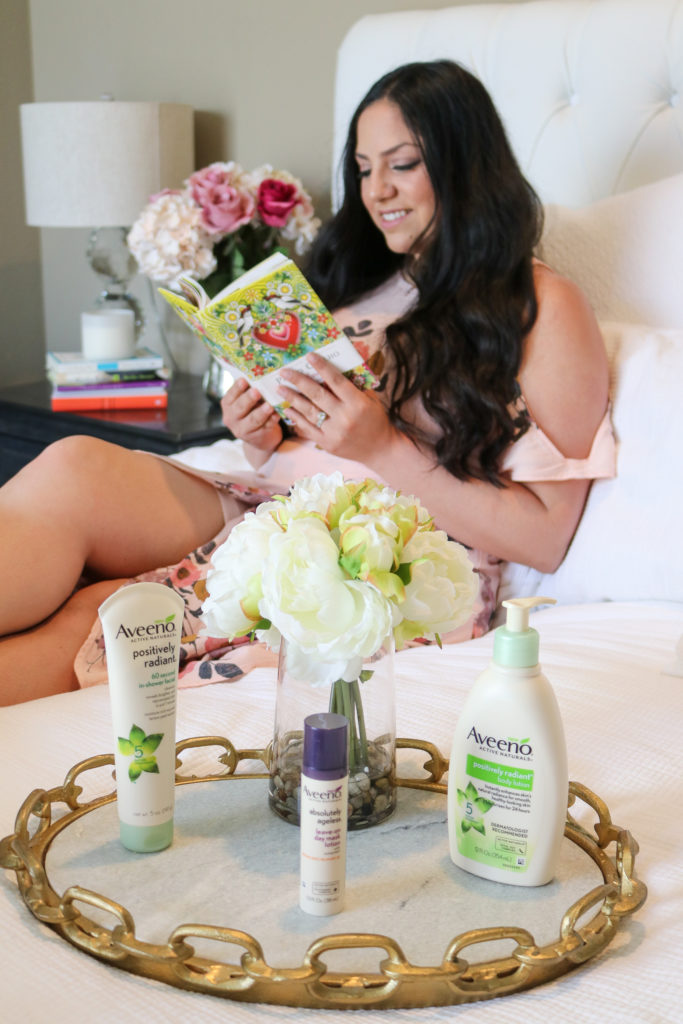 I feel the most beautiful and radiant when I'm engaged in something I feel passionate about. I lose all sense of time and get so into what I'm doing. It helps me feel so alive, which in turn, makes me feel radiant from the inside out. My favorite hobbies are usually creative pursuits like writing, painting, and reading. I'm not a talented artist by any means, but painting or creating something in general, is just so fun for me and helps me feel really relaxed. If you don't know what hobbies you are super passionate about, I strongly encourage you to experiment with different activities and find out! I always feel there is nothing more beautiful than someone who is fully engaged with and loves life! Having a hobby you are passionate about can help you feel that way.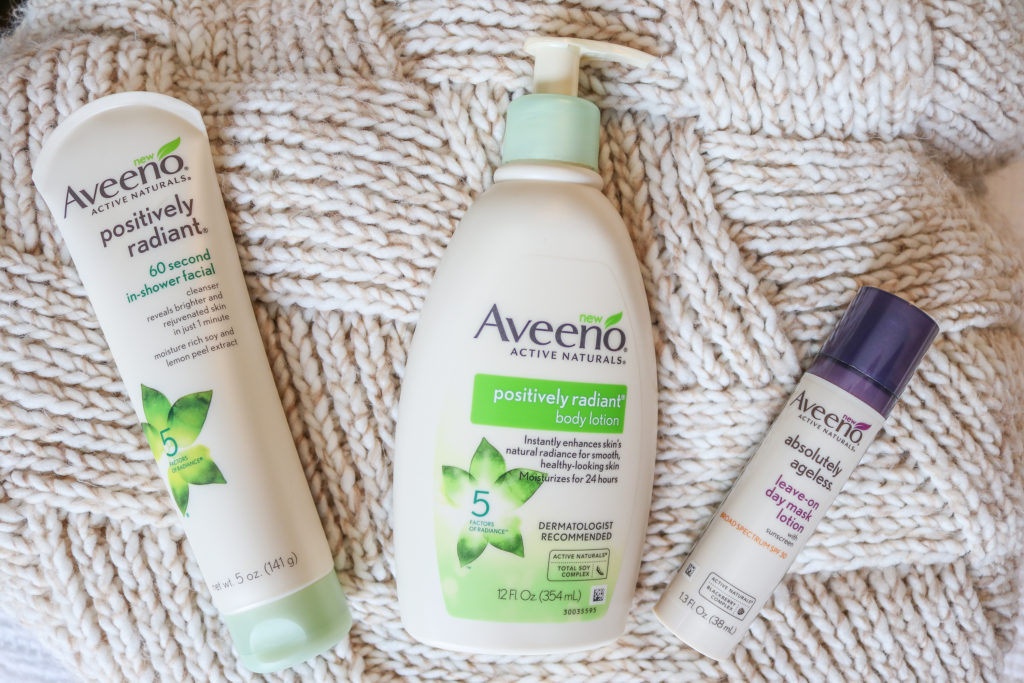 For a chance to win $50 to RiteAid to try the Aveeno's Positively Radiant or Absolutely Ageless line for yourself, comment below with your skin care self care rituals that help you feel radiant enough to light up a room! Plus. Rite Aid has Aveeno Skin Care Buy 1, Get 1 50% off during the weeks of 2/18 and 2/25. During the week of 2/25 when you use your Rite Aid Wellness+ Card, for every $30 you spend, you will receive $10 in Bonus Cash towards your next visit.
*Giveaway winners can use their gift card at Rite Aid store locations only.
Did you enjoy this post? Please pin it!