While in Alaska, we went on the Glacier Landing Expedition in Denali with Era Helicopters. If you've been around our site and Instagram page you might know that Bassam is TERRIFIED of heights! A helicopter ride is usually off the table for him. Somehow Lena was able to convince him to try this one and he didn't regret it in the slightest!  It ended up being one of our favorite excursions that we did in Alaska. At $500 a person, the experience was very expensive and much more than we usually would feel comfortable spending. Due to the price point, we almost didn't go, but we are so glad we did! It was a once in a lifetime experience and well worth the money!
The tour company picked us up from our hotel and drove us to the Era Helicopters heliport, overlooking the beautiful Nenana River. That's when the scariest part of the expedition occurred for Lena: they weighed us!! Just kidding, it wasn't that bad. They didn't announce the weights, it was just to make sure the helicopters are evenly balanced. Next, they gave us special boots to put over our shoes so we could walk around the glacier safely. It took just a little bit of getting used to, but they were comfortable and easy to walk in.
During the helicopter ride we experienced some amazing views. The pilot flew over Mount Deborah and we got an aerial view of the Alaskan wilderness. We couldn't stop oohing and aweing. We wished we could land and walk around, everything just looked so beautiful. The pilot played a selection of relaxing music that went really well with the scenery. This is cheesy, but when "What a Wonderful World" came on, Lena teared up a bit, because it truly is such a wonderful and beautiful world.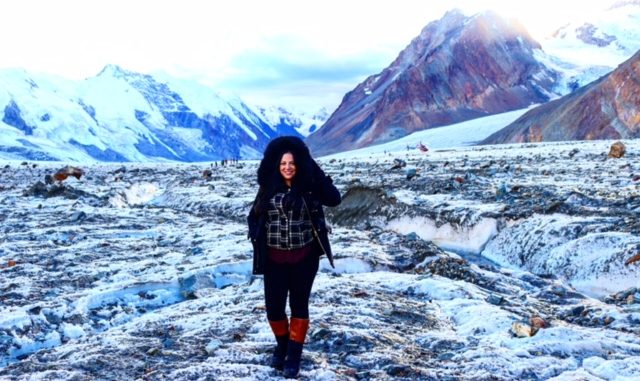 Despite all the breathtaking beauty we flew over, our favorite part of the adventure was landing on the glacier! It was a spectacular and surreal experience to be surrounded by that frozen landscape. The entire landscape just shimmered and sparkled in such a magical way. It felt like being in a magical frozen kingdom. This part of the excursion was too short for us. Once we finished taking a few pictures, it was time to go. We would've liked to explore and walk around much longer, although, we could've stayed there for hours and not have gotten enough! It was such a spectacular experience and it felt like we were in another world. We are finding it really hard to describe just how incredible this adventure was; it must be experienced!
After that we flew back to heliport, taking another route so that we could experience more breathtaking scenery. The details that we witnessed from that vantage point were truly spectacular!
So… do we recommend it?
YES! If you can budget enough money for it, we think it's a fantastic excursion and it was one of our favorite things we did in Alaska. The memories that will stay with you for a lifetime will be priceless! Although, if you are planning to go to Juneau, we recommend taking the excursion there. The glaciers are more impressive and you can also go dog sledding!

Disclosure: we received a small discount in exchange for this review. As always, opinions and photos are 100% our own.