Lena's Note: When Bassam and I travel, we tend to eat anything and everything. We often come back home needing a major detox and fitness reboot. While it's great to indulge on vacation and to explore a new destination by trying the local food, everything is best in moderation. Since healthy eating while traveling is not our strong suit but we want to get better at it, I asked Heather from My Life Well Loved to guest post and share her tips. Heather is a Pure Barre instructor and she looks AMAZING. She recently went on a trip to Cancun with her husband and I was so impressed by how she managed to maintain her diet and exercise routine, while still having lots of fun. I hope you find her tips on healthy eating while traveling as helpful as I did!
Hey y'all! I'm Heather of MyLifeWellLoved.com. A night owl, coffee lover, and fan of any excuse to hear good music and dance. I share about fitness, fashion, healthy living and ultimately how to live a life well loved! If it doesn't have to do with mom life or chasing those fit goals you won't see it on my blog. J I'm married to my college sweetheart and we have a two year old son named Leyton. We love being active together as a family and I teach Pure Barre.
When Lena asked me to share about how to eat healthy while traveling, I jumped at the chance. I firmly believe that vacations are meant to be a time to enjoy so while I don't go completely overboard on the healthy eating on vacations, I hope this will be a few tips that will help you along the way.
To get started, I typically try to eat extra healthy before I go because that way if I do put on a few extra pounds, hopefully I lose what I'll gain back. 😉 For instance, when we went to an all-inclusive in Cancun recently, I knew I'd be eating my heart out so I had to do some prep work ahead of time for my own sanity. HA! You can see what I typically eat before going out of town here.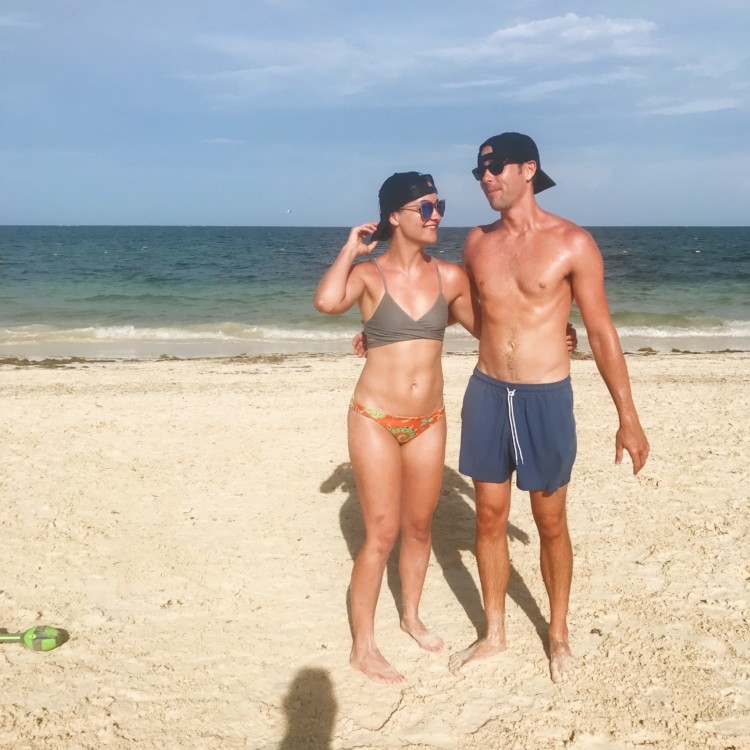 My Doable Approach Tips for Healthy Eating While Traveling
1. Pack some healthy snacks
Eric and I always pack things like RX bars, nuts, freeze dried fruits, a banana, apple, etc to keep us reaching for the good stuff instead of the processed and sugary items in the airport.
2. Bring an empty water bottle with you
Then once you get through security, fill it up to stay hydrated and also full! Drinking lots of water helps you avoid feeling hungry when you're not. Many times if you think you are hungry, you can try having a glass of water and you realize that pang you felt in your stomach was for H2O instead of food.
3. Splurge on the big meal!
That's right, I said it…you've got to live a little while you're on vacation, right?! But that doesn't mean every meal and snack in between has to be a bad health decision too. I try to eat a salad or something light for lunch when I'm on vacation so at dinner I can go all out.
4. Your first stop when you get to your destination should be the grocery store
Stock up on healthy foods and snacks so that you'll have healthy options around you when hunger strikes in your hotel room. I can guarantee you most the mini bar options are NOT healthy choices.
5. Do your research before dining
When you make restaurant choices, google things like gluten free restaurant NYC or grass-fed Boston so that you will know the healthier restaurant options where you are staying and can try them out!
6. Load up on veggies
Once at the restaurant, you can ask for 2 veggies instead of the pasta or bread that comes with it.
7. Opt for olive oil/vinegar salad dressings
8. Cut extra calories and carbs
If you want to avoid calories and excess carbs, you can order a lettuce wrap instead of a bun on your burger or sandwich.
9. Scout out the local juice bars or coffee shops around where you are staying
You can enjoy that as a treat during the day instead of ice cream or candy shops. It will be good to get that boost of veggies in a juice to help you stay well while you travel as a bonus. If you opt for coffee, ask for half the amount of syrups they typically put in sugary mixed lattes and skip the whip.
10. Take the stress out of it!
Don't let the stress of eating healthy make your overall health suffer. Try to relax and enjoy the good food you do have while there and don't lament over it. The good news about travel is that typically you do get in more walking to burn off those extra cals anyway!
I'd love to have you guys come find me on Instagram to connect and please let me know what your healthy eating tips are when you travel in the comments below!
Did you like this post? Please pin it!