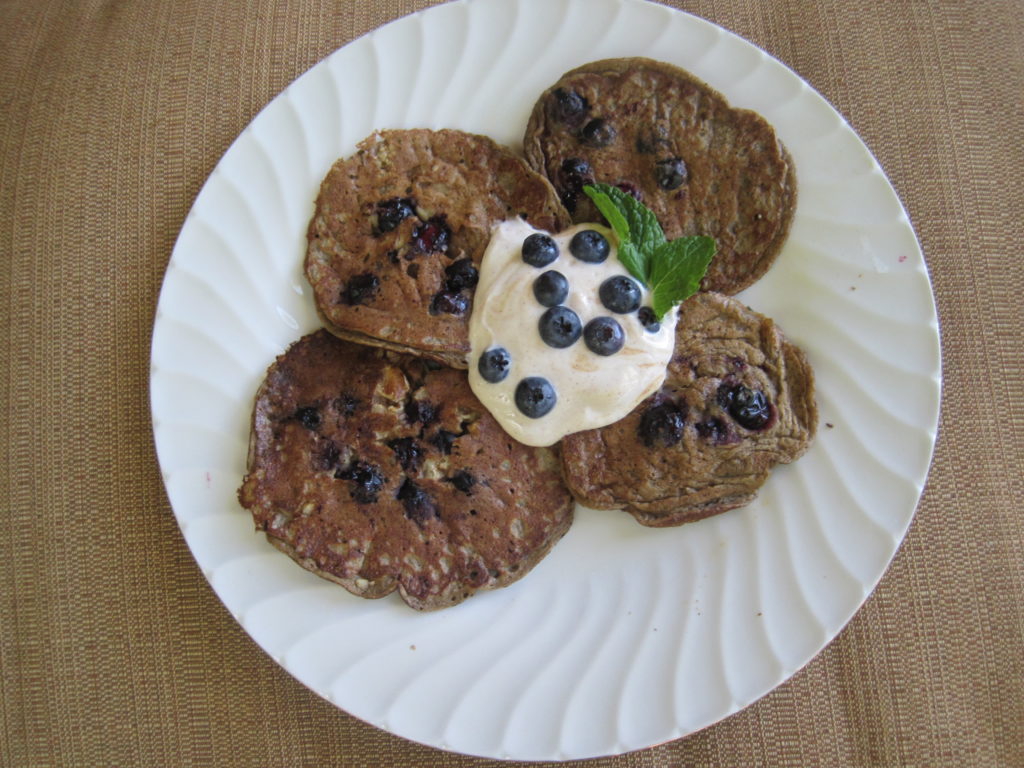 We tend to eat everything and anything while traveling. While delicious and so much fun, it's not always the healthiest. That's why when we are home, we do our best to implement healthy eating habits. One of our favorite meals to create a healthy recipe for is breakfast! We just love sitting outside on our balcony and starting our day with something full of nutrients. These healthy pancakes were a recent creation. Despite the list of hard-core healthy ingredients, they tasted amazing! If you're not into pancakes, you can also make these as muffins! We've done it both ways.
Just a few of the benefits packed into these little wonders:
Full of protein, complex carbs, minerals, and omega-3 fatty acids
Helps boost your immune system
Provides you with natural energy
Helps keep you full and satiated
Antioxidants help give you beautiful glowing skin
Helps regulate blood sugar levels
Easy on your digestive system
Tip: you can make a bunch and store them in the fridge to eat for breakfast or a snack for up to a week! (Can freeze them to keep even longer!) Just reheat in a toaster oven.
Muffin and Pancake Mix:
*Makes approx. 60* 
Ingredients:
-4 eggs: 2 complete, 2 whites
-1/2 cup rolled oats
-1 teaspoon of the following: chia seeds, flax seeds, hemp seed, and pistachio oil (can replace with another oil)
-1/2 teaspoon of the following: baking soda, vanilla extract, and cinnamon
-2 tablespoons each: hemp protein powder and amaranth flour (find at specialty health stores) (If can't find amaranth flour, use almond flour)
-1 banana
-1 cup unsweetened almond milk
-1 tablespoon agave sweetener
-1/4 cup crushed walnuts
-1 cup blueberries (can include more depending on preference) (Can use blackberries or raspberries if you prefer)
Directions for muffins and pancakes:
Blend everything but the walnuts and blueberries in a food processor or heavy-duty blender. Blend until smooth.
Add crushed walnuts and blueberries. Lightly mix with spoon. Do not over mix.
For muffins:
Add whole-grain oat flour to thicken.
Bake in muffin tins for 20 minutes (or until cooked).
For pancakes:
Pre-heat tray on medium heat and lightly spray with cooking spray.
Pour batter to desired size and flip as you can see the batter cooking.
"Whipped Cream" Topping
-1/2 cup of Greek yogurt
-1/2 teaspoon vanilla extract
-One tablespoon honey (or as desired to taste)
-Dash of cinnamon
Directions for topping:
Combine all ingredients and use to top your pancakes or muffins!
Can also use as a dip for your leftover berries!
What's your favorite healthy breakfast? Share with us down below! We are always on the lookout for new healthy recipes to try!