This post has been compensated by Collective Bias, Inc. and its advertiser. All opinions are mine alone. #SendingYourLove #CollectiveBias. 
Content is intended for readers who are 21 and over. #SendingYourLove #CollectiveBias
It's no secret Valentine's Day is my favorite holiday. I go crazy for all the pink, red, hearts, and of course, the emphasis on love. Although it's my favorite holiday and I love celebrating in many different ways, I'm not really a fan of going out for dinner on the actual Valentine's night. We will often go out to dinner a weekend before or after, but we always do something special at home on the actual holiday. We just aren't really a fan of the crowds and the overpriced menus. It doesn't say romance to us. Over the years, we've done many different variations on a Valentine's dinner. There are a few key elements that we keep consistent when planning a romantic Valentine's dinner. Whether you're planning this dinner for a man or a woman, here is the ultimate guide on planning a romantic Valentine's dinner at home.
How To Plan a Romantic Valentine's Dinner At Home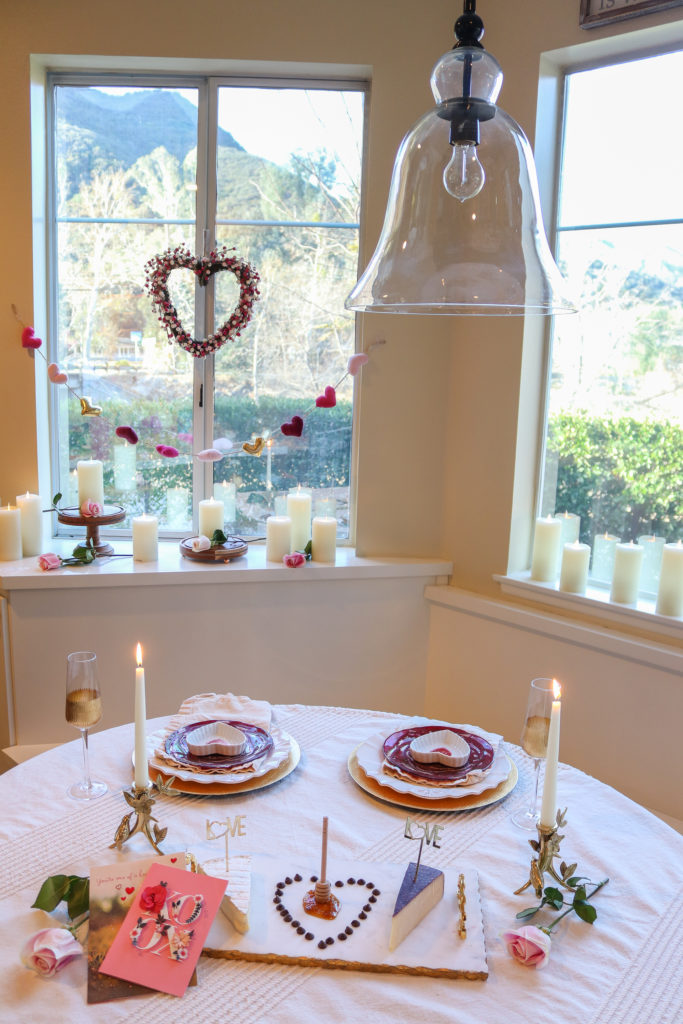 1. Start the party at the door
Greet your partner at the door when they arrive with a welcome drink! This will be an unexpected touch that will help get the dinner started off on a good note. We also love decorating around the door so that the festive feeling begins right when the person walks in. If you live with your partner, consider asking them to go somewhere for a bit or stay in the bedroom until you finish setting everything up.
2. Choose a decor style
Decorating for a Valentine's dinner is a must in my book, since I love Valentine's Day decor so much. I find that sometimes it's easier to decorate when you have a theme to work around or at least a style in mind. There are so many Valentine's Day decoration options out there, so this will help narrow it down. When Bassam plans the Valentine's dinner for me, he often goes with a Valentine's Day explosion! Since he knows I love the holiday so much, he grabs the cheesiest, loudest decor he can find, and puts it ALL OVER. This includes balloons, red streamers, and heart shaped garlands and wreaths. While this look might not be for everyone, I absolutely love it. For this dinner that I planned for Bassam, I went with a slightly more subtle vibe but kept the essential elements of Valentine's Day in terms of colors (pink, red, white, and gold) and heart shapes. I placed heavy emphasis on candles, scattering them all around. I wanted the dinner to look really soft and romantic. I also scattered pink roses all around, as I always love to bring an element of life to my tablescapes. Keep in mind, if your partner doesn't really like red or pink, there's no need to use those colors to decorate. Feel free to use whatever colors they prefer. I think personalizing the experience to their preferences is what makes things really romantic.
3. Plan a pre or post dinner scavenger hunt
I'm a huge fan of incorporating activities and a scavenger hunt is one of my favorite Valentine's activities. Leave clues all around the house that will eventually lead to your Valentine's gift or even just yourself! I think a really fun twist on a traditional scavenger hunt is to place a nice card as a each clue. Within the card, write your clue per usual, but also write a reason why you love your partner. We absolutely love Hallmark Signature Cards for this purpose. They have so many fun and sweet varieties. Each one of your "clues" could be a really different and unique card! The clues will become a treasured keepsake which I think is really sweet.
4. Select a menu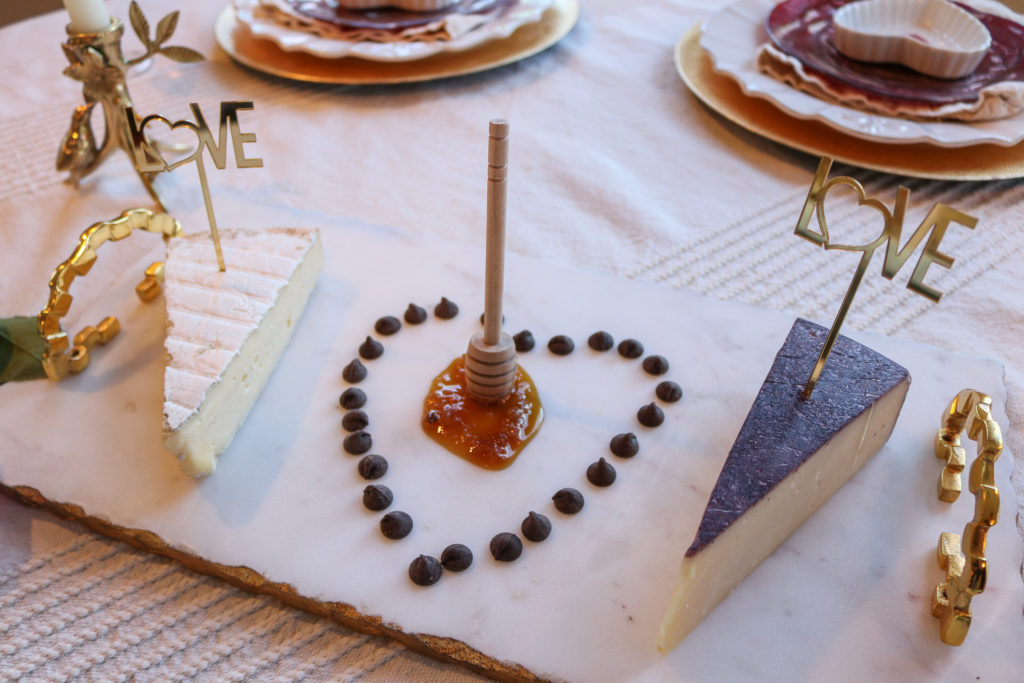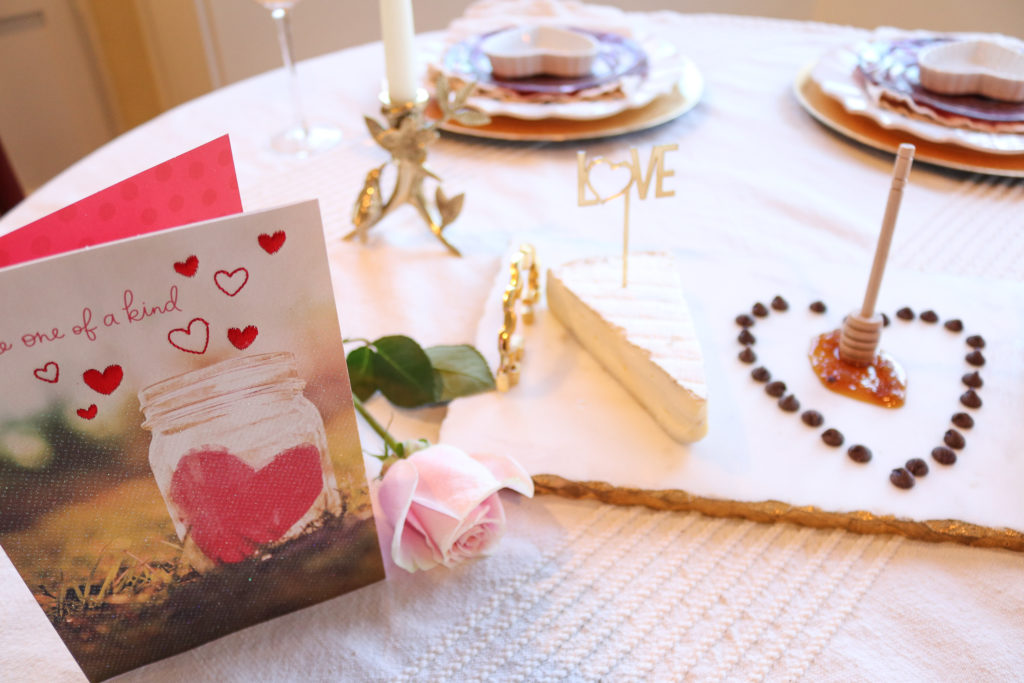 We like to keep our Valentine's menus pretty simple. It's never fun for whoever is planning the dinner to have to spend hours cooking, unless that's something they really enjoy. Here are some fun ideas to consider incorporating into your menu:
Choose a DIY meal that you can make together, so the dinner has a built in activity. Think sushi making or create your own pizza bar!

If your partner has a Pinterest food board, check out what they've pinned as a guide for your menu

Consider shaping whatever food you select into a heart shape

Base the menu around something special to your relationship like your first date or your honeymoon destination

Don't forget about appetizers! We love a good cheese board to start our dinner. It's so fun to flirt over a cheese board and a glass of wine

Get creative when it comes to dessert! Consider getting supplies to make s'mores, setting up a chocolate bar, or maybe even chocolate fondue!
5. Don't forget to write a romantic card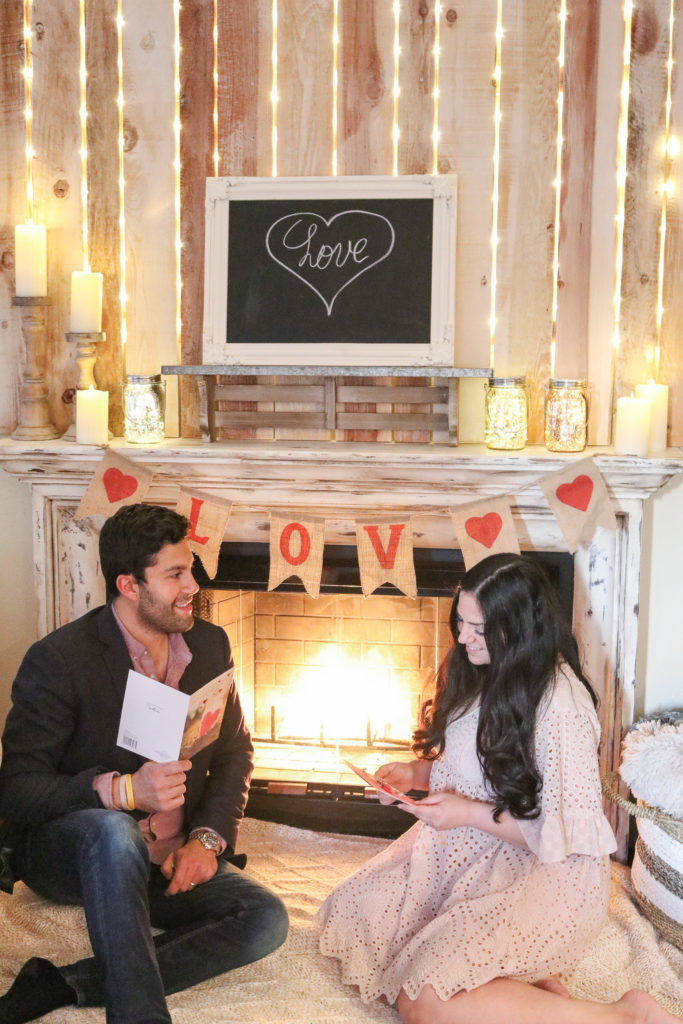 We've celebrated many Valentine's Days together and while we may forget what we gifted each other that year, what we did, or what we ate, we never forget the cards. We have every single one of them saved and stored in a special box. We absolutely love going back to look at cards from previous years and reminiscing over what was going on with our relationship during that time. Each card holds a special memory from each Valentine's Day we've spent together. After being together for as long as have, it's so much fun to look back at our shared history together and the cards we've given each other are a great reminder of those memories.
No matter how long you've been with your partner, whether it's a brand new relationship or you've been together for years, a special card is a must. It's a great opportunity to share with your partner exactly how you feel about them. I'm sure it will be something that they will treasure for years to come.
One of our favorite card brands is Hallmark. They have beautiful cards with a great message that we can resonate with for every holiday, including Valentine's Day. Walmart carries the newest collection of Hallmark Signature Cards, along with almost everything else you need to plan the perfect Valentine's Day dinner. We went in the other day to pick up a few decor items and got stuck reading Hallmark Cards for an hour (you may have caught this on our Instagram Stories!) Do not, I repeat, DO NOT, skip this step of your planning. The card is the cherry on top of the perfect romantic Valentine's Day.
Check out Hallmark's collection of Valentine's Day cards HERE. We are sure you will find the perfect one for your sweetheart. If you purchase through Ibotta at Walmart, you will earn $1 back on any Hallmark Valentine's Card priced $2.97 and above through 2/14 or while supplies last. There is also a coupon in Walmart stores for $2 off any 3 Hallmark Valentine's Day Cards.
Did you like this post? Please pin it!