I've spoken a lot about how Valentine's Day is my favorite holiday. I just love having a day that is centered around all the love that exists in your life. That being said, I also know that Valentine's Day can be a very stressful holiday for many, especially in terms of picking out the perfect gift. I've rounded up 10 beautiful Valentine's Day gifts for any woman in your life. All of these gifts will hopefully make the recipient feel beautiful, loved, and cared for.
♥  10 Beautiful Valentine's Day Gifts for Her  ♥
This post contains affiliate links
Click any image above to be taken directly to the item!
1. Beautiful lingerie with a guaranteed perfect fit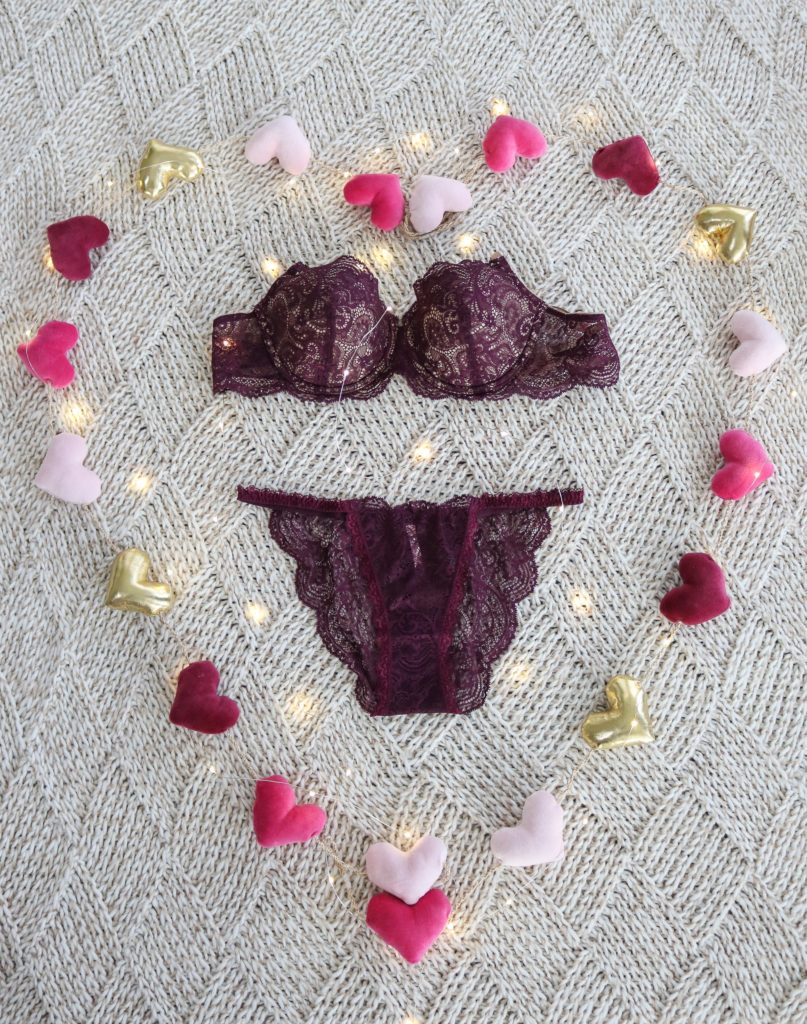 | Bra shown above | Underwear shown above |
A gorgeous lingerie set always makes me feel beautiful. It's like a sexy little secret only I know about. Buying someone lingerie can be so difficult. It needs to be beautiful, but comfortable and also have a perfect fit. Most people have a hard time finding a bra that fits perfectly and is comfortable even when shopping for themselves. Third Love has solved this problem with their innovative Fit Finder. You take a quick quiz, which then recommends the perfect style and size bra for you (or another person!) I was doubtful after taking the quiz, but the bra I was recommended fit me perfectly and was super comfortable. The matching underwear I got with it also fit great and was just so pretty and feminine.
The reason why their Fit Finder works so well is because Third Love offers half sizes. This concept blew my mind, but made perfect sense. If we get half sizes for our feet, why shouldn't our bras get half sizes too? In addition, the Fit Finder also takes into account breast shape, not just size, when recommending the perfect bra. You can probably take the quiz for your significant other if you know her breasts well and can take a peek at her current bras to be able to answer the Fit Finder questions. Just imagine how much she's going to love you when you find her the bra of her dreams! Worried you won't get the fit right? No worries! Third Love offers a "Try Before You Buy" program. You can choose any bra, keep it for 30 days, then either pay for it or send it back!
Current Third Love Promotion (no code needed):
Buy 2 bras, save $15
Buy 3 bras, save $25
Buy 4 bras, save $40
2. Luxe skincare products
I'm new to the Colleen Rothschild brand, but it's one I'm really loving so far. All of the products are incredibly beautiful both in terms of the packaging and the actual product, feel very luxurious to use, and are made of the best ingredients. I truly think anyone you gift this brand to will fall as head over heels over the products as I did. It can be hard to purchase skincare for another person, so here are the products I think you can't go wrong with.
This set will make anyone feel pampered and taken care of when they use it. It left my skin glowing after one use and the products felt so lovely on my skin.
This cleansing balm feels so luxurious to use and makes cleansing one's skin at night feel like a form of relaxation rather than a chore to dread.
Retinol Eye Cream or Vitamin C Serum
A retinol eye cream or a Vitamin C serum has a space in any good skincare regimen. Give the gift of healthy, beautiful skin with one or both of these products.
Everyone can always use a good hand cream and this one feels so soft and luxe! My dry winter hands felt so soft after using this cream and it smells so good!
20% off promo code for HEA readers: HEA20
Valid through 2/8/18
These custom antique tiers from Highfield Wild Rose are a beautiful and unique gift idea. Each tier is completely different; you won't be able to find two that are the same. The pieces are sourced from various antique stores and crafted into whimsical tiers by the store owner, Savanah. A lot of love goes into the making of each tier and it shows. The tiers can be used as entertaining pieces on a tablescape, to hold jewelry, and so much more.
10% off promo code for HEA readers: HAPPILYEVERADVENTURE
Valid through 2/28/18
4. A dainty piece of jewelry
A dainty piece of jewelry always makes me feel so pretty and I absolutely LOVE receiving jewelry for Valentine's Day as it makes the piece have significant meaning for me.
5. Pretty rose lip care
Lip care feels so luxurious because it's a part of the body that most women don't spend a lot of time caring for. These lip care pieces are beautiful and luxurious, but also effective for soft, luscious lips. What better holiday than Valentine's Day for kiss worthy lips?

I just love pretty trinket dishes. They add so much beauty to any space and the combo of prettiness + utility is the best! These trinket dishes are based on cityscapes and are perfect for any wanderluster! If you have a romantic significance to any of the cities, that would make this gift extra romantic and sweet!
Why limit yourself to gifting chocolate for Valentine's Day? These champagne inspired candies are both pretty and delicious, plus unique! They also come with a pair of fun champagne flutes. Add a bottle of champagne for the perfect gift set!
Why limit flowers to a bouquet? This pretty and feminine watch takes gifting flowers for Valentine's Day to a whole new level!
If you don't know what to gift someone, you really can't go wrong with a beautiful and luxe set of candles. I absolutely love this brand and this set contains so many wonderful fragrances.
This romper is one of my favorite clothing pieces. It's so feminine and pretty and works perfectly for a variety of situations. Although it's super comfortable, it also makes me feel really glamorous. The pretty pink color is also perfect for a Valentine's Day present!
♥  Happy Valentine's Day!  ♥
I hope this guide helped you find the perfect gift for the woman in your life!