Thank you to Lifetime Leather for sponsoring today's post
We like to always keep a toiletry bag packed and ready to go. We find that when we do this we end up going on a lot more spontaneous trips. It might be because it makes packing so much easier and hassle free so we say "yes" more or maybe it's the whole concept of putting it out into the universe. Whatever the reason is, we highly encourage you to keep your own toiletry bag packed and ready to go at all times! Even if you don't think you'll be going on any spontaneous trips, it'll make any overnight adventures that come up so easy to get ready for! Just grab your already packed toiletry bag and go!
Tip:  Looking for an amazing gift idea? A toiletry bag from Lifetime Leather filled with all the travel essentials is sure to impress any of your loved ones.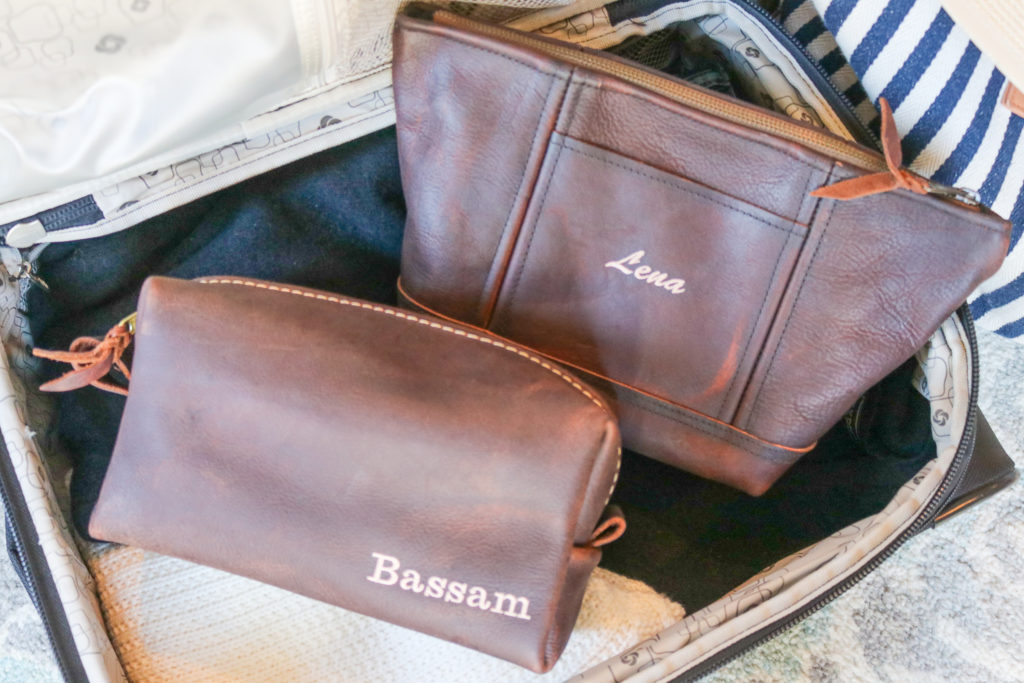 How To Keep a Toiletry Bag Packed for Spontaneous Travel
Choose the right bag
The right bag is roomy enough to fit all the essentials (plus a little more!), high quality to last, and flexible for easy packing. We absolutely love the toiletry bags from Lifetime Leather. They meet all of our requirements and are exceptionally good looking bags. The leather comes in multiple color options, but Bassam and I got the same leather to match. We also had our names embroidered, which we thought was a fun touch.
They are on the slightly pricey end, but since they last forever and are such high quality, we feel they are are worth it. The inside is lined with waterproof nylon, which makes for quick and easy cleanups. The outside is made of waterproof and stain resistant leather. If you can still mess them up with all that, which trust me I probably can, Lifetime Leather offers lifetime warranty. If anything happens to the bags they will fix it or replace it.
Lifetime Leather toiletry bags are the perfect travel investment pieces for yourself or to gift to a loved one.
Keep a checklist
I'm the kind of person who always forgets something. I've started keeping a checklist of essentials in my bag. After each trip, I check my list to see if I ran out of anything. If so, I add it to a shopping list on my phone to restock. Since I've started doing this, I haven't forgotten anything!
Here's what is on our checklists to give you inspiration for yours:
Bassam
Deodorant
Toothbrush, toothpaste, floss
Shaving cream and razor
Pomade and hair brush
Nail cutter
Contact lenses and glasses
Bandaids
Cotton swabs
Cologne
Lena:
Deodorant
Toothbrush and toothpaste
Glasses, extra contact lenses, and contact solution
Shaving cream and razor
Leave in hair oil, hair brush, shampoo, conditioner, hair ties, and hair clips
Sunscreen, eye cream, facial moisturizer, serum, and face wash
Foundation, concealer, powder, bronzer, blush, highlighter, eye shadow, mascara, eyeliner, and lip gloss
Body lotion
Perfume
Collect sample sizes
Travel size products can be pretty pricey. They are often marked up for the convenience factor. We've started making a habit of collecting sample size and travel size products to use to stock our toiletry bags. Most department stores and beauty stores offer complimentary trial size and sample size products. Whenever I'm buying my full size products, I ask if they have any travel size versions they can provide me. They often have my regular products in sample sizes to offer, but I also use this as an opportunity to try new products I've been interested in. Many online beauty stores offer generously sized trial size products with a promo code, so always do a search for a promo code before you check out. I've been able to obtain most of my beauty supplies this way without having to pay extra fees for travel size.
Simplify
I always tend to take way too much stuff with me thinking, "what if I need it?" Instead, I've started asking myself, "do I use this every day" before packing it. If it's not something I use daily, then it stays behind. This has been a really hard thing for me to implement, but I've started to learn that if it's not something I use in my daily life, it's not going to be something I use while I'm traveling. I also try to think about how much I use. For example, I only wash my hair once a week, so I don't need to take large quantities of hair products. On the flip side, I tend to use a lot of face wash when I wash my face, so I take a full size bottle of face wash if the trip is on the longer side. Know yourself, know your habits and pack accordingly. You're going to be the same person while traveling as you are at home, so pack for you, not this imaginary person you expect yourself to turn into while traveling.
Throw in a few mini luxury items
That being said, do throw in a few luxury items. Maybe I haven't totally gotten over my over packing habit, but I always throw in a special item or two that I might not use all the time, but will be really nice to use while traveling. Like a travel size face mask or bubble bath. I don't always use it, but it's small enough that I don't regret packing it. If I do end up using it, I'm always really grateful I brought it along.
Store in a cool dry place where it won't get wet
I know the standard place to keep things like this is under sink, but that's not really the best place. Try to keep your toiletry bag in a cool, dry space. This will help your bag and your stuff last, for however long it takes until your next trip. Hopefully it won't take too long until you head out on your next trip though!
Check out Lifetime Leather's selection of gorgeous toiletry bags here.
We hope you love them as much as we love ours!
Did you like this post? Please pin it!