Thank you to UNTUCKit for sponsoring today's post!

Guys. I know you probably feel us on this. Our days are BUSY! Between my full time job, Bassam's entrepreneurial start-up, running our blog, traveling, spending time with our families, and making time for our many hobbies and interests, there is never enough time in the day. As much as we love fashion and looking good, we have a few requirements for the clothing we wear.
1. It must be comfortable. We have no patience and no time for uncomfortable clothes.
2. It must be versatile. Our days can often takes us in a dozen directions. We need to be able to switch up our outfits easily to match whatever we are doing next.
3. It needs to be high quality so that it lasts. We'd much rather spend a little more on something that will last rather than pay less and have to re-purchase shortly after.
4. It needs to travel well. Meaning it can fold up easily, not wrinkle, and be lightweight.
UNTUCKit fits all those requirements for us! We partnered up with them to stock up on the essentials we believe must be in everyone's wardrobe. A classic white button down shirt and a scarf for females. A brightly colored button down and a quilted jacket for males. Read on to learn how we styled these wardrobe essentials in multiple ways to fit wherever our busy day takes us.
For Her:
1. How to style a white button down in multiple ways
A silk white button down is so classic and so chic. You really can't go wrong wearing it on its own with a nice pair of jeans, a pair of slacks, or with a cute skirt. Here are a few additional ways to style it:
Dressed up with a nice vest + leather leggings
| White Button Down | Leather Leggings | Black Vest |
This is definitely a look that can take you from day to night. It's not so dressy that you'll look strange during the day, but it'll still translate well at night. It's also on trend with the vest and leather leggings.
Dress it down with a casual vest + jeans
| White Button Down | Plaid Vest (similar) | Booties |
This is a super comfy and cozy look. The vest and jeans can seem too dressed down on their own, but the white button down gives it a more polished look. This look is perfect for a chilly day you just want to be snuggled up at home but have tons of errands to run.
Tied around your waist
| White Button Down | Body Con Dress |
A button down tied around the waist has made a comeback and I'm so glad! It's such a comfortable look and perfect for those days when you're running around like a crazy person. You'll look super on trend but be comfortable at the same time. At night you can either take the button down off or put it on over the dress so it looks like you're wearing a top and skirt.
A few tips to nail this look:
I find that it works best with a body con style dress
A black dress is nice for a simple look, but a colorful dress would be fun too since the white button down is so simple
Button the shirt all the way before tying it around your waist
Fold it in one or two times (it can look a bit weird with the collar part outside)
2. How to style a scarf in multiple ways
I love scarfs and wear them all year around. I always pack a few when we travel. It's such an easy way to add interest to an outfit or to switch up the same outfit you've already worn. They are also great to have on hand to use as a shawl in case you get cold. This one is super light, versatile since it's a neutral white, and still interesting with the light blue stripes.
As a shawl
A super light weight scarf like this is perfect to keep in your purse. It doesn't take up much room but it can be a life saver if you're somewhere with the AC blasting or if it gets unexpectedly chilly. It's also a great way to add interest to a simple dress as pictured above.
Classic knot
| Scarf |
This is my absolute favorite way to wear a scarf. I remember seeing it in Paris as a teenager and it took me forever to figure out how those chic women tied it. I've been wearing my scarf that way ever since! Such a classic and chic look.
Here's how
Classic loop
| Scarf |
Another one of my favorite ways to style a scarf! This goes with almost any outfit and keeps your neck pretty warm. You can always pull it down a bit if you get too warm and just use it as a style accessory.
A few other ideas:
In a "necklace": simply place over your shoulders and tie loosely at the midpoint
Neck wrap: wrap it around your neck a few times
As a headband: tie it in your hair
Around the handles of your purse
For Him
1. Colorful Button Down Shirt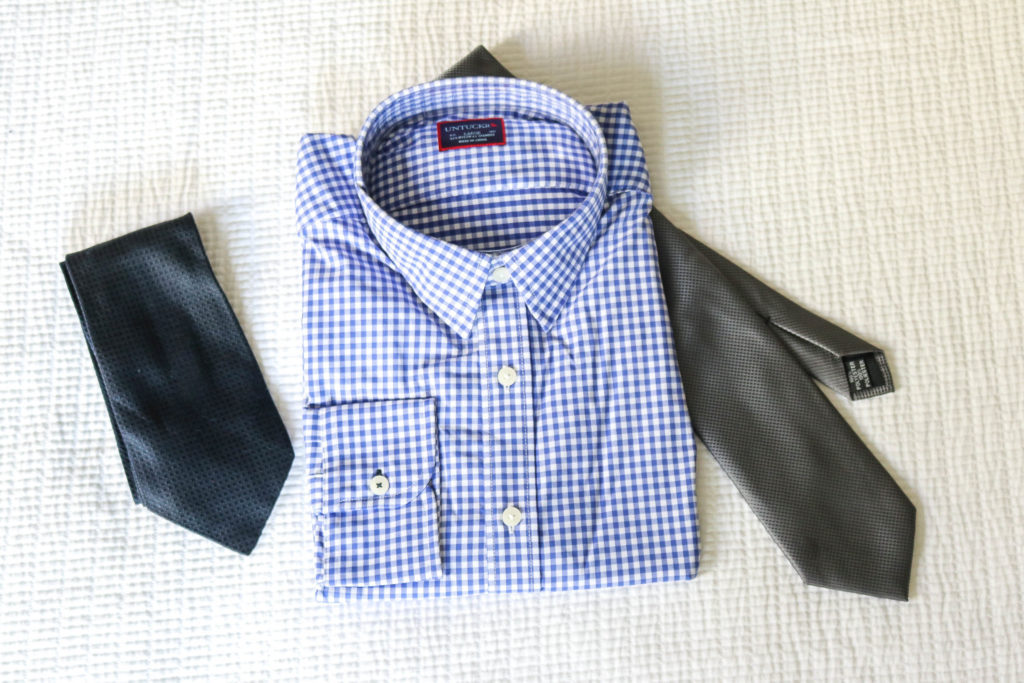 The essential wardrobe staple for men. Bassam has shirts like this in almost every single color and print. He wears them pretty much every day no matter what we are doing. They can be paired with shorts for a casual but still chic look, with slacks to be slightly more dressed up, or with jeans to be dressed down. These types of shirts are very comfortable so they are perfect for busy days spent running around but are still stylish enough to take you wherever you need to go after that. The special thing about UNTUCKit shirts is that they are designed not to be tucked in. They are contoured at the ends which makes them perfect untucked!
Layered with a sweater
| Button Down | Sweater | Slacks (similar)| Shoes |
This is my favorite way Bassam styles his button down shirts! I think it's so chic and so sexy. It's also so versatile since you can mix and match so many different colors. For example, with this purple button down Bassam has done navy blue, black, purple, and green sweaters. It's also so extremely comfortable and can take him easily from work to a date night.
Under a blazer
| Button Down | Blazer (similar) | Shoes |
This is Bassam's go-to look for a night out. It's the perfect casual but dressy hybrid that can take him to a trendy dinner or date night. It's also pretty comfortable and warm. If he needs to dress it down further, he can just take off the jacket.
2. A quilted jacket
This is the perfect jacket to handle any type of weather you might encounter. Bassam wore the jacket in France and it kept him warm through the intense wind storms we encountered. It's also waterproof and held up the random night of crazy rain. We walked around Paris with no umbrellas and were soaking wet by the end of the night. Bassam's jacket stood up to it all. My jacket and both our shoes were ruined. You can wear this jacket with pretty much anything. It runs a bit large which is perfect for layering underneath when the weather gets cold.
Dress it down
| Jacket |
Dress it down with jeans and button down. Add a scarf for extra warmth.
Dress it up
| Jacket | Slacks |
Dress it up with slacks and a button down. Perfect for a business casual lunch or dinner.
Check out UNTUCKit's line here!
Did you like this post? Please pin it!