Getting through hard times is not about blind faith and positivity, it's about resiliency. That's a quality that every single one of us has deep down inside of us, we just need to learn how to harness it. My hope for you in reading this article is that you'll come away with a toolbox of 16 actionable strategies that actually help with getting through hard times.
Each strategy won't work all the time, but in having a wide array of tools, you'll always have something that works, no matter what you're going through. Keep in mind, each of these tools are a practice and they will be stronger, easier, and more effective with time as you practice them.
Over the course of a lifetime, we will each go through many difficult times. It's a milestone just like anything else. How we react to them can shape our lives and our identities. Some of these times will test us down to our core. We'll think we can't get through them, but we can. We have everything we need inside of us.
Bassam and I have both been through the ringer the past few years from multiple big losses, toxic situations, health concerns, financial/job struggles, natural disasters, depression, and more. This year in particular, we had a big challenge every two weeks. I felt like I couldn't recover from one thing before another thing happened.
In going through these tough times, we've had situations that we dealt with well and situations that we didn't deal with so well. What I've learned in getting through hard times is that it's never about the actual situation, it's all about your outlook and the strategies you implement.
Here are 16 strategies that have been very effective for us and others that I have coached in getting through hard times. The strategies are a mixture of personal experience, my work experience and training as a behavior analyst, and the research I do in the mental health space. I truly hope you find a strategy here that helps you get through whatever you're currently dealing with. Please remember you are never alone and no hard time will ever last forever. You can and you will get through this.
16 Things That Actually Help With Getting Through Hard Times
1. Feel your feelings
I know you might be sick of hearing this phrase, but feeling your feelings is one of the most important things to do when getting through hard times.
Too often we attempt to push away our feelings or pretend they don't exist. This doesn't actually work. The feeling is still there and still affecting your mind and body whether you want to acknowledge it or not.
While it may sound counter intuitive, actually acknowledging your feelings helps it have less of a hold on you.
This includes multiple steps.
Step 1: acknowledge the correct feeling.
It's often easy for us to lean into the most surface level feeling, but that may not actually be what's truly affecting us. Here are three tools that can be really useful in figuring out your true feeling.
Free write – it's amazing what hidden gems we can uncover in a free write. Write continuously without stopping for 15 minutes asking yourself the question "why does this bother me" and continue to ask "why" until you get to a deeper level.
Learn your go to feelings – we each have thought patterns that we developed in childhood that continue to exist within us. They are so strong that any difficult situation can trigger them and make us relive that same experience, even if that's not what we are actually feeling. Spend some time working on uncovering your negative thought patterns. For example, if you go straight into feeling abandoned or straight into anger, it's worth some reflection to determine if that's really what you're feeling in this current moment or if you're just feeling your go to pattern. Before you feel your feeling, you want to make sure it's the accurate one for what's actually going on right now. This will help your "go to" have less power over you.
Use an emotions wheel – the emotions we tend to identify first are often basic level. Use an emotions wheel to identify the more nuanced feeling you're experiencing.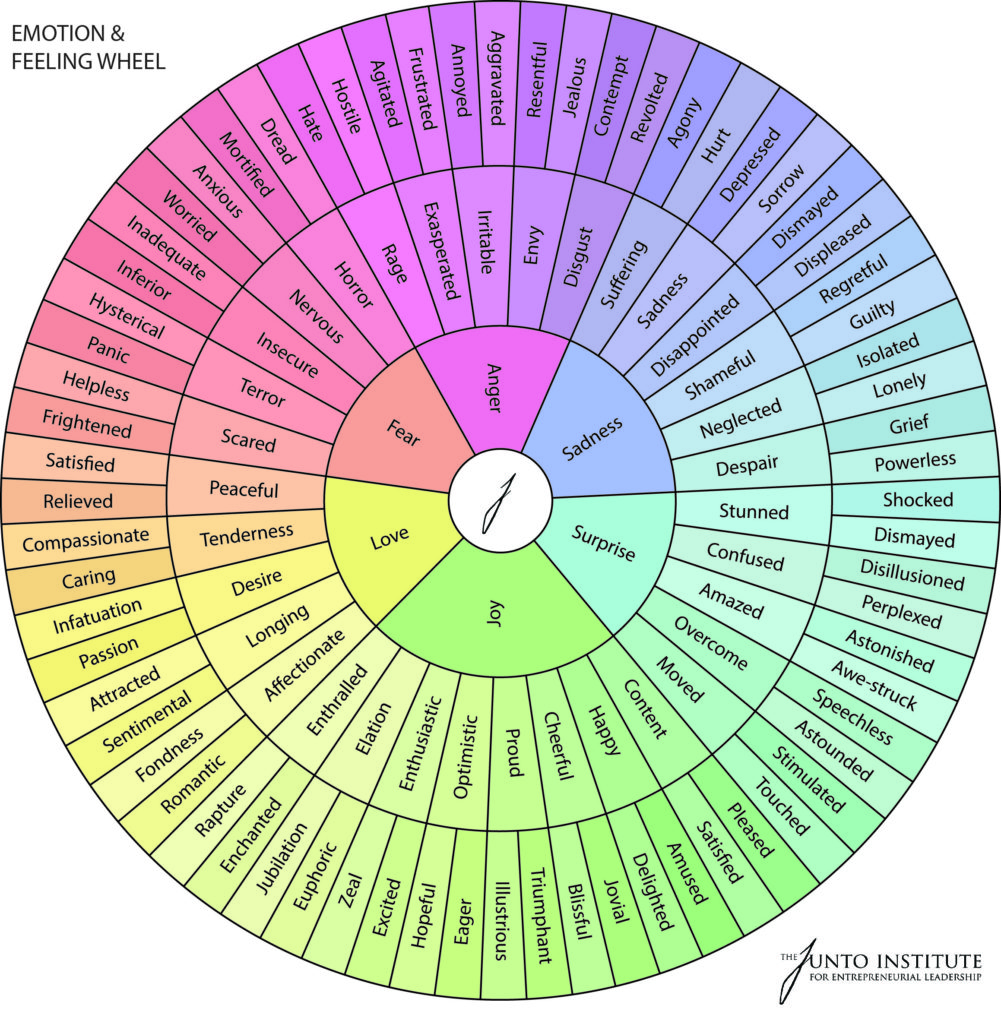 Step 2: feel your feeling
Now that you know what you're feeling, the next step is to actually feel it. Dedicate some time to truly process your emotion. This will look different for each person, but here are a few ideas:
Sit with it and actually let the feelings come over you
Express it physically (examples: crying, punching pillows to express anger)
Express it creatively (examples: scrapbook, draw about it)
Talk to someone about it or journal it
When feeling your feeling, try to focus on WHAT you're feeling, rather than replaying the event over and over in your head. The event has passed. Now focus on what you feel.
Step 3: do it regularly and with limits
Feeling your feelings is not a one and done type of thing. It's something that you'll need to do regularly to process fully. When you're in the midst of getting through a difficult time, you may want to set aside time daily. In the future, you may be able to do it just when the feelings come up.
You'll need to experiment to figure out what time duration is best for you. My sweet spot seems to be 15-30 minutes. More than that and I can get into "wallowing".
The danger in this exercise is that it can turn into an all day wallow fest. Set a specific amount of time to feel your feelings, then follow it up with an action that relates to your values. More on that next.
FAQ: What do I do when the emotion comes up randomly?
A: Acknowledge it. That's okay if it comes up. Acknowledge what you are feeling without any judgement. Next, do something that relates to your values.
2. Lean into your values
The most effective way to feel like we are living a happy, satisfying, and fulfilling life is to let our values lead our actions. After feeling your feelings, engaging in an action related to your values is one of the best strategies I've found for getting through hard times.
Here's how to use this tool. You'll only need to go through steps 1 and 2 once or if your values change. In future, you can go straight to step 3.
Step 1: identify your values
What are your core values? This list should only include 1-2 values. More than that and you can't really be true to them. If you need help identifying your core values, check out this guide.
Step 2: make a list
This is a one time investment on your time that will be super helpful. Spend some time making a list of things you can do in 5, 10, 30, 60 minutes that help you live your core value. Save this list somewhere you'll have easy access to so you can refer to any time you need it.
Here's an example of what might be on my list. My core values are joy and making a difference.
Joy 5 minutes:
Take a few deep breathes
Dance like crazy to a song
Watch a cute bunny video
Go outside
Smell a flower
Joy 30 minutes:
Take a walk
Have a dance party
Call a friend
Read a book
Making a difference 5 minutes:
Make a donation
Check on someone I know is struggling
Give someone a compliment
Step 3: engage in a value based action
Action is what breeds change. Now that you've felt your emotion, shift that energy in a feel good way by engaging in an action that relates to one of your values.
The easiest way to do this, is to just act without even having to think about it. Take a look at your list and pick an action based on how much time you have. Now do it! Don't get caught up in your head about it or over analyze. Just do it.
It may not make you feel better, but that's the not the point. The point is just to continuously be moving toward living a life that's based on our values. Over time, redirecting your energy in this way will come more easily and naturally.
An important point here, you aren't engaging in this action to "make yourself feel better". You're engaging in this action because it helps you live your values. If it helps make you feel better, that's just an added bonus.
3. Learn to live in duality
Learning to live in duality is one of the hardest lessons I've ever had to learn and maybe the most important.
Life is never this or that. It's always this and that.
When we can accept the duality, we can have a lot more peace.
Here are some examples:
I can be so incredibly sad and so incredibly grateful
I can love someone so much and be so angry at them
I can be in so much grief and feel joy
I can be working towards living my values and not be productive right now
Once we make space for and allow all the feelings, it'll be easier to actually process them. When we try to fight our feelings, for example, saying that we shouldn't be so sad because we have so much to be grateful for, it just causes internal conflict and makes us feel worse.
Your brain wants to be in balance. It wants to feel both things. When you fight against one, it causes extra conflict for your brain.
There is room for all of it. All of it can coexist.
In addition to helping you live in less conflict, when you truly believe in duality you can see the joy around you. You'll be more open to it. When you are in a black and white space, you may be closed off to whatever other options are available at the moment.
4. Establish a driver and a passenger
Here's the deal. We can never will our negative thoughts and emotions away. Even after we've put aside time to deal with them and we've engaged in an action related to our values, those feelings may still be there. That's okay. Accept that you cannot will away a feeling. It's just like someone telling you don't think about a purple elephant. You can't help but think about a purple elephant.
Emotions are the same. If you tell yourself not to think about it or not to feel it, you will. We just need to learn how to coexist with them.
When getting through hard times and coexisting with an emotion, it can be helpful to assign a visual to it. I personally like the idea of a driver and passenger in a car.
Both me and my negative emotions are in the car. We are both going for the ride. That part I can't control. What I can control is who is in the drivers seat and who is in the passenger seat. Literally picture yourself in the drivers seat and your emotion in the passenger seat. The visual usually makes me laugh.
When the emotion comes up for you, that's okay, we already accepted the emotion is going to be in the passengers seat. It's going to come along wherever you are going. No big deal.
What is a big deal is if that emotion tries to tell you how to drive or where to go. The emotion is not your navigation system nor is it your driving instructor. You are in control of the car. You decide where to go and how to drive.
When you are first working with this visual, it may be helpful to actually imagine this scenario and imagine yourself telling the emotion to stop being a backseat driver. You will decide where you are going. Over time, you may not need this. It'll feel easier to let the emotion exist, while you make the decisions.
For more ideas on how to develop a visual that works for you and exercises to deal with anxiety, I love this Acceptance and Commitment Therapy Workbook.
5. Tweak your gratitude practice
I feel like a broken record with talking about gratitude practices, but it's so incredibly important. What you focus on is what you see. If you focus on what's going well, that's what you're more likely to see. I highly recommend implementing a daily gratitude practice. 3 things in the morning and 3 things at night.
When getting through hard times, I find it helpful to tweak your gratitude practice to be directly related to what's going on. For example, after we went through a recent pregnancy loss, I stated 3 things morning and night that I'm grateful for related to the loss. Examples include: I had the experience of being pregnant, I have a great support system, my body is healing.
This will help you shift your perspective. Realistically speaking, no matter how bad things are there are also likely to be some positives. This will help you tune into them.
Don't forget the tiny little things we can sometimes take for granted! The ability to walk, the ability the breathe… These may sound silly to you, but as someone who watched their mom lose these capabilities I am so immensely grateful for these basics.
Important: remember duality here. I'm not saying you're not allowed to grieve. I'm saying you can grieve and also experience gratitude.
Hack: if you're having a hard time coming up with things to be grateful for, try coming up with just 1 thing. Your brain likes for things to be easy. If it notices that coming up with something good was easy, it'll think life must be good.
6. Get into a flow state of gratitude
A gratitude practice is great and all, but really makes a huge impact is truly feeling gratitude from the inside out.
This will take some trial and error, but once you figure it out, it's a strategy that can be life transforming.
Find an activity that makes you feel grateful from the inside out. Something that while you're doing it, you lose track of time and your whole body vibrates with the gratitude of being able to have that experience. It's like being in a "flow state".
This is not the same as just doing activities you like. Not all activities that you enjoy will get you into a state where you are truly feeling gratitude. For example, I love to read but reading doesn't get me into this state.
For me, those activities are walking in nature, dancing, and being in nature.
Experiment until you figure out what does it for you.
Once you've got it, make sure you are scheduling yourself regular time to engage in this activity. When you do engage in the activity, notice the feel good feelings that you're experiencing. Thank your body/the universe/God/whatever resonates for you for this wonderful feeling you are experiencing. Actually noticing and placing emphasis on the feel good feelings help them become more noticeable to be and help you tap into that easier in the future.
This is so much more effective than just writing a gratitude list because you're actually FEELING the feelings of gratitude, rather than just thinking them.
7. Exercise is key to getting through hard times
I know when I'm feeling down the last thing I want to do is exercise. All I want is to cuddle up on the couch or in bed and stay there. However, I also know that exercise will help me to feel better.
It's kind of like a vicious cycle. Feel bad –> don't want to work out –> feel worse. At some point, you just have to push yourself to break the cycle.
Here are a few ideas:
Pick an activity you LOVE (doing something you don't like defeats the purpose)
Tell yourself you only need to do it for 10 minutes. Do it and congratulate yourself! The point here is to feel good, not obsess over what more you could've done
Have an accountability buddy who will encourage you to do it
Think about all the reasons why it'll feel good and why it's so good for your mental well being
There is tons of new science on why exercise is so important for your overall mood and feelings of depression and anxiety. If you're interested in learning more, I highly recommend this book. You can also check out this podcast episode for a brief summary. The findings will seriously motivate you to exercise!
One of the biggest things that stood out to me is that our brain has dopamine receptors that allow us to experience joy. With age, lifestyle choices, or various health concerns those receptors start to become unavailable. This means they cannot process joy. Scientists aren't sure if we can create more dopamine receptors, but we can influence if they are available or not. Exercise is the easiest way to increase the availability of the receptors to provide feel good feelings to various stimuli. This means that working out helps you to have a more positive outlook and experience more joy. So cool!
On a personal and not scientific level, I've found that exercise helps me to get stagnant or anxious energy out of my body. It's also the most effective way for me to get into a flow state of gratitude. One of the biggest ways I was able to deal with the bout of prenatal depression I experienced was to start going for daily walks. They were slow because I was so sick, but they made the biggest difference in my mood.
8. Be super picky about what you allow enter your space
Whatever you surround yourself by makes a giant impact in your mood, attitude, and beliefs. While I believe it's always important to have boundaries with who'/what you allow into your mental and physical space, it's especially important when getting through hard times.
This is the time to really curate who you interact with, listen to, spend time with – even if those people are just on social media! This is also the time to put aside a sad or violent book or television show. You don't need anything extra to add to your anxiety or sense of fight or flight.
It's going to be difficult to cut anyone negative or triggering out of your life, but you can maintain some boundaries.
Really pay attention to how you feel after you interact with someone or consume their content. Identify who is an energy drainer for you
If that person is non essential to your life, consider cutting them out just until you get through this hard time
If the person is essential in your life, set boundaries

Limit how often you talk to them
Talk to them during a time of day that will affect you the least (for example, before bed may affect your sleep)
Set a "mental boundary" before you talk to them by reminding yourself that anything they have to say is their truth and doesn't need to be your truth. Practice letting it bounce off you as much as possible

Engage in a de stressing activity afterwards or some movement to literally "shake it out"
Besides limiting negative content into your space, this is also a good time to think about increasing positive content. Try picking up an uplifting book or listening to a positive podcast. Surround yourself with as much positive inspiration as possible.
Here are some uplifting books I love:
9. Cut yourself from slack when overcoming hard times
During a hard time, we don't function at 100%. Our memory is down, our energy is down, nothing is functioning at the normal level. That means it's 100% normal to feel your energy and productivity decline. Much of your energy is going towards staying in balance with whatever you have going on. Take it easier on yourself during this time and really listen to your body.
Does your body need more sleep? Does it need more movement? Does it need more grounding and nourishing foods? Give your body what it needs!
When I'm going through a hard time I notice my body seems to need warmer and heavier foods. I normally love salads and smoothies, but during hard times I eat a lot more bowls, soups, and pastas. I also notice my body needs a lot more movement than usual to "shake off" any anxiety and not store it.
We are so programming to judge our self worth based on our productivity, but that's just an unhealthy thought pattern we've all been taught. This is the perfect time to try to untangle your sense of worth from your accomplishments.
Instead, re frame accomplishments. What is it that you need to do right now? Maybe it's to focus on your self care. Or maybe it's to be there for your family. Whatever it is, put value in that, rather than the tangible outcomes we typically associate with productivity.
You may even want to set up goals and check boxes for yourself based on what you need right now if you're having a really hard time completely letting go of the idea of productivity. You just need to shift the productivity focus to what is going to help you get through this time. Then feel proud of that! Beating yourself up is only going to add to your anxiety right now and you need to do all you can to creative positivity for yourself.
If you're having a hard time being compassionate towards yourself, pretend you're talking to a friend. What would you say to a friend who was upset that they weren't being productive during a difficult stage of life?
When I have years or seasons that are particularly rough, I like to remind myself that in the grand scheme of life, not every year or season can be a growing year. Some years and seasons are for going inward and surviving. Getting through times like in the best possible way for me personally is what will set the stage for the growing years.
10. Communicate what you need and ask for help
Let's get one thing clear. None of us are islands. We cannot survive solely on our own.
In order to foster and maintain healthy relationships, we need an equal amount of give and receive.
As someone who places importance on feeling competent and being there for others, I struggle with letting others be there for me. It's something that I've noticed hinders my relationships from being as deep as I'd like them to be. I'm constantly working on it.
When communicating what you need and asking for help, you first need to know what it is that you need. I often find that I can't communicate what I need because I don't know what it is. Then something happens that I find not helpful and I get upset.
I've been learning to spend some time actually figuring out what I need. Then communicating it to the other person in very clear and objective terms. I also find it's helpful to deliver it in a way that doesn't blame the other person and helps give them context as to why it will be so helpful for me.
For example, rather than get upset that Bassam didn't help with dinner, I may say, "Bassam I'm feeling really overwhelmed today. I think I would feel so much better if I could take 20 minutes to workout. Can you prep xyz so I can have time?" When I put it that way, he's more than happy to help! Then afterwards I will thank him and say, "thank you so much for taking that on! Getting time to myself really helped me feel better." When getting that reinforcement, it helps him be more willing to take things on in the future. He sees the positive impact his behavior had on me. As someone who loves me, he wants to make me feel good. He just may not always know what he can do, so it's my job to communicate it clearly and nicely.
I'm not saying I'm always perfect at phrasing my needs that way, I've just noticed when I can take the extra time to do it that way, the result is so much better.
There are lots of needs you can communicate.
Delegating a task
Asking for time alone
Saying you need time to vent
Asking for advice
Requesting someone STOP doing something (e.g. "I've been having a hard time lately and I've noticed I need to limit my stress as much as possible for a little. Would you mind if I didn't talk to you about (subject) for a little while?")
One of the most important ways to ask for help is seeing a professional. If you feel like you are having a hard time managing a difficult situation on your own, seeing a mental health professional can be a game changer! Not only can they give you customized tools and strategies to try, talking it out with someone whose job it is to listen can be SO helpful. Find a therapist here.
11. Take control and let the rest go
It's normal and natural to want to feel in control. One of the biggest struggles people have when getting through hard times is the lack of control they feel. You may not be able to directly control what's going on, but there are things that are within your control. Shifting your focus to what you can control will help you feel less chaotic.
Come up with 3 things you can control right now and be consistent in doing it. Maybe it's a ritual or a routine you can implement. Maybe it's directly related to what's going on. Here are some examples of what I determined was within my control during various hard times:
Displaced from our home during a natural disaster// can't control: if our home will be okay, can control: daily gratitude practice, finding a place to do laundry
Bout of prenatal depression // can't control: throwing up 12 times a day, brain chemistry, can control: going for a daily walk
A major illness // can't control: getting sick, can control: fueling my body well with healthy foods, light exercise, and sleep
An important thing here is to understand what is actually within your control and what is not. If something is just a fact, like gravity, it makes no sense to worry about it. Let it go. If there's something that can be done, then figure out what you can do. If you can do something about it, you will feel better putting your energy there rather than worrying about it. It'll also help you let go of some of the worry because you'll feel more in control.
12. Talk about it constructively
It be really helpful to talk to others about what's going when getting through hard times, but the way we talk about something can really affect how resilient we are able to be. If we are constantly talking about something in a negative manner, it's going to continue to reinforce that idea. Life is what we see, it's also what we constantly talk about and think about.
That being said, venting can be extremely helpful! It's a great way of getting something off your chest and processing something you're feeling. We just need to find a little balance here.
When venting to someone, consider setting a time limit. My personal time limit is very similar to the one I use for "feeling my feelings", around 15-30 minutes. Complain as much as you want, be as negative as you want. Once the time is up, shift the conversation to be more constructive. Maybe this means talking about actionable strategies you can take to overcome or feel better about what's going on. Maybe you even end on the conversation on a positive note.
In the beginning cutting yourself off in this way will feel really awkward and unnatural. With practice, you'll find that you're naturally able to start feeling like that amount of time was all you needed to vent and you're ready to start being constructive now.
If your conversation partner is unable to support you in having a constructive or positive conversation, you may want to rethink having them be your venting sound board. I know I have people in my life who are much more comfortable staying in the negative and while I may want to vent with them because I know they be so satisfyingly negative, I also have to remember that it's not helpful in the long term.
I want to reiterate, I'm not saying it's not okay to vent. I'm just saying we need to be mindful of having balance here.
13. Up your self care when getting through hard times
Self care is often the first thing we let go of when getting through hard times. Maybe we think we don't have the time, maybe we feel guilty, or maybe our heads are just too full to even think about it.
But here's the thing. Self care is not negotiable. Self care is what enables us to tap into resiliency and keep going.
Rather than abandon self care during tough times, we actually need to increase it.
I highly highly highly recommend looking at your schedule and figuring out a way you can squeeze in some self care morning, noon, and night. It doesn't need to be anything crazy, even just 5 minutes will be magic.
Having these consistent touch points throughout the day to check in with yourself and give yourself a little boost will help you get through everything so much better. It'll also help you stay on an even keel throughout the day, rather than waiting to engage in self care when you're at your breaking point.
Here are some easy self care ideas:
eat a nutritious meal
dance like crazy to one song
go for a quick walk (even 5 minutes!)
take a few deep breathes
stretch
look at a video of the ocean (or whatever type of nature you prefer)
journal
If one of these self care times can be a little longer (like 30 – 6o minutes) that would be AMAZING, but you're going to get great benefits even just starting with five.
Think about engaging in self care as an investment towards future you. If you don't engage in self care, you'll create problems for yourself that you'll need to fix later. Maybe that'll be your own declining health, maybe that'll be the less than desirable way you'll communicate with loved ones. Rather than create messes for yourself later, take steps proactively to boost your mood and resiliency. Even if you don't think you need it.
PS. scrolling social media or playing games on your phone doesn't count as self care
14. How is this happening for me?
A helpful mindset shift is thinking "this is happening for me" rather than "this is happening to me". It's a very simple difference in language, but the difference in meaning in huge.
This is happening to me – Limited mindset. I am a victim here. I'm being punished. Nothing ever goes right for me.
This is happening for me – Growth mindset. There's something I can learn here or something that could benefit me, even if I don't see it right now.
Even if you don't believe that this situation could possible be for you, try asking yourself how it could be for you. Our brains hate unanswered questions. They will try to fill them in and "close the loop". By asking your brain to "why is this for me", your brain will start working to answer the question.
Maybe this time has some sort of lesson for you. Maybe there's a growth opportunity. Maybe there's a way for you to get creative and uncover something you never would've uncovered before.
Try writing a list of 25 reasons why this could be for you. You don't even need to believe it, consider it a creative exercise. Push yourself to really come up with 25 options. Studies have shown that when people come up with 25 ideas, that's when they start getting really creative. The first few ideas are usually surface level, but once you get to the 20 mark, they start being a lot more creative and deep.
15. Focus on what's real and present
It is so hard not to future trip when you're worried about something or dealing with a tough time, but that's where the majority of pain and suffering is found.
Each time you find yourself worrying about what may happen in the future, gently bring yourself back to the present moment. (key word: gently).
What is happening in the present moment? Are you safe and healthy in the present moment? What is good in these present moment? In this exact present moment, you're reading this article. Maybe you can find some gratitude that the internet exists and we all have access to free resources with the click of a button.
When my mom battled ALS for 5 years, I spent so much of my time future tripping. I was always worried, what would come next, what would she suffer next, how would we live without her. I wish I was able to focus on what was present and real. She is right next to me. I can have a relationship with her right now, even if it's different. Yes she is suffering, but she can still breathe. (I say this because at the end she couldn't even breathe).
Sometimes living in the present moment is hard and scary, especially if the present moment is a difficult one. I still encourage you to bring yourself back to the present and experience the moment as best as you can. In experiencing the moment, you'll have less hidden trauma that you'll need to deal with later. If you absolutely can't deal in the moment, that's okay. But make it a conscious choice to check out or future trip.
16. Clean up your vocabulary
The words you use matter A LOT. They are what shape your mindset and your perspective. Your mindset and your perspective is your whole life.
Have you ever experienced the exact same thing with someone else and you each took away two very different things? That's because it doesn't really matter what we are looking at or experiencing. What matters is what's in our heads.
If you can clean up the language that you use when talking to yourself and others, it will have a huge impact on how you feel.
Here are a few examples:
I GET to do this vs I HAVE to do this
I CHOOSE to vs I'm being FORCED to (You are never forced to do anything. It is ALWAYS a choice)
This is happening FOR me vs this is happening TO me
_____________________________________
I really hope you found tools and strategies here that are helpful for you and that you feel like you can implement. I'm always here if you want to chat further or have any questions. I'm sending you so much love in whatever you're going through and I truly believe you have everything you need inside you to get through it.
I also want to encourage you to consider seeing a mental health professional. You do not have to get through this alone. Remember that part of being resilient is asking for help.
Did you like this post on getting through hard times? Please pin it!