During our three week France road trip, there were several routes we could have taken to get where we wanted to go. When I realized one of those routes passed by Lake Como in Italy, I told Bassam we HAD to take that one. It added a bit of extra time to our route, but it was so worth it. Italy is so high on my bucket list and eventually needs its own dedicated road trip, but I just couldn't pass up the chance to visit Lake Como when we were going to be so close. We spent the majority of our time in Bellagio and it was just as cute and wonderful as I had envisioned. If you're going to be anywhere near Lake Como, I highly recommend adding it to your itinerary. We only had 24 hours to spend in Bellagio, but if you have a bit more time, I recommend spending about 2-3 days so you can relax and really enjoy it. Here's a quick guide to Bellagio, Lake Como with our tips on what to do and where to eat.
A Quick Guide to Bellagio, Lake Como:
Things To Do & Where To Eat
Getting There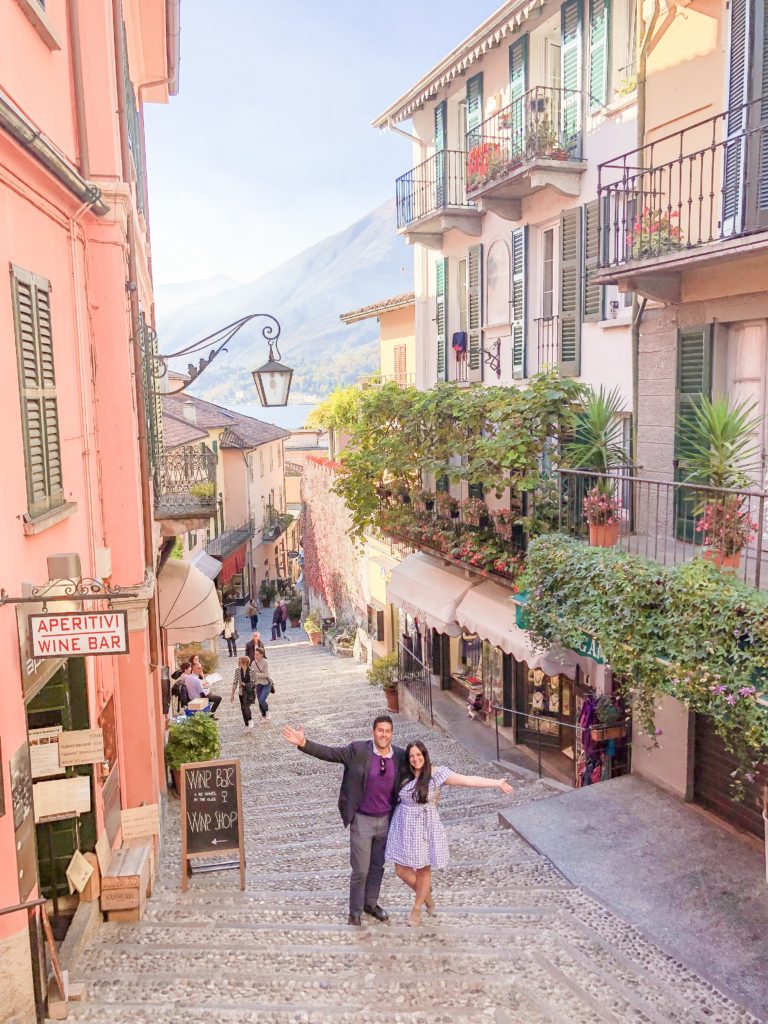 Bellagio is just 43 miles from Milan, a major airport and train hub, making Bellagio really easy to get to! If you're coming from Milan, you can take a taxi to Bellagio or rent a car. The drive is absolutely gorgeous! Keep in mind, if you get nervous driving on narrow windy roads, you may want to reconsider renting a car. If you prefer to take a train, you can take it Varenna, a nearby town. From there, just take a 15 minute ferry ride to Bellagio.
Where To Stay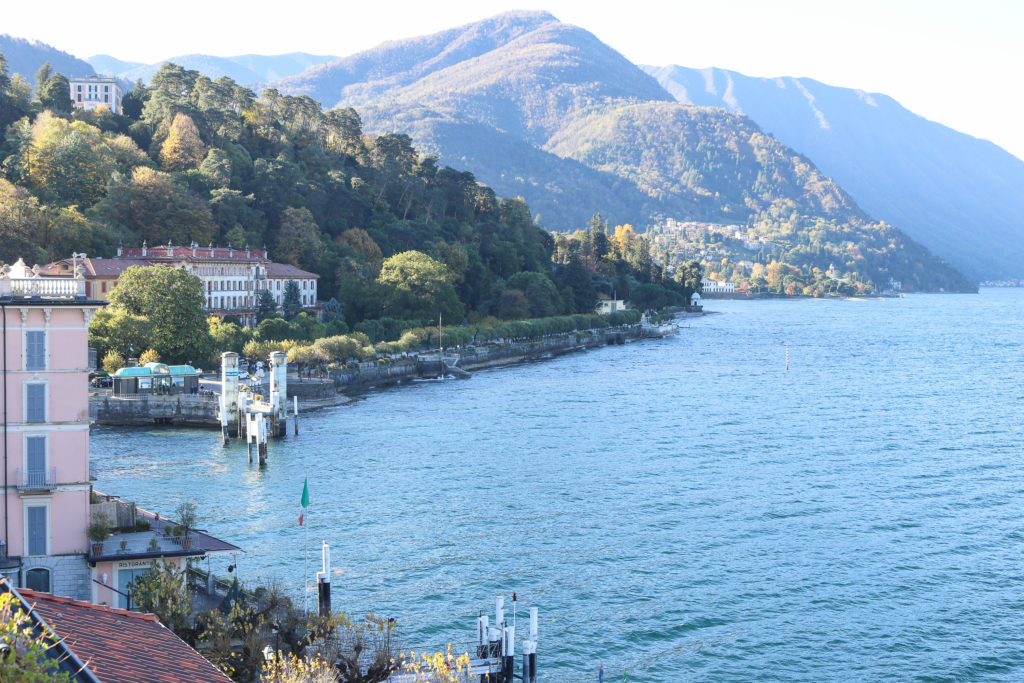 We stayed at Hotel Du Lac– a gorgeous waterfront property with beautiful views of the lake from the room balconies. CHECK IT OUT HERE
If you can't find it at a good price, we also recommend Hotel Centrale. We had a full on photo shoot there until we realized it was a hotel. It's not right on the water, but it's situated on a really cute street. The reviews are fabulous and it's decently priced since it's not right on the water. Check prices HERE.
Things To Do
1. WANDER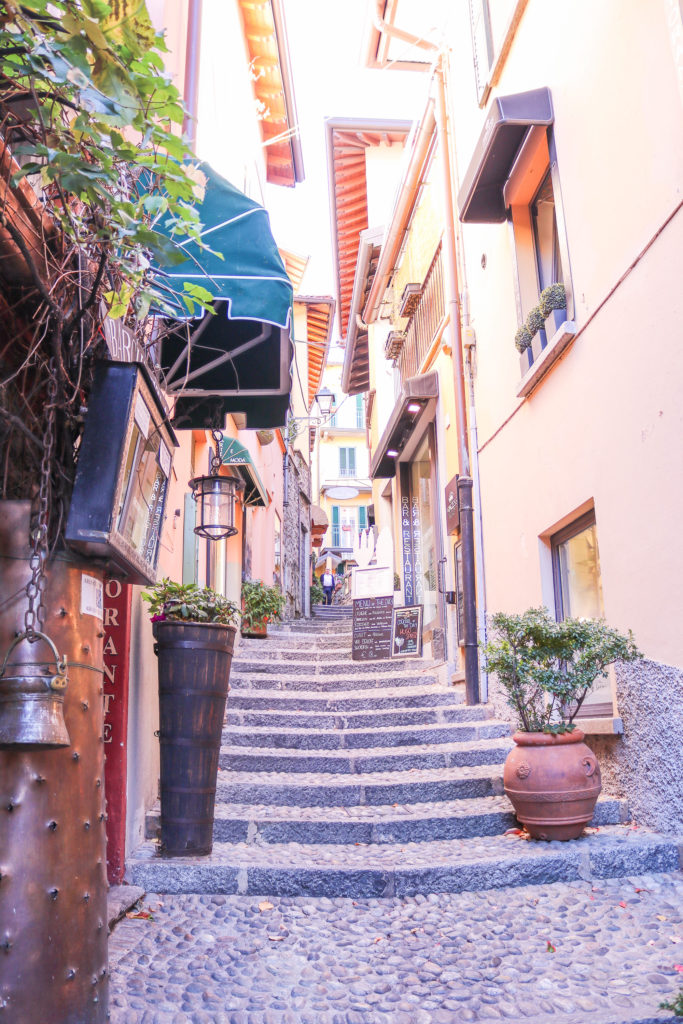 The streets of Bellagio are so colorful and charming! If you love narrow little streets and colorful buildings as much as we do, you'll want to dedicate a good portion of your time to just wandering the beautiful streets. You'll find a cute photo opp at every turn. I'm pretty sure I never stopped saying, "this is soooooo cute" as we walked the picturesque streets.
2. TAKE A BOAT RIDE
We didn't have time to do this, but I've heard from everyone I know that taking a boat was their favorite thing to do in Bellagio. You can rent a boat to take out for the day (don't forget to take along a bottle of wine and some snacks!) or go on a boat tour.
3. RELAX
I don't say this very often because I'm not good at relaxing when I travel, but Bellagio is a town made for relaxation. It's situated just below the Italian Alps, giving you a beautiful view of the mountains, and located right on a beautiful lake. All that gorgeous scenery is just begging for you to slow down and soak it all in, preferably with a glass of Italian wine.
4. TAKE A FERRY RIDE TO NEARBY TOWN
Lake Como's ferries connect the following towns: Bellagio, Varenna, Menaggio, and Cadenabbia. Depending how much time you have and how much you want to hop around, you can take the ferry to all of them. We took the quick 15 minute ferry ride to Varenna which is smaller and quieter than Bellagio, but just as cute and charming. It also had a very romantic feel. It's the kind of place you'll want to walk hand-in-hand with a special someone and feel wildly, magical in love.
Where To Eat
There are a lot of tourist traps in Bellagio and we fell prey to a few of them. The food in Bellagio didn't really knock our socks off for that reason, but here are a few spots we loved.
– APERTIVO ET AL
This cute little wine bar is situated at the top of Bellagio's most photographed street. We really enjoyed cozying up in the little wine bar with a flight of wine each. Every single wine we tried was delicious and they serve little bites to go along with it. The service is also extremely helpful and friendly, which we didn't find to the be the case at a few other places we visited.
– GELATERIA LA PASSERELLA (in Varenna)
It's located in Varenna, but it's a good excuse to go wander over there. The gelato is SOOOOO good! We each tried two different fruit flavors and loved them all. The place is recommended by Rick Steves so you know it has to be good!
– SALICE BLU BELLAGIO
This is a family run restaurant that also does cooking classes. It's a bit of a drive from the main part of the town, but we've heard if you call and request a ride, the owner will come and pick you up. Everyone who works there is so friendly and really wants you to enjoy your dinner. The presentation of the food is just beautiful and we loved everything we tried. Make reservations!
– HOTEL METROPOLE
We didn't actually eat here because the hotel was under renovation, but Christie from Ckanani says she had life changing pasta at the hotel's restaurant. We wish we could've tried it for ourselves, so go check it out and let us know if your life is changed! Bonus: beautiful water front seating!
Overall, we really enjoyed our quick stop in Bellagio. I hope you will enjoy it just as much as we did!
DID YOU LIKE THIS POST? PLEASE SAVE IT ON PINTEREST!