French castles are oh so magical. There's just something so special about being in a place where so much history and countless stories have taken place, never mind a place that has inspired so many stories. Visiting the chateaux of the Loire Valley made us feel like we were walking in a real life fairy tale. Each castle was just spectacular and filled with so much fairy tale charm. It sounds cliche to say, but we were truly awe inspired the whole time we were there. There are 42 castles in the Loire Valley, which makes this UNESCO World Heritage Site a must visit for every castle lover. You would need several weeks to visit them all, but we only had 2 days. We chose to visit the ones that inspired Disney castles, since I am a huge Disney freak. Read on as we share where to stay in the Loire Valley to be central to the chateaux we visited, which Loire Valley castles we visited, which Disney castles they inspired, tips on visiting the region, and of course, TONS of photos.
3 Chateaux of the Loire Valley that Inspired Disney Castles
Where to Stay + Things to Do in Amboise
We chose to stay in Amboise as we felt it was central to all the castles we wanted to visit. We were really happy with this decision as Amboise turned out to be such a cute town. It's one of the only villages that has a castle and lots of others things to see, do, and eat. We wished we had more time to explore the town, but our time was limited and we wanted to spend it all seeing the castles. If you have more time than we did, spend a few hours just wandering the main square, visiting all the shops, and eating in the cafes.
Chateau d'Amboise – located in the heart of the town. We didn't have time to go in, but the outside fortress was stunning
Visit the local wineries – we just stopped at any we found along the way. If you're driving, keep your eyes peeled as they can be easy to miss. You'll see the signs on the roads, follow those signs even if it seems like they aren't leading anywhere at all. We visited a winery that was located in what seemed to be an abandoned house. At first glance we thought there was no way a winery was located there, but it turned out to be the cutest place; full of rustic charm and super cheap bottles of wine. I mean super cheap. We bought bottles for $5! Good thing we brought a wine suitcase!
Eat at L'Alliance – the food is SO good, it's reasonably priced for what you get, and the cheese cart was one of the best ones we experienced our whole trip!
Stay at Hotel Au Charme Rabelaisien – the hotel is converted from an old home. You get all the old charm, with modern and spacious rooms. We didn't have a hotel booked and we found it while driving. It was walking distance from the main part of the town and lots of dining! Our room was around $100/night, but we went off-season. Check prices for your dates HERE
Tips on Visiting the Castles of the Loire Valley
A few tips for successful castle hopping. (My favorite kind of hopping we've done so far. Seriously. Bar hopping has NOTHING on castle hopping)
If you plan on visiting several châteaux, we recommend purchasing the Châteaux Pass. It gives you a small discount for each castle and lets you skip the lines
If you want to be able to photograph the castles without too many people in the way, visit the castles early in the morning or around closing time. We were the only ones there at both castles we visited around closing time. It also adds to the magic to be able to experience the castles without crowds
If possible, rent a car. It is easiest to get around with a car as the castles are not too close to each other
If a car is a not an option, you can find several tours. If you prefer to go solo, as we do, you can also do a combination of trains, bikes, and walking. Almost all the castles are located relatively close to a train station so you can walk from there. If it's not walking distance, you can rent a bike from any tourism office
Loire Valley is just a few hours from Paris. While you can visit in just a day, we highly recommend spending at least 2 days so you can see multiple castles, try the local wines, eat delicious food, and soak up the magical atmosphere of this beautiful French region
Each castle is located in a small little village. If you have time we highly recommend walking around the village and soaking it all in. It's a very quaint and unique experience, with lots of off the beaten path finds as most tourists who come to visit the castles do not venture into the villages
3 Castles That Inspired Disney Castles
While there are SO many castles to choose from, here are the three we visited.
Chateau d' Usse
Inspired Sleeping Beauty's Castle and Story
Chateau d'Usse is a fairy-tale like castle that dates back to the Viking Age. The castle inspired not only the Disney castle version of Sleeping Beauty, but also the story itself, written by Charles Perrault. I was surprised to learn the castle is privately owned and the family still lives there. Visitors can tour the ground floor, the attic, and the garden. The garden felt just magical to walk through. It is so fragrant and full of oranges and limes. The ground floor houses 16th century wallpaper, furniture, and clothing and is like taking a trip back in time. I did feel the interior was a bit unremarkable. The attic is where all the magic is. I truly felt like I was walking in a fairy tale and had to take several minutes to soak it all in and remind myself that this is all real. I could completely see why the castle inspired the story of Sleeping Beauty. I had so much fun looking out from what would have been her tower if she had existed. The views of the garden, lake, and village from the tower are all so incredibly beautiful. As you walk through the attic, there's a panorama of the story, as written by Charles Perrault. The castle grounds is also home to a winery that produces bubbly white wine that you can purchase.
Things to Know:
Tickets are € 14 for adults
Closed in December and January
Hours are typically 10am-6pm (they close at 7pm March – September)
Plan to spend around two hours (unless you take a ton of photos)
Last admission is an hour before closing
Dogs allowed
Ample parking
Chateau de Chaumont
Inspired Cinderella's Castle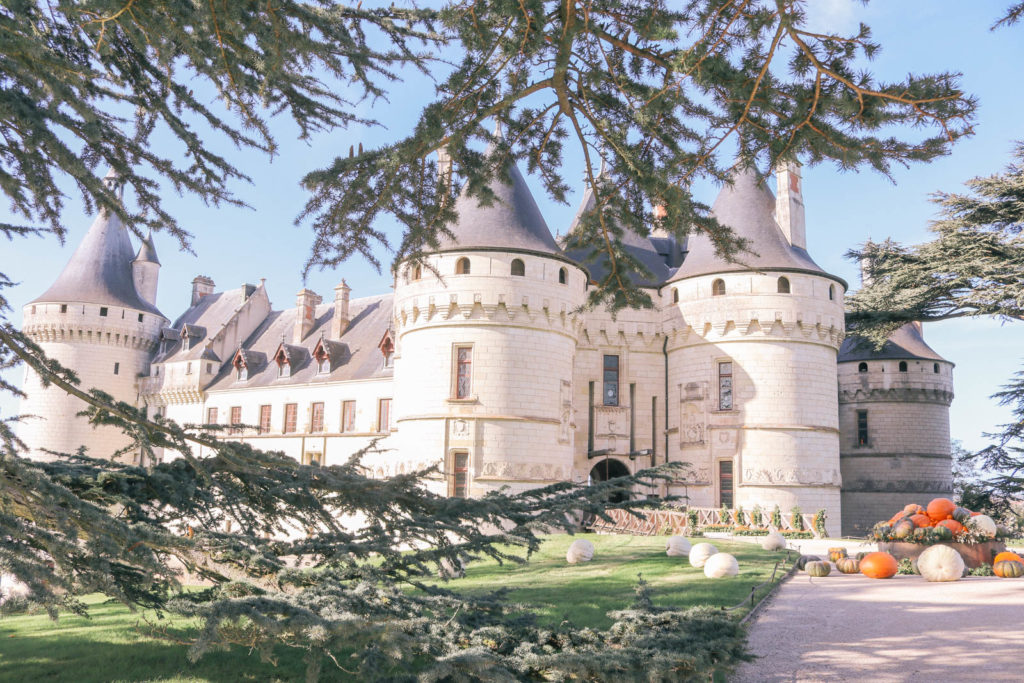 Founded in the 10th century, Chateau de Chaumont was my favorite of the castles we visited! I just thought it was so incredibly beautiful and even though it's a large property, it still has a very cozy feel. We visited in the fall and there were pumpkins all over. Since rumor says that Chateau du Chaumont inspired Walt Disney's design of Cinderella's castle, the pumpkins seemed extra magical to me as they are part of Cinderella's story. You need ample time here to explore the castle, the multiple gardens, greenhouse, and historic stables. We didn't have much time and we were sad to have the rush through. There are no ropes throughout the castle to separate visitors from the exhibits, just a small step barrier, so it really feels like you are right in the magic. I really loved that throughout the castle there are art installations from The Center for Arts and Nature. Bassam didn't really like this because he felt it detracted from the history of the place, but I felt it was so fun and unique. It really enhanced the experience for me.
Things to Know:
Adult tickets are € 18 or € 12 depending on time of the year
The chateau is open year around, except for on Christmas and New Year's Day
Dogs are allowed in the garden but not inside the castle
During the summer you can visit the gardens by night when the castle grounds are illuminated by over 2,000 castles (I really want to go back for this!)
Ample parking
Chateau de Chambord
Inspired Beast's Castle from Beauty and the Beast
Chateau de Chambord is the largest castle in the Loire Valley and one of the most recognizable due to its distinctive French Renaissance architecture. Rumor has it that Chambord was the inspiration for the Beast's Castle from Beauty and the Beast. The resemblance was uncanny to me and I kept imaging that scene from the movie when the townspeople storm the castle. There was even a clock that reminded me of Cogsworth!
Chambord has been the source of much mystery over the years as there is a total absence of archival information pertaining to the construction site and the architect is unknown. Mysterious or not, Chambord is an absolutely spectacular castle. It's incredibly detailed and ornate. We were stunned and in awe the entire visit. Our favorite part was the dual staircase, which led to spectacular views of the property and the red and white village nearby. While we loved the beauty of the castle, it wasn't our favorite as it was the most crowded of the castles we visited. It wasn't until almost closing time when we went up to the very top of the castle that we were able to get away from the crowds and enjoy a private moment to soak it all in. We took that opportunity to play our first dance song and dance in that gorgeous space. It truly felt like a fairy tale.
Things to Know:
Adult tickets are € 13
The chateau is open year-around except for 11/26, 12/25, 1/1
Opening hours are 9am-6pm during peak season and 9am-5pm during off season
The garden close 30 minutes before the chateau
Last entry is 30 minutes before closing
Parking is available for € 6
Cafes and shops are available in the Chambord village square, situated just between the parking lot and the chateau
Dogs are allowed in the park but not inside the chateau or in the gardens
DID YOU LIKE THIS POST? PLEASE PIN IT!