Whenever anyone asks what we did in New York, our answer is "walk and eat." The food in NYC was just SO good, we couldn't get enough! One night, we actually had two full dinners. A bit excessive and a bit embarrassing, but we don't care. It was the ultimate foodie trip. Although we hit up all the big name places, one of our favorites ended up being the lesser known August restaurant in Midtown NYC. We were so impressed with our dinner, we wanted to share the whole experience with you.
August NYC Restaurant Review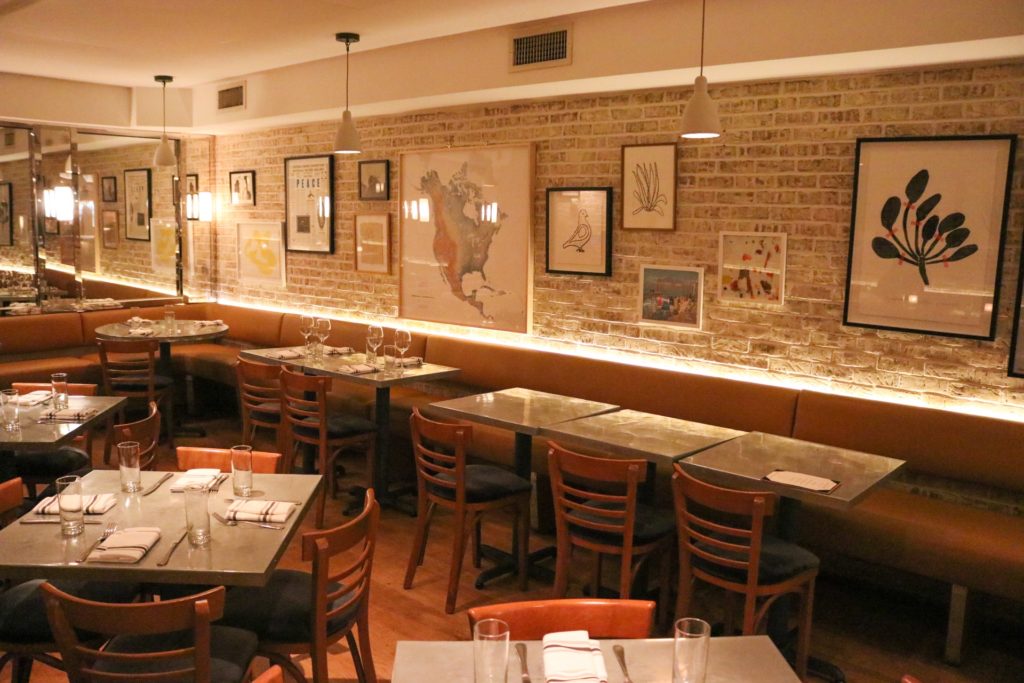 From the moment we walked in, we felt welcome. The restaurant was so warm, cozy, and intimate with the brick lined walls, eclectic wall art, and an inviting bar. One of the waiters saw us walk in and gave us the warmest welcome. We were taken aback for a second, because we were wondering if we knew him. It was just like walking into a relative's home and feeling instantly warm and welcome. It was such a cozy and sweet start.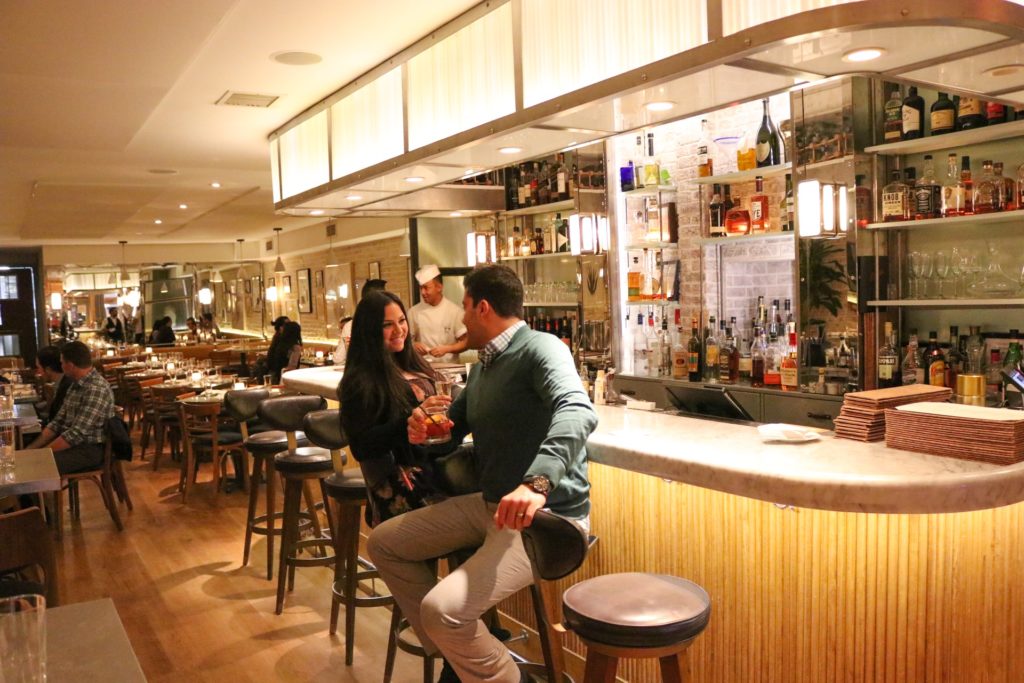 Mr. Welcoming ended up being our waiter. He was our favorite type of waiter. You know the ones who seem determined to make sure you have a great time? Providing you with super honest recommendations and giving suggestions on pairings and the order of your meal. That's exactly how he was. His hospitality really shaped our fantastic experience.
We started off our dinner with tuna tartare, charred caesar salad and zucchini fries.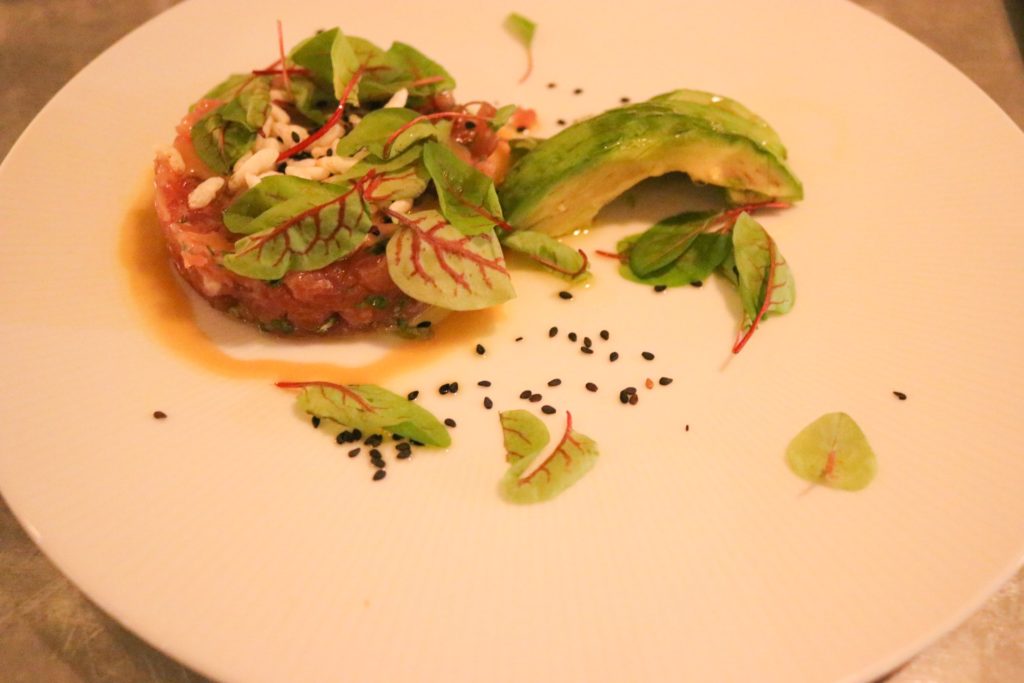 The tuna tartare was just the way we like it; light, fresh, and flavorful. The caesar salad was made special by roasting. The zucchini fries were a MUST! Our waiter recommended them and we were so glad we tried it. They were so light and not overly fried at all. The parmesan cheese and aioli dipping sauce added such great flavor.
Next, we had freshly made spaghetti pomodoro.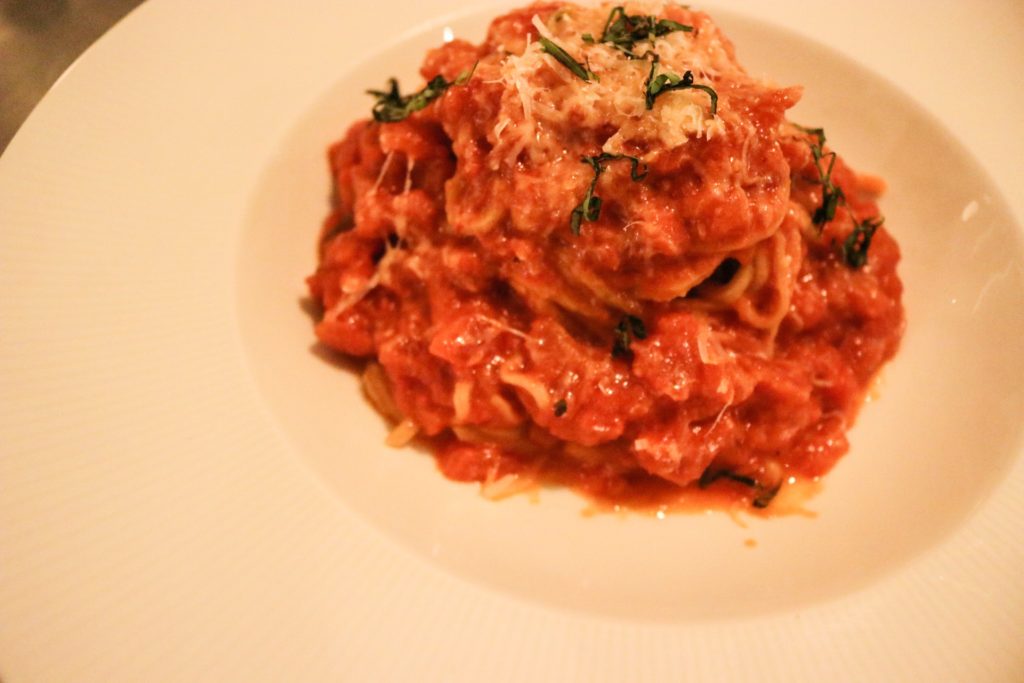 This was our absolute favorite thing we ate! We love homemade pasta when it's done right and this was done really right. The pasta was SO fresh and flavorful. For the rest of our trip, we craved spaghetti and everywhere we tried pasta didn't come close to this one. We would stop by August on our next NYC trip just for those noodles. Plus, this is such a silly thing, but we usually hate how difficult it is to eat spaghetti. The chefs at August cut their spaghetti into smaller pieces. We loved that! You can get spaghetti here on a date with no awkward moments!
For our main course we had sole meuniere, cornbread, and brussels sprouts.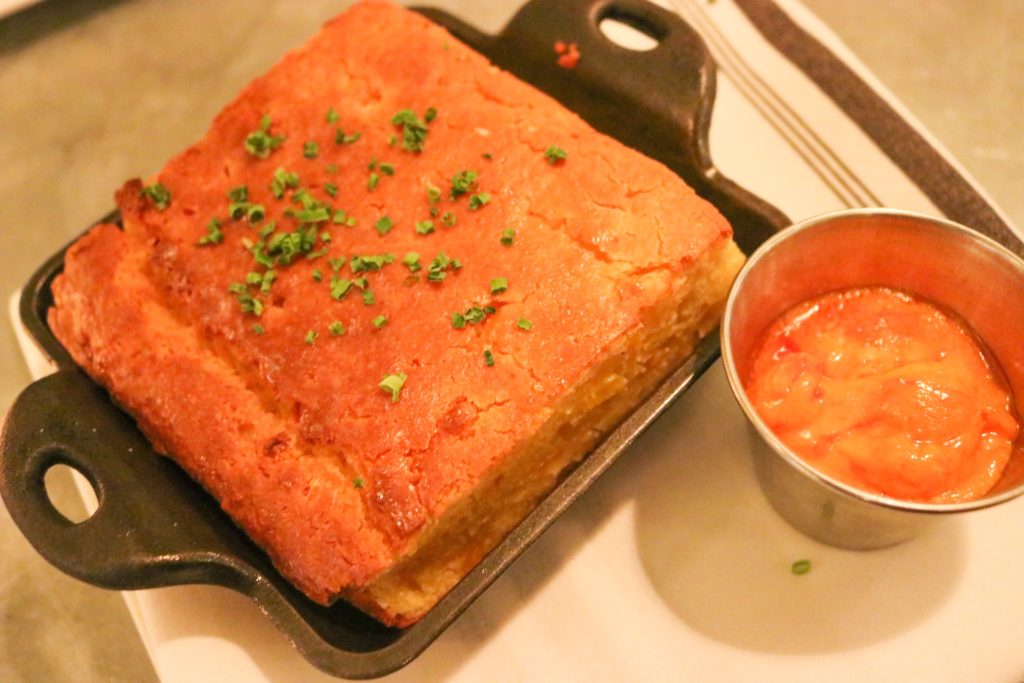 The sole menuiere was delicious! So light, flaky, and buttery with a fantastic garlic, lemon, and caper sauce. The fish was served atop potatoes. The cornbread was served hot with a sundried tomato butter dipping sauce. It was really good, but probably the only dish we could that we wouldn't say is a must-have. The brussels sprouts were a perfect combination of sweet and savory and not overly fried at all. We loved the crème fraiche sauce they were served with.
No romantic dinner is complete with dessert. We ended our lovely meal with salted caramel crème brulee.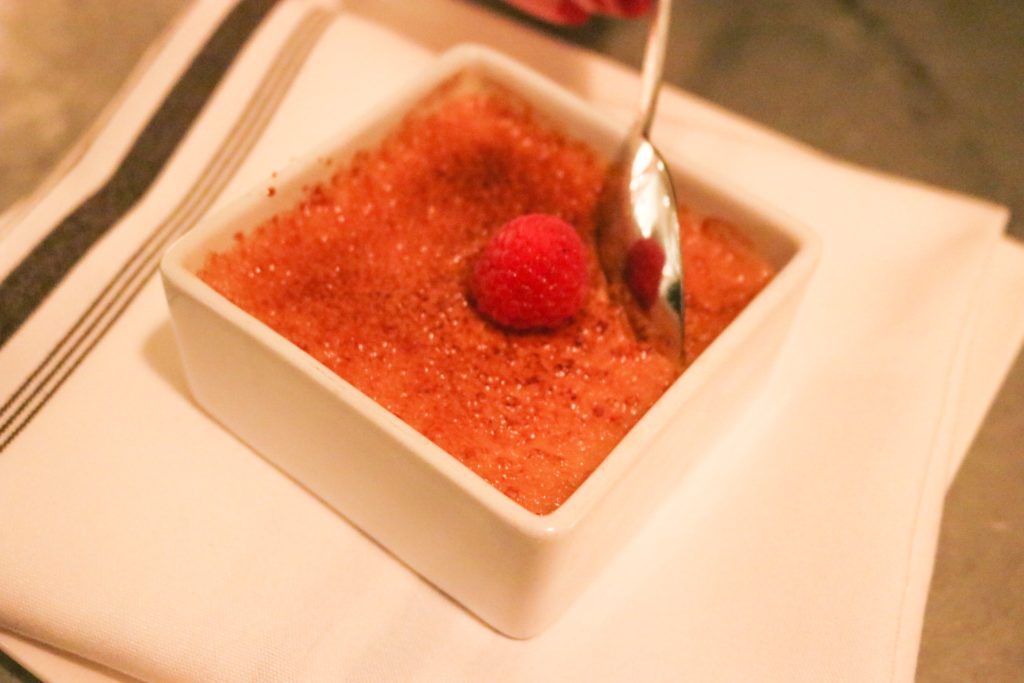 Lena is a huge salted caramel fan and Bassam doesn't really like salted caramel. We both LOVED this. The salted caramel was very subtle, more caramel than salt. The crème part was so smooth, silky, and not overly sweet. Such a delightfully sweet way to end our fantastic meal.
Overall, such a great NYC dinner! If you do stop by, you MUST get the zucchini fries and spaghetti pomodoro.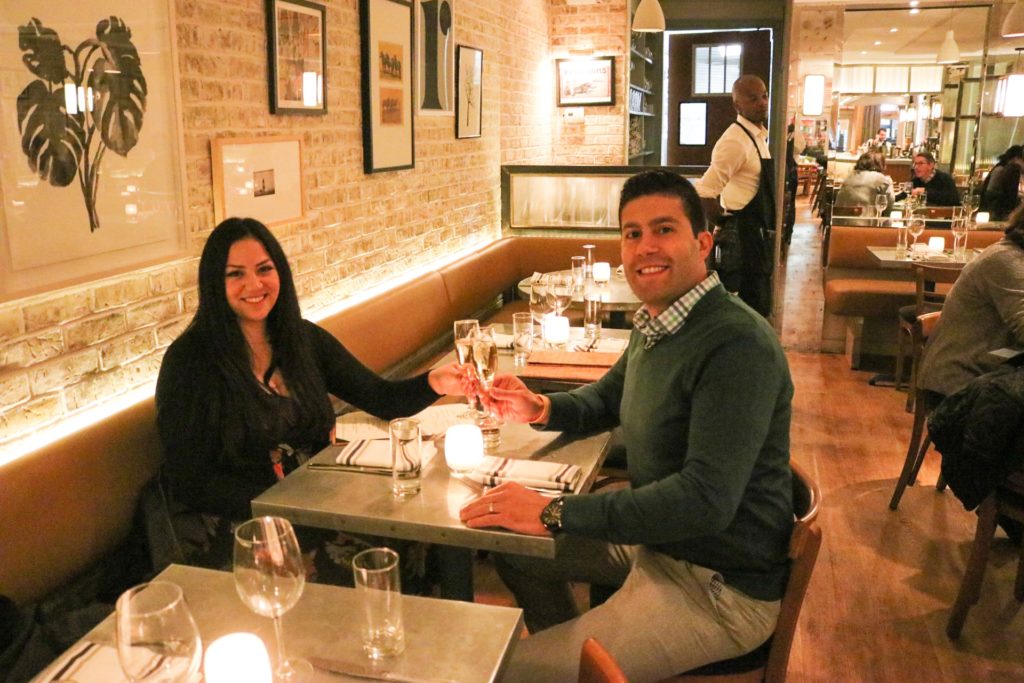 You can check out their website and menus here.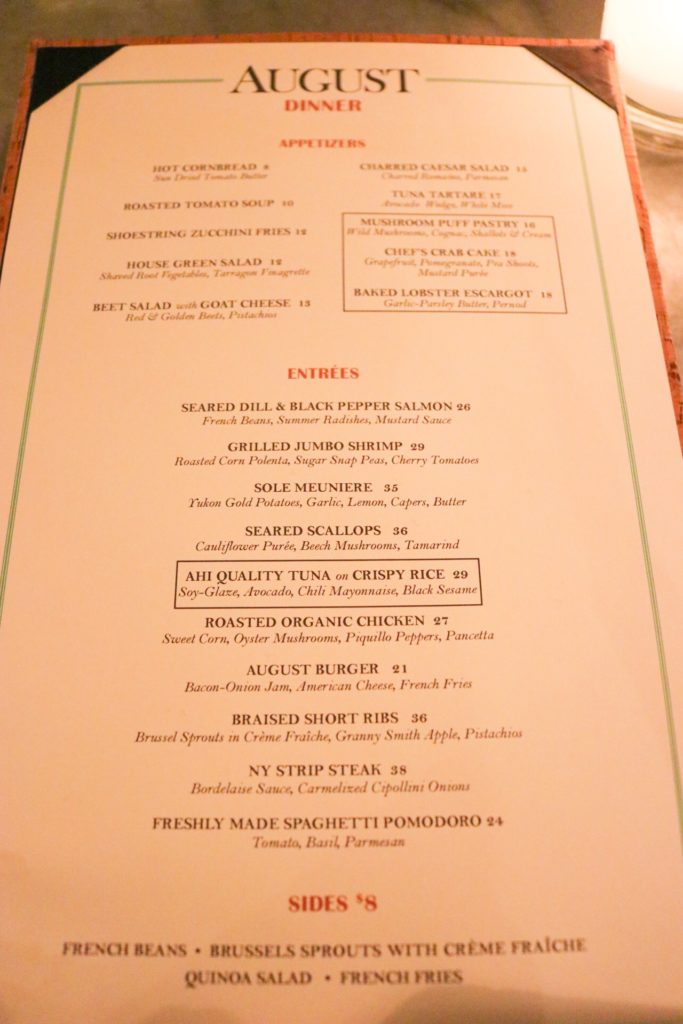 Happily Ever Adventures would like to thank August for hosting us for dinner. As always, all opinions and photos are our own.