Denali was one of our favorite parts of Alaska. It is truly for the nature lover and all the scenery is just breathtaking. Denali is SIX MILLION acres and is the highest mountain peak in North America! It's only open May-September, so there's a pretty short time window to visit. The town shuts down year around, expect for a few people who live in dry cabins (meaning no running water, no electricity!!) and a few park rangers. Crazy right?! The park is a National Park and very well maintained. There's a 92-mile road that you can drive through and discover all kinds of awesome hiking trails and wildlife. Only the first 15 miles are open to public cars. After that, you'd need to walk or take a bus. Only two shuttle companies are able to go to the end of the 92 miles. We went on one of them, Denali Backcountry Adventure. It was 13 hours (!!!) but so worth it! At first, we thought it was going to be crazy to spend 13 hours in a bus, but the time flew by. Here are 6 reasons why we loved the Denali Backcountry Adventure!
1.  The views!
The views were truly spectacular! No matter where you look, it's just incredibly beautiful! Those views really made the 13 hours fly by! The adventure started at 6am and even though we were exhausted and wanted to nap at one point, we couldn't bring ourselves to close our eyes and miss any of the spectacular scenery.
2. The driver!
One of the biggest benefits to taking a tour is having an insider to fill you in on where you are exploring. A so-s0 tour guide can turn an experience from good to blah. Our driver was awesome. You could tell he was tired with it being so late in the season, but he was very informative and kept us entertained with jokes when he could tell the energy was going down. We learned so much from him that we wouldn't have learned otherwise, like the history of the park and fascinating tidbits about the animals life.
3. Wonder Lake!
Wonder Lake starts at Mile 85 of Denali Park, so it can be tough to get to! Most excursion companies don't make it out here, but the hop-on hop-off bus does if you are going on your own. It's absolutely worth the trek, as we felt it was the most beautiful park of Denali!
4. Animals, animals, and more animals!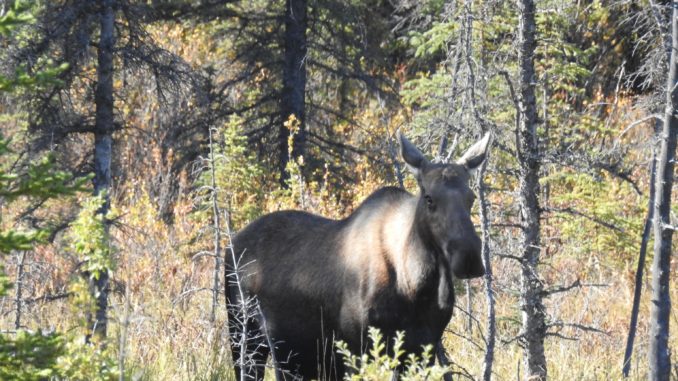 We are not zoo people because we hate seeing animals in captivity. On this tour it was amazing to see animals doing their thing in their natural habitat. We saw some animals on the way through Denali, but they were pretty far away. On the way back, we saw way more and they were really close up! That seems to be a big benefit of this tour. Since it goes for a lot longer than the other tours, you get to see more wildlife. We saw birds, caribou, moose, and grizzly bears. The bears were our favorite part! It was just amazing to see them so close up and doing their thing! One bear walked alongside our bus for about 10 minutes! We also saw a mama grizzly with her two cubs. It was so fun seeing them frolicking in the mountain! At one point the mama spotted another grizzly far away and she got very protective of her cubs. She roared a bit to scare the other grizzly and started running off her cubs. Don't mess with a mama bar!
5. All the stops!
13 hours stuck in a tour bus could've been torturous, but we had so many stops that it never felt very tiring. The stops were very well timed and we got to get out and explore some of the most beautiful parts of Denali! Each stop was about 15-20 minutes. It was enough time to wander a bit, soak up the scenery, and take some pictures, but not enough time if you want to go on a hike. one of the stops, the tour offered snacks and an array of beverages.
6. Denali Backcountry Lodge!
This exclusive Lodge is located at the very end of the Denali road. It's one of two accommodations in Denali besides camping and the only way you can experience Denali to the end of the road. We stopped here for a buffet lunch and then were able to participate in a variety of activities. They offered a guided nature walk, gold panning, and a few other things. We chose to spend some time exploring on our own as we are not usually ones to go on tours and needed a bit of unguided time. The property is AMAZING; so beautiful and relaxing. We spent some time relaxing in gazebo, walked across a little hanging bridge, discovered a mediation circle, and walked along the river. Such a beautiful and relaxing part of the day. If we had more time we would've taken the complimentary bikes for a ride and grabbed a drink at the lodge bar.
So… Do we recommend it?
Yes, BUT it depends on what you are looking for. If you would rather hike and are used to camping, you are better off going on your own. Same goes for if you want to be on your own time schedule and don't care to see the whole park as long as you can spend a lot of time in parts you really like. If it's your first time in Denali and you only have one day to see it, we highly recommend this tour. You will be guaranteed to see the whole thing and will get a really good taste of all Denali has to offer. 13 hours wasn't quite long enough for us, especially since we didn't get a chance to hike, but that just means we will be back!
Happily Ever Adventures would like to thank Denali Backcountry Adventures for inviting us as their guest. All photos and opinion are always entirely our own.