I'm really good at feeling overwhelmed. On any given week, I usually have a bazillion things going on between work, my side hustle, my family, and all the things I want to achieve in life. I've had to learn some good self care strategies to calm myself down when I'm feeling seriously stressed out. I hope this checklist of strategies helps you too next time you're feeling overwhelmed!
Self Care Checklist for When You're Feeling Overwhelmed
What to do, ask yourself, and think when you're seriously stressed out
Self Care Checklist: DO THIS
Try one or a few, then see how you feel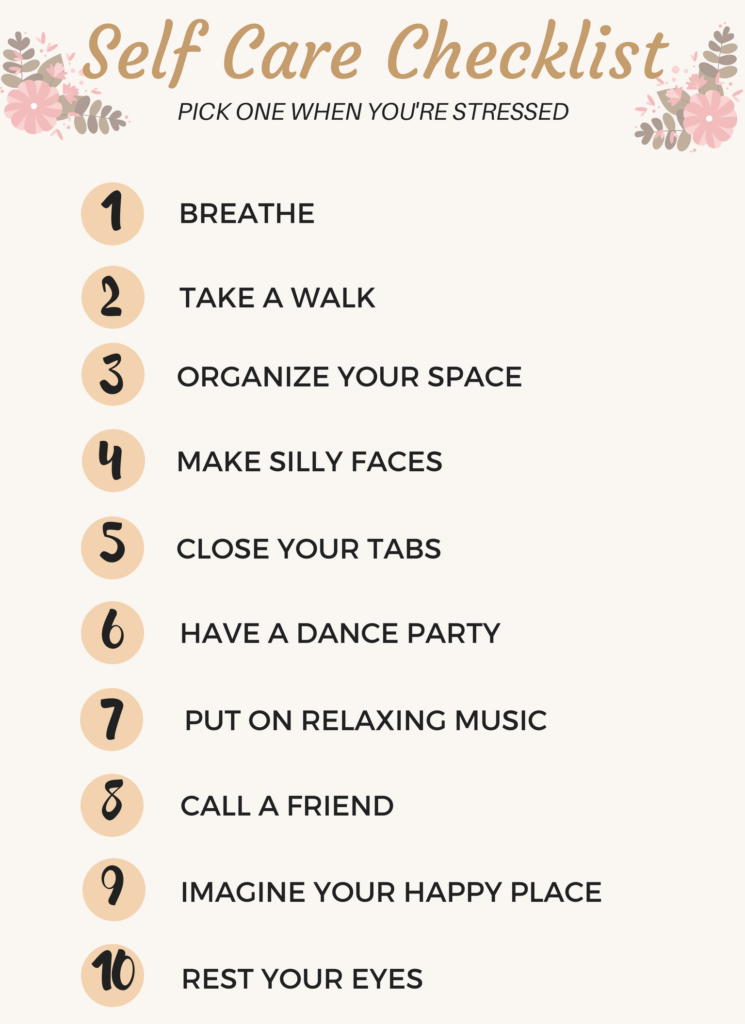 Talk a walk
Getting outside and getting your body moving does wonders for stress levels
Breathe
Lay on the floor with your knees bent. Place your hands on your heart. Spend a few minutes just concentrating on your breath
Call a friend
Do you have a friend who is pretty calm and rational? Call them. Feel free to vent, but end it on a positive note
Close all the tabs
How many tabs do you have open on your computer right now? Closing them may help you feel a bit less overwhelmed
Put on relaxing music
I love the French cooking station on Pandora. Put on whatever relaxes you
Organize your space
A messy space just increases feelings of overwhelm. Organize one part of your immediate space. You'll feel instantly productive and less stressed
Think about your happy place
Mine's the beach. Looking at a photo or closing my eyes and imaging waves crashing instantly relaxes me
Make silly faces in the mirror
No matter how stressed you are, you'd be surprised that it may actually make you laugh
Rest your eyes
Could you be feeling overwhelmed because your eyes are overworked? Try staring off at the distance for a few minutes to rest them. I'm really bad at this and am going to start aiming to apply the 20-20 rule. Look away for 20 seconds after 20 minutes of screen time
Have a dance party
Blast some music and dance it out! You'll get endorphins from moving your body and it just makes you happy!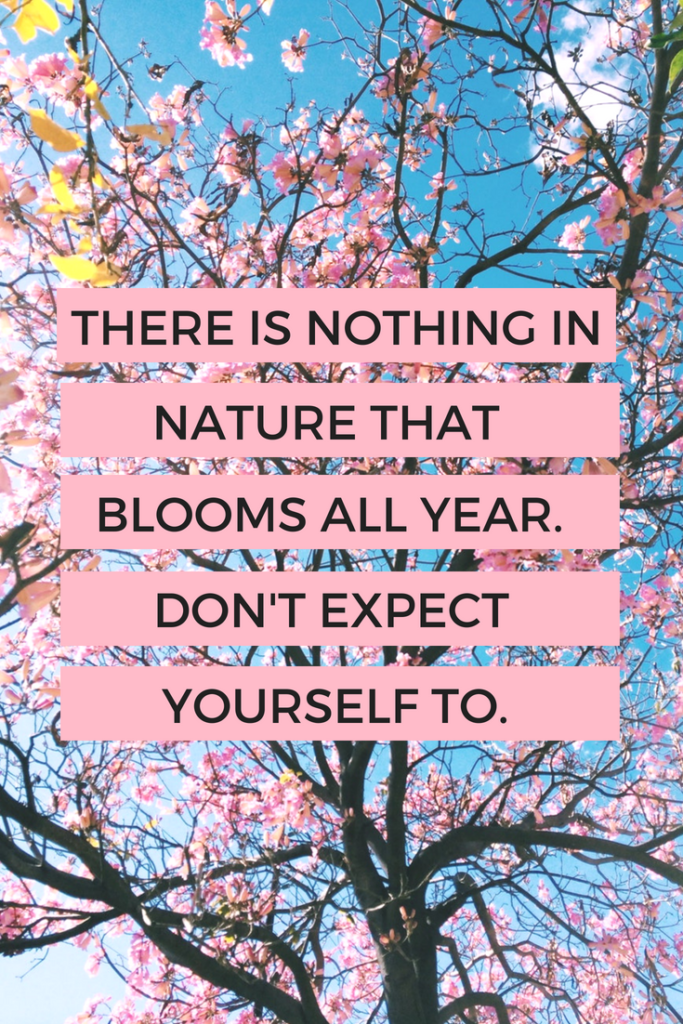 Self Care Checklist: ASK YOURSELF THIS
Run down the list until one clicks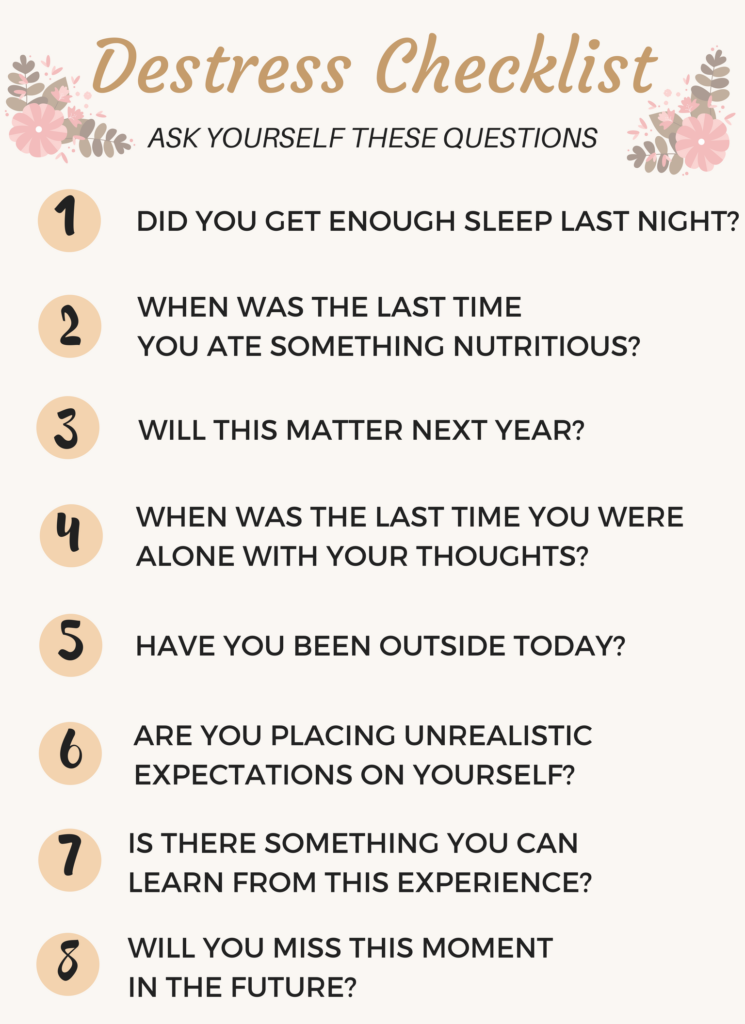 Did you get enough sleep last night?
If not, maybe take it a little easier today. Your body and brain could use it
Have you eaten something nutritious in the last few hours?
If not, eat a combo of fat + fiber + protein + greens. While you're at it, why not drink some water too? Check out these yummy smoothie recipes
Will this matter a year from now?
If not, let it go
Are you placing unrealistic expectations on yourself?
Scale down. You can do it all, but you can't do it all right now
Have you been outside today?
Go get some fresh air!
When was the last time you spent a few minutes alone with your thoughts?
Unplug for a few minutes. From your phone, from people, from everything
Is there something you can learn from this experience?
There's always a lesson in every situation
Will you miss this moment in the future?
Sometimes no matter how much we are stressed out during a certain phase of life, it's one that we will miss in the future. Find the positive in your current situation and figure out what it is you may miss in the future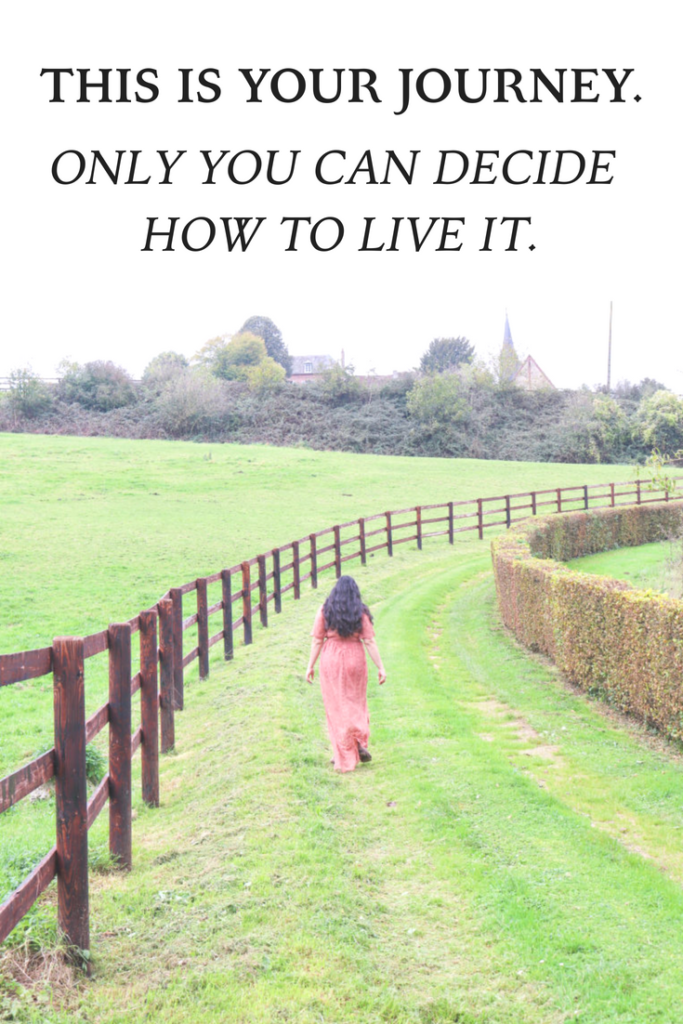 Self Care Checklist: THINK THIS
Pick one that resonates most
I can do it all, but not all at once
I am grateful for my life
This is a season of life and soon it will change
I am grateful for the lessons life has taught me
I feel energetic and alive
There is a bright side to every situation
I have the power to create change
I love myself unconditionally
Did you like this post? Please pin it!