We are all about traveling. From relaxing vacations to adventure filled ones, we just love to travel. We love to travel so much so that sometimes life in between travels feels like just a waiting period to get to the next trip. We realized this shouldn't be the case. The day-to-day is what makes up most of our lives. If we are just "living" for vacations and stressed out on a daily basis, what kind of life are we living? Our entire life should be something to look forward to and something to enjoy, not something we need to take a break from. Since this is a site devoted to finding adventure in daily life, we thought it would be fitting to think of a few ideas to make daily life just as exciting and relaxing as a vacation.
1.Figure out what you like about vacations
Start by making a list of all the things you like best about vacations. This might be going out to breakfast, being by the beach, having time to read, whatever. Try to find a way to incorporate these items into your daily life. Sounds so easy, but we know you probably don't have time in your day to do this. Instead of leaving the things you love most to happen if you have time, actually schedule them in. At the beginning of each week, take a look at your planner and reserve small chunks of time daily to devote to things you love. Treat these as unmovable appointments, just like any other appointments you may have. To maximize your time, try to make the things you are already doing more enjoyable. For example, fit an activity into your lunch break, do a workout you love, or take a beautiful route to work.
2. Figure out what you like escaping from in day-to-day life
Now make a list of what you don't like about daily life. Find a way to either delegate those items or get rid of them all together. If you hate cleaning, see if you can get your family to pitch in or if you can hire a housekeeper once a week. If it isn't something you can get rid of in your life, find a way to make it more enjoyable. Lena hates driving and loves that on vacation she can escape spending so much time behind the wheel. Lena can't stop driving in her daily life because so much of her job revolves around it, but listening to audio books and having new music helps make it more enjoyable.
3. Go new places and have new experiences
One of the best things about a vacation are all the new experiences you get to have. Why wait for a vacation to do that?! Incorporate adventures into your daily life. Every day try to do something you've never done before. It can be as simple as taking a different route to work, buying an exotic new fruit to try, or switching up your workout.  When you have more time on the weekends, increase the excitement factor. Try exploring a new neighborhood or taking a short road trip without a pre-determined destination. At the very least, branch out of your regular haunts and try a new restaurant. Try to schedule something exciting to look forward to every week. Plan some simple activities, such a picnic in the park and more complex ones, like sky-diving. If there is an activity you've always wanted to try, pick a weekend to do it, don't save it for your next vacation. Google the nearest place you can go zip-lining, hiking near a waterfall, jet-skiing, whatever it is you're craving. Having new experiences isn't just fun, it also enhances your creativity, provides you with fresh, new ideas, and overall helps you function better during your daily life.
4. Get outside as much as possible

Being outside in the fresh air is great for your spirit. You probably spend a lot more time outdoors on vacation then you do in your daily life. Aim to spend at least fifteen minutes enjoying yourself outdoors each day. This might mean eating your lunch outside or going for a quick walk after work. Breathe in the fresh air, take in your surroundings, and RELAX.
5. Keep your house and your work desk organized
We are a former slobs and struggle with to maintain organization. But we can also personally attest that having a disorganized environment leads to STRESS. Take one whole weekend and deep clean your house and your car. It won't be fun, but the results will be well worth it. Coming home to a clean house will allow you to relax and help you reach a "vacation" state of mind. Spend just five minutes tidying up every night to maintain your deep cleaning. Also, decorate your house will colors that you find relaxing and surround yourself with objects and pictures of things you love. You know that feeling when you step into an AWESOME hotel room? Re-create that feeling in your own living space. Why shouldn't you go, "I LOVE IT HERE" every day?
Same goes for your work desk. No matter how crazed you are, a clear desk will help you feel calmer. The reverse is also true, if your desk is chaotic, you are more likely to feel overwhelmed. Besides just maintaining organization, try to make your work space something you like. Keep a relaxing hand-crème near you, put up a picture that inspires you, etc. We know a lot of people put up pictures of their vacations to mentally "take a break" at work, but instead of escaping your work-life, find a way to enjoy it. Think of something positive about your work and surround yourself with that positivity. This might be awards you've won, thank-you letters from clients, or pictures of you hanging out with your co-workers. This will help you to always see the positive in your work and not make your office a place to dread going to.
6. Make fun plans after work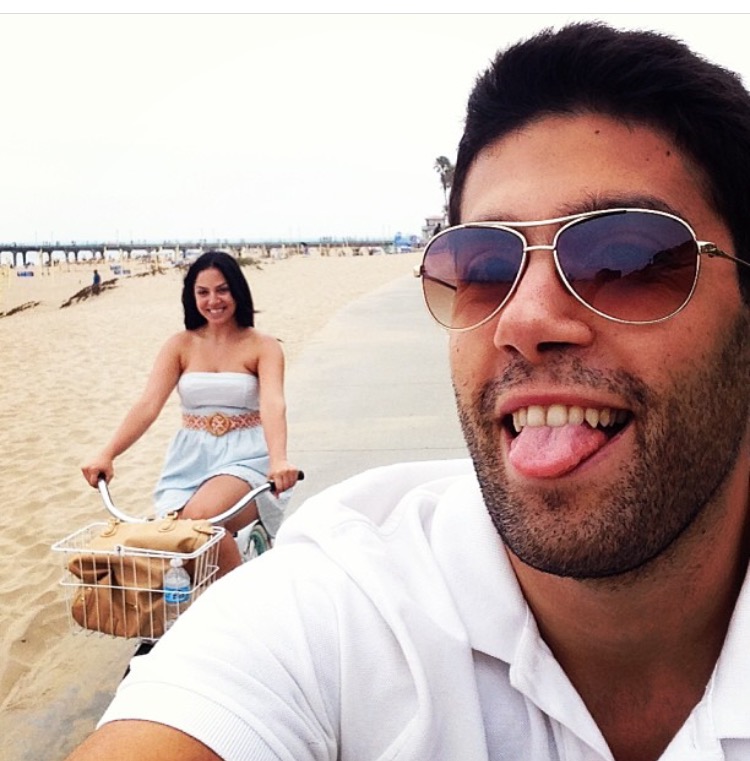 Too often the workweek becomes a blur of waking up, going to work, coming home, and doing the same thing over and over again. Have something to look forward to at the end of each day. Plan a dinner with a friend or a workout with a co-worker. Maybe even just plan a relaxing night in for yourself.  Whatever it is that you will enjoy. Key word: enjoy. Don't plan things you need to do or feel is an obligation, such as, "I HAVE to catch up with that friend". Plan things you will look forward to!
7. Actually take a lunch break
We confess: we are guilty of almost never taking an actual lunch break. We've come to learn that squeezing in an extra half hour or hour of work is NOT worth it. Not taking a few minutes to relax and eat your lunch leaves you feeling more overwhelmed and stressed out at the end of the day. When it comes time for lunch, stop what you are doing, and actually take a lunch break. Use this time to relax, de-compress, and do something that you enjoy. Eat your lunch outside, go for a walk, listen to some relaxing music, catch up with a friend, or even get an express massage. Every so-often take a looonnng lunch break. You will find that you will get back to work refreshed, with tons of energy, and ready to work extra hard.
8. Eat exciting meals
Eating on a vacation is so much fun. There are so many new things to try and everything is so nicely prepared. Incorporate this into your daily life! Go on a mission to try every exotic fruit and vegetable you can find. Spend a little extra time preparing fresh, healthy meals. Aim to find ways to make every meal exciting. You can decorate your plate, use lots of colorful ingredients, or eat your food off fancy plates. Even the simplest meal can be so much fun to eat is presentation is nice. Hate cooking? See #2: find someone to delegate it to. If eating out is not an option, maybe you can switch responsibilities with someone. Offer to do a chore a friend really hates in exchange for them cooking. Or take turns preparing each other's lunches every week.
9. Have a "make the most of it" mentality
To be honest, not every part of a vacation is fun. A lot of times your vacation partners may want to do an activity that you don't particularly like, but you go along anyways and have a good attitude about it, because you're on vacation! Try to live life with that same attitude. When you have to do things you don't particularly enjoy, have that same "vacation attitude" and be positive about the situation. Often times just talking to yourself positively about something can help with the overall experience. Try to make all situations fun, such as having a dance party when you're stuck in traffic. This might feel forced in the beginning, but the more you practice thinking positively and finding ways to make things fun, the easier it will become. Eventually life will be one long vacation!
What are some things you do in daily life to incorporate a vacation feeling?