Let's talk about how to build a capsule wardrobe for men. This topic came about because we are always getting asked to do a post on Bassam's style. Bassam isn't very trendy or flashy, his style is classic and easy, but he consistently looks good.
It's not something I've ever really given much thought to because Bassam isn't really preoccupied with his wardrobe, shopping or fashion, but I started thinking about it as he kept receiving compliments. What I would hear most commonly was, "how does he always look so good?" That's when I realized, it's because he inadvertently created a capsule wardrobe for men for himself. He wears the same variation of thing every day, which makes it second nature for him, but it always looks different and fits the occasion because he has slight tweaks. (Bassam wants to make sure you understand he doesn't literally wear the exact same piece of clothing every day because that's gross)
I've decided that a capsule wardrobe for men is the best kept secret in men's style! It's easily attainable, efficient, and of course, stylish! Read on to learn more about capsule wardrobes for men, the exact pieces that make up Bassam's capsule wardrobe, how to style the same pieces for different occasions, and a full capsule wardrobe for men checklist.
Capsule Wardrobe for Men: The Best Secret in Men's Style
This post contains affiliate links. Thank you for supporting our blog!
What is a capsule wardrobe for men?
A capsule wardrobe for men is a small, styled, and curated closet filled only with items of clothing that make you look and feel your best.
How Many pieces are in a capsule wardrobe for men?
The most common number is 37, some people go as low as 10 and others go as high as 50. The number doesn't necessarily matter, you just want to make sure you have well made pieces for all the basics you need. From there you can also add in a few fun accessories and switch in different items depending on the season. Focus more on getting what you need that will fit your lifestyle, rather than being too strict on the number. You also want to figure out how often you do laundry. If that's once a week, like we do around here, you'll need enough pieces to last you the whole week. In Bassam's case, he doesn't count things like underwear, undershirts, thermals, etc in his capsule wardrobe number. That might not be the official capsule wardrobe for men answer, but that's our stance around here. Do what works for you and your lifestyle.
Why have a capsule wardrobe for men?
Life is easier
Have you ever had the experience of staring at a jumble of clothes and not knowing what to wear? You try something on, but it doesn't look good so you toss it back. You don't have many things that go together or you aren't even totally sure what will work well together. You figure you just need to buy some new things. So you do. But then you just end up in this cycle over and over again.
Sound familiar?
Frustrating, but the good news is that capsule wardrobes simplifies things and gets rid of that problem!
Save money
Capsule wardrobes may be more money up front because you are investing in quality pieces, but you will save money in the long run because you won't need to keep buying more stuff.
Less space
You'll need less items to look good. Less items will take up less space. You can give the rest of the space to your wife and be husband of the year or just use it to store whatever else you want.
Always look good
All your pieces will work well together, look good on you, and you'll have the right piece for every occasion. This means you'll always look fantastic!
Efficiency – don't need to think about it
There's an ease that comes with having a wardrobe that all works well together and that you don't even have to think about. It will make your mornings so much easier, which means, your day will be off to a better start. It takes one thing off your to do list to simplify your life.
Better for the environment
Having to buy less stuff is better for the environment. As is having to dispose of less stuff. Having a quality wardrobe that will last you for years, has the added benefit of being great for the environment.
Steps to Creating a Capsule wardrobe for men: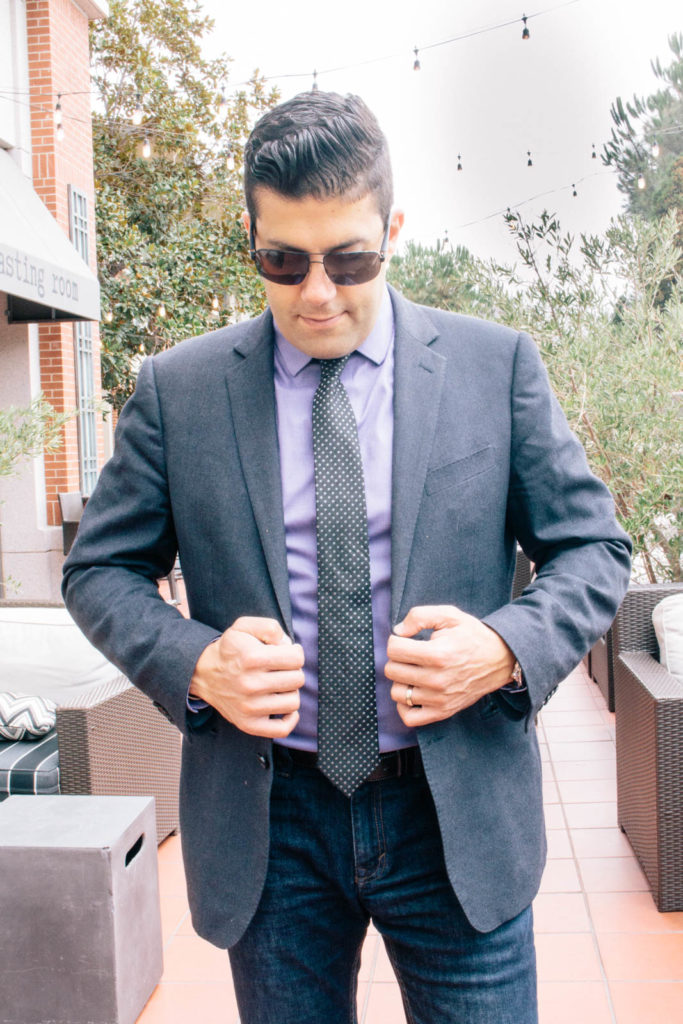 Step 1: Do a wardrobe edit
The first step is to go through your wardrobe and do an edit. Divide everything into the following piles:
LOVE IT, KEEP IT
NOT SURE
NO
Anything that doesn't fit well, doesn't look good, or you just never feel like wearing should go in the NO pile. Haven't worn it in a year? Toss it. Not really your style? Off it goes.
Once you're done sorting your whole wardrobe, go back through the NOT SURE section with a ruthless eye. Be really honest with yourself here. If it isn't something you feel great in, send it to the NO pile. Continue until there's nothing left in the NOT SURE pile.
Time to go through the LOVE IT, KEEP IT pile one more time to make sure it's truly all loves. You may want to try everything on as well to make sure it fits perfectly. I know that's really painful, but just do it. Better to do the hard stuff now and have a closet you love forever. You can celebrate with a beer afterwards.
Bonus: you can all sell your NO pile on Ebay, Poshmark, ThreadUp, etc and make some cash that you can use to fund your new purchases.
Step 2: Do a little detective work
Time to do a little analyzing.
Go through your LOVE IT, KEEP IT pile and figure out what it is that works for you with these items. Ask yourself the following questions:
Are there certain colors I feel best in?
Are there certain fabrics I gravitate towards?
Which stores are these pieces from? (For Bassam, the answer is Banana Republic)
What type of vibe do they portray? (classic, hipster…)
What type of lifestyle do they fit? (professional, causal, surfer…)
What do I love about these pieces? (they make me feel well groomed, they are comfortable, etc)
Next go through the NO pile and do a similar analysis to figure out what doesn't work for you with these items.This way you can learn what doesn't work for you to make smarter shopping choices in the future. Ask yourself the following questions:
Are there certain colors I don't like to wear?
Are there certain fabrics I don't like?
What store do most of these pieces come from?
What vibe doesn't work for you?
What lifestyle doesn't work for you?
Is there anything else that's common about these pieces? (they are uncomfortable, they are faded, etc)
Step 3: Make a list of all the pieces you need
Now that you've gone through and purged your wardrobe and done a little digging to start to understand your style preferences, make a list of all the clothes your ideal capsule wardrobe for men would contain. Once you've made that list, go through your LOVE IT, KEEP IT pile and determine which items you already own.
When creating this list think of the following:
What is the average temperature of where I live?
What do I typically do in a day/where do I go/how do I spent my time? (e.g. professional office, gym, casual on weekends)
Do I have any special events or travel coming up that I will need pieces for?
If you need help figuring out a list, we've included Bassam's full capsule wardrobe for men list down further down in the post.
Once you've determined what you need, you can get started on completing your capsule wardrobe for men!
Step 4: Budget for it
You may not be able to buy everything immediately and that's okay. Figure out how much money you can set aside each month or season. You may choose to buy a piece a month, a few pieces a season, or a few pieces each time there's a sale. Figure out your shopping schedule, set room aside in your budget, and stick to consistently shopping during those times. Try your best to avoid shopping other times so that you don't end up with a closet of impulse purchases.
If there's a specific store you love, sign up for their mailing list so that you can be informed of sales. We also highly recommend planning to shop the Nordstrom Anniversary Sale. It's every July and it's all brand new fall inventory that is first released on sale before it goes back to full price. It's a fantastic time to buy high quality items at a lower price point. We also really like the sales during Thanksgiving weekend and after Christmas.
Step 5: Shopping time
After all that prep, it's time to finally purchase those items! Start slow and don't feel like you have to get everything all at once. If the piece is not a HELL YES, then it's a HELL NO. Don't take anything home that you aren't sure is the one. Remember, you want to curate a wardrobe full of only things you love.
A few things to keep in mind when shopping:
Shop at the stores you determined work best for you
Remember the work you did during your analysis. Focus on buying items that fit what you determined works best for
Try to buy mainly neutrals and add a few pops of color (unless in your analysis you determined you hate neutrals, but this should help you be able to mix and match a little better)
Buy high quality, long lasting pieces. You want to be able to keep these pieces for years to come. You often hear "buy the best you can afford" with capsule wardrobes, but not all expensive clothing is created equal. Pick clothing that's high quality and will last. If you have to pay a little more for it, don't be afraid to. It'll last much longer and you'll be wearing it frequently, giving you the best return on your investment
Step 6: Make it last for you!
To get the most for your money and longevity out of your men's capsule wardrobe, make sure you are taking care of your clothes. Here are some tips to keep in mind:
Pay attention to the care labels. Bassam has ruined so many loved pieces by not following instructions on the care labels
Try not to over wash. For example, if you only wore it for a few hours, you may not need to wash it
Try not to overfill the washing machine on laundry day. When it's crowded in there, clothes rub together which damages them
Wash dark clothing inside out
Air dry whenever possible
Buy better hangers. Wire and plastic hangers can change the shape of clothing over time. Wood is better
The most valuable players in Bassam's capsule wardrobe for men:
There are 6 MVPs in Bassam's capsule wardrobe for men. These are the items that he wears on the most regular basis and are really the "building blocks" to his wardrobe. He mixes and matches some variation of these 6 items on a daily basis. They take him from work to play and almost every single situation that his lifestyle consists of.

Full capsule wardrobe for men checklist:
Men's Capsule Wardrobe – Essentials:
1 | Button down shirts (as many colors and styles you need to mix and match to last a week)

2 | Cashmere, cotton/cashmere blends, or wool sweaters (black, grey, and a color)

3 | Blazer

4 | Slim fit jeans – dark and light wash

5 | Slacks – black and grey

6 | Jacket

7 | Suit (if needed for your lifestyle)
8 | Athletic clothing for working out and athleisure
9 | Loafers – Bassam LOVES this pair
10 | Athletic shoes
Men's Capsule Wardrobe – Winter Pieces
1 | Coat

2 | Scarf
3 | Thermals
4 | Gloves
5 | Boots
6 | Raincoat

Men's Capsule Wardrobe – Summer Pieces
1 | Swim trunks
2 | T-Shirts
3 | Short sleeve button downs
4 | Shorts (try to find shorts that can be dressed up or down)

5 | Boat shoes
Men's Capsule Wardrobe – Accessories:
Accessories aren't typically considered part of a capsule wardrobe, so you can add in as many as you like to create a variety of outfit combinations and styles.
1 | Ties, bowties
2 | Sunglasses
3 | Hats
Non Capsule Items:
1 | Undershirts
2 | Underwear
3 | PJs
So what do you think? Would you put together a capsule wardrobe for men?
We'd love to hear what items are in your men's capsule wardrobe and if we missed any important pieces!
Did you like this post on capsule wardrobes for men? Please pin it!